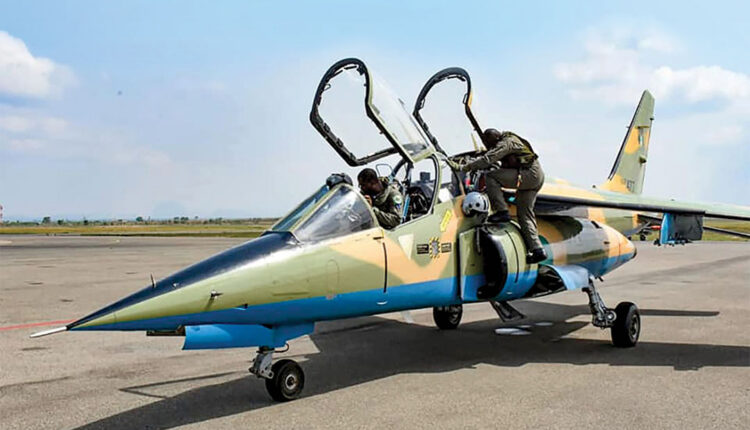 Reading Time:
< 1
minute
ADF STAFF
The Nigerian Air Force (NAF) killed several top Boko Haram commanders during airstrikes on settlements near Lake Chad.
"The airstrike was executed on the heels of impeccable intelligence reports," said Brig. Gen. Bernard Onyeuko, acting director of Defence Media Operations, of the March 18, 2020, operation. Onyeuko added that the reports showed that top Boko Haram "commanders as well as some of their fighters and designated suicide bombers had assembled at the location for meetings, aimed at orchestrating coordinated attacks."
The strikes were part of Operation Decisive Edge, a mission to decimate strongholds used by the extremist group. The aerial strikes, organized through the Aerial Task Force of Nigeria's Operation Lafiya Dole, have pounded Boko Haram enclaves in the northeast of the country. On March 6, NAF fighter planes took out dozens of terrorists at Bula Korege on the edge of the Sambisa Forest in Borno State.
"The NAF fighter jets took turns in attacking the target area, neutralizing many BHTs [Boko Haram terrorists] and destroying their structures in successive passes," said Air Commodore Ibikunle Daramola, according to Nigerian newspaper The Guardian.
"After the first wave of strikes, the terrorists reassembled at another part of the settlement where they were tracked and mopped up," he added.
On March 9, aerial attacks took out Boko Haram logistics facilities in Bukar Meram. On March 11, fighter jets and a helicopter gunship gave close air support to ground troops in Gubio who were pursuing and, ultimately, destroyed a Boko Haram gun truck and retreating fighters, the Vanguard reported. 
Daramola said the aerial attacks of Decisive Edge were intended to "shape the battlespace" for future ground and air operations.