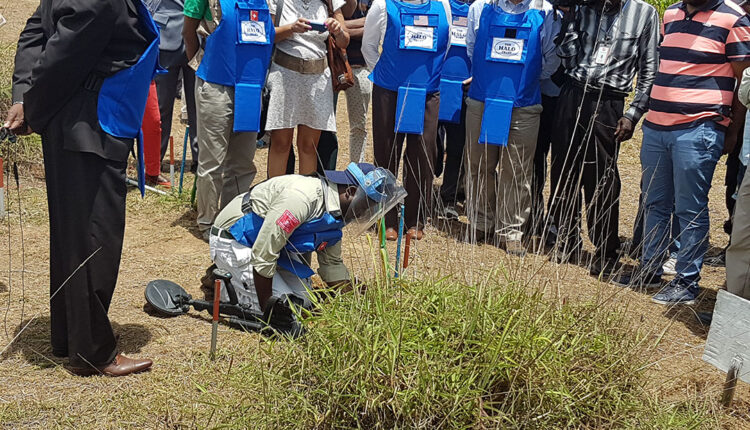 Walking Without Fear: Angola Makes Strides Toward a Mine-Free Future
Reading Time:
2
minutes
ADF STAFF
A Toyota Land Cruiser carrying 13 people on a dirt road in eastern Angola was blown into the air by an anti-tank mine earlier this year. Five passengers died, and the rest suffered serious injuries.
The mine likely had been hidden there for decades.
"Many cars drive along this road," driver Antonio Perreira said from his hospital bed in an interview with Agence France-Presse. "I do not know how it happened. We set off the mine, and a lot of people died."
After three decades of civil war, Angola is left with a deadly legacy: land mines. Although fighting ended in 2002, Angola remains one of the most heavily mined countries in the world. Land mine explosions killed 76 people in 2019.
An estimated one-fifth of the country's population lives in areas with mines, which affect every aspect of their lives.
"Land mines not only kill and maim innocent people, but also isolate communities from basic needs such as water sources and travel routes and productive land crucial for growing crops and grazing livestock," the demining group APOPO said.
The country set a goal of removing all mines by 2025 and has made significant progress by removing and destroying nearly 10,000 explosive devices in 2019. But it has experienced setbacks due to lost revenue from dropping oil prices and the economic recession caused by COVID-19.
To help keep Angola on track, the United States is donating $11.1 million for demining and weapons stockpile management. Since 1995, the U.S. has contributed $145 million to these causes in Angola.
"Twenty-five years of committed U.S. support for humanitarian demining has resulted in the destruction of over 218,000 landmines and other explosive hazards, and the safe return of over 463 square kilometers of land to the people of Angola," U.S. Ambassador to Angola Nina Marie Fite said in a statement provided by her office in October.
Part of the funding will help rehabilitate and build 16 storage facilities for weapons and munitions and train experts in stockpile management. Since 2006, the U.S. has helped Angola destroy nearly 108,000 excess weapons and 588 metric tons of obsolete and unneeded ammunition.
The funds also will help support humanitarian demining work by two groups: HALO Trust and the Mines Advisor Group. Fourteen demining teams will work to clear former battlefields in the provinces of Bie, Cuando Cubango and Moxico. Among other work, HALO has recruited and trained all-female demining teams in the country. HALO's 100 Women in Demining project offers empowerment and opportunity to women from low-income areas, many of them single mothers.
"The difference we make to the community is huge because people can go about their lives. They are much happier because they feel safe," Rita Kassova Kachiponde, a deminer, said in a HALO Trust video. "I will feel very, very happy when Angola is cleared of mines."
In welcoming the U.S. donation, Adriano Goncalves of Angola's National Inter-Sectoral Commission for Demining said it will be used strategically in Angola's most affected areas, which are recorded in a national database. Goncalves said the most serious problem is unexploded ordnance such as rockets or shells that are scattered on the ground. Children scavenging for metal unwittingly pick up the explosives.
"Many of these cases are people looking for means of subsistence, and children or young people find some metal and are unaware that it could be the remains of war or even explosive material," Goncalves told Angola's Novo Jornal. "Often they handle it inappropriately, and it ends up exploding."