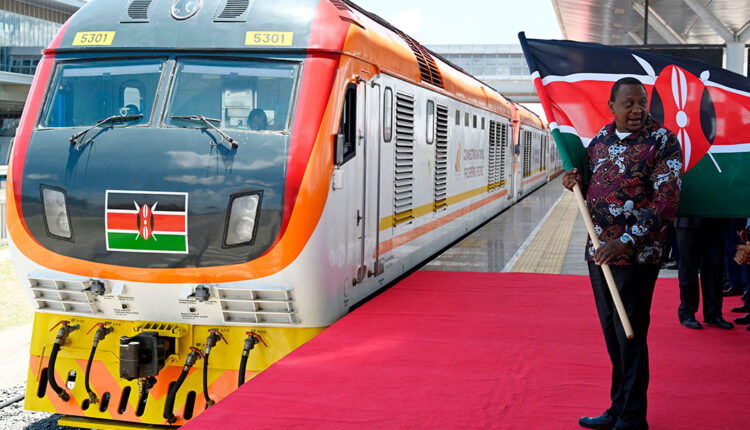 Reading Time:
3
minutes
ADF STAFF
Nations across the globe are warning that they face a stark choice between caring for their people and paying back international debt.
In a much-anticipated move, the G20, World Bank and International Monetary Fund have agreed to forgo debt payments for anywhere from eight months to two years. But China, which recently overtook the World Bank as Africa's single-largest creditor, is holding out.
So far, Chinese lenders have agreed to forgive small, interest-free foreign aid loans. But they have refused to take similar steps when it comes to the large loans that are financing major projects.
Chinese money has financed the Nairobi Naivasha Standard Gauge Railway passenger train project, among other major public works on the continent. Because Chinese loans are frequently tied to key national assets, experts worry that China may take this moment to engage in "debt-trap diplomacy," essentially threatening to foreclose on assets such as ports and railroads if nations are unable to continuing paying, Leonard Wanyama, coordinator of the East Africa Tax and Government Network told the Kenyan newspaper the Daily Nation.
African authorities look across the Indian Ocean to Sri Lanka with concern. China recently took control of Sri Lanka's Hambantota Port and thousands of acres of surrounding territory in exchange for forgiving that nation's debt.
"If China offers further debt cancellation, it will help push back on the 'debt-trap diplomacy' narrative," Wanyama said.
The United Kingdom-based Jubilee Debt Campaign, a charity pressing for cancellation of poor nations' debts, reports that China holds nearly 20% of the outside debt owed by African countries, according to the Observer Research Foundation. That amounts to about $8 billion in debt payments this year, $3 billion of that being interest, Ghanaian Finance Minister Ken Ofori-Atta told the Global Development Committee, of which he is president.
Much of that is commercial debt owed to Chinese banks rather than foreign aid.
Sharp declines in commodity prices (especially oil), tourism and trade have put many African countries in financial straits. At the same time, investors have begun retreating from risky ventures, pushing up borrowing costs.
Although the U.S. and European countries have poured trillions of dollars into their economies to counter the financial crisis caused by COVID-19-related lockdowns, African nations have managed about a 10th as much economic stimulus, former Nigerian Finance Minister Ngozi Okonjo-Iweala told Channels Television.
"We don't have the fiscal space to do more," Okonjo-Iweala said. "That's why it's important to be able to raise additional resources for the continent from outside."
Okonjo-Iweala is part of an African Union delegation appealing to the world's major lenders for a two-year debt standstill for indebted African nations "so they can use their resources to feed people," she said. In April, the G20 agreed to suspend debt payments to member countries until 2022.
Although other players have agreed to blanket relief, China prefers to renegotiate terms nation by nation and debt by debt. There needs to be more, according to Okonjo-Iweala.
"What we need from China is not a case-by-case examination, but an across-the-board agreement," she told news site Politico.
As Africa's fastest-growing economy, Ethiopia has led the effort to get China to write down part of the debt owed by African nations. It's estimated that debt ranges from 20% of gross domestic product for Ethiopia to as much as 80% for neighboring Djibouti.
Writing in The New York Times, Ethiopian Prime Minister Abiy Ahmed spelled out the dilemma many countries face when it comes to their debts to China: "Do we continue to pay toward debt or redirect resources to save lives and livelihoods? Lives lost during the pandemic cannot be recovered; imperiled livelihoods cost more and take longer to recover."