Cooperation Takes Flight at Symposium
Air Force Commanders From Across the Continent Discuss Shared Challenges, Resources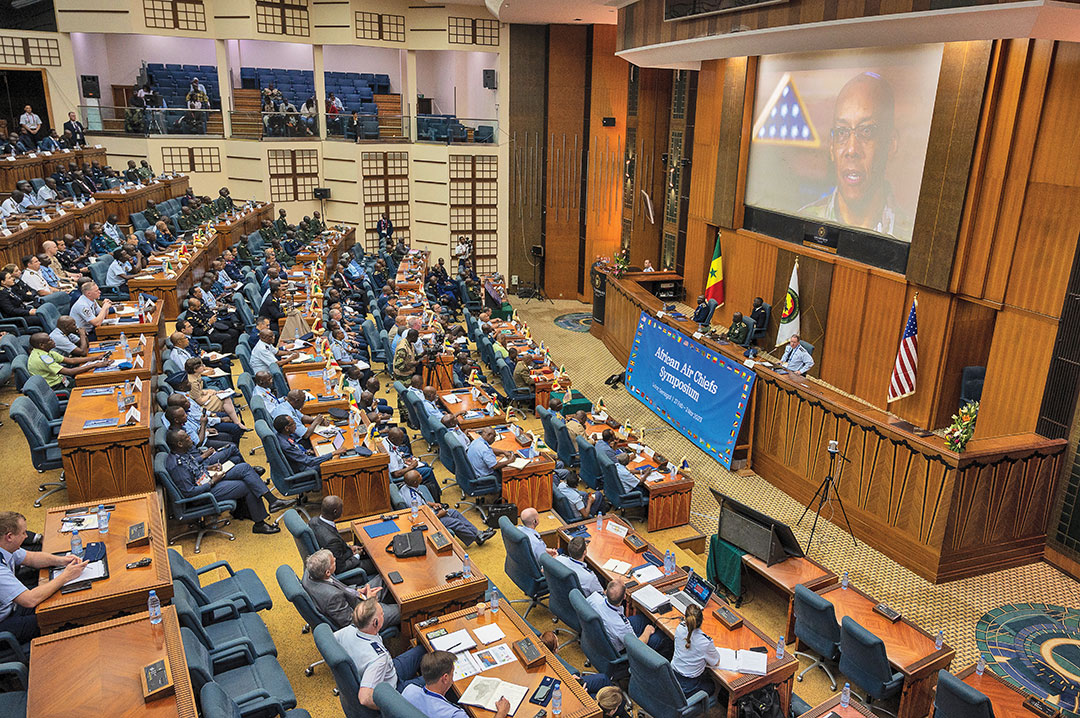 ADF STAFF
As air chiefs unpacked their bags and got back to work after returning from a continental symposium in Senegal, nature brutally underscored some of the themes and challenges they had discussed there.
Tropical Cyclone Freddy, after traveling more than 8,000 kilometers in 34 days, struck Mozambique's northern Zambezia province on March 11, 2023, eight days after the end of the African Air Chiefs Symposium (AACS) in Dakar. It was the enormous storm's second landfall.
Powerful winds, rain and storm surge caused damage and destruction in Malawi, Mozambique, southeastern Zambia and northeastern Zimbabwe. The record-breaking cyclone first hit land in Madagascar on February 21, a week before the start of the AACS. After dispensing heavy rain and flooding to Mozambique and Zimbabwe, it looped into the Mozambique Channel, where warm water reenergized it before it again hit Madagascar and moved back toward Mozambique. As of mid-March, more than 500 people had died, and Malawi saw gains made against a stubborn ongoing cholera outbreak sink in Freddy's deluge. 
In some countries, air chiefs returned to a landscape awash in floodwaters, debris and death. Discussions of strategic airlift and humanitarian relief and disaster response were fresh in their minds.
Malawi's Air Force just came into existence more than two years ago, transitioning from a smaller air wing, Maj. Gen. Ian Macleod Chirwa, air force commander, told ADF in Dakar. In mid-March, Malawi called on neighboring Zambia to lend helicopters to the ongoing rescue mission, exhibiting the collaborative spirit discussed during the symposium.
"We requested our Zambian counterparts to assist us with the rescue operation," Malawian Minister of Defence Harry Mkandawire told Nyasa Times, a Malawian news website, on March 15. "We need to work together in this mission, especially that we need equipment such as helicopters to assist us in reaching out to the people in hard to reach areas."
Cyclone Freddy wasn't the first such storm to hit southeastern Africa, and it won't be the last. Cyclone Idai wreaked havoc on the region in March 2019, killing more than 1,500 people. For that reason, some of the cooperation discussed among the air chiefs is urgent.
Air force chiefs and other personnel from nearly 40 countries met in Dakar from February 28 through March 3 for the 12th iteration of the AACS to talk about the challenges shared by many continental air forces.
"Our objective is, in part, to reaffirm the links among the air forces and at the same time to discuss subjects that are important for our cooperation," Brig. Gen. Papa Souleymane Sarr, Senegal's air chief of staff, told local reporters in French during a news conference at the four-day event.
Sarr served as co-host of the AACS with Gen. James B. Hecker, commander of U.S. Air Forces in Europe-Air Forces Africa. The symposium theme was "African Air Forces in the Fight Against Transnational Threats."
The symposium was held under the auspices of the Association of African Air Forces (AAAF), an air power collaborative established in 2015 when Côte d'Ivoire, Mauritania and Senegal joined the U.S. in signing the AAAF Charter. At the 2023 symposium, Somalia became the 29th African nation to join the association when Brig. Gen. Mohamud Sheikh Ali Mohamed, Somali Air Force commander, signed the group charter during the opening ceremony.
Transnational threats continue to plague much of the continent, from weapons smuggling out of Libya to violent extremist organizations terrorizing the Sahel and northern Mozambique. Some West African coastal nations find themselves using air assets to help fight maritime crimes of all kinds. The fact that the 2022 AACS focused on strategic airlift makes clear that the challenges facing air chiefs are broad and persistent.
Sarr cited the threat of violent extremism that has for more than a decade roiled Mali's north and spilled over into neighboring Sahelian states such as Burkina Faso and Niger. In more recent years, that threat has made its way closer to coastal nations such as Benin, Côte d'Ivoire, Ghana and Senegal.
"The threats now cross borders," Sarr told local reporters. "We have a common enemy who is trying to wipe out all the efforts of our countries. So, we all have to work hand in hand to succeed in pushing back this enemy."
Although Sarr said Senegal can maintain its own security, he said cooperation among nations will be essential in meeting the threat, adding that Senegal will extend "an outstretched hand to all our friends."
Famines and weather-related disasters, similar to transnational criminals and violent extremist organizations, do not stop at borders. They always will require coordinated and cooperative responses. Such cooperation was on the minds of AACS attendees and resulted in one of two major votes taken by air chiefs during the symposium.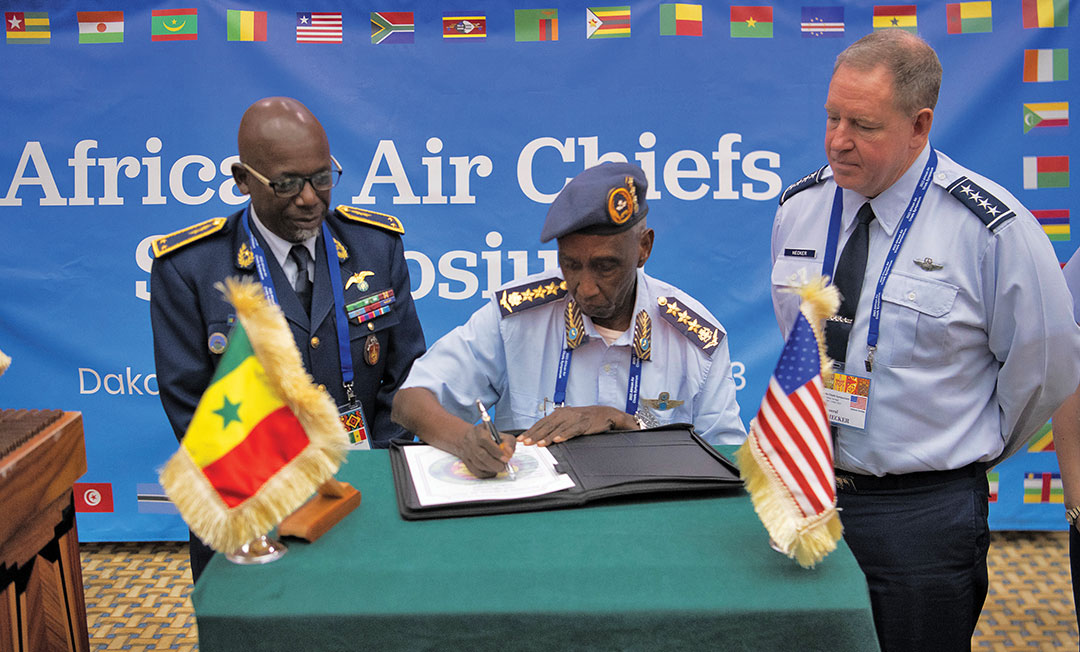 Pooling Resources
African officials have been considering a shared repository of air assets that could provide timely, coordinated responses to humanitarian disasters of all kinds. Liaison officers spent the year leading up to the symposium discussing the African Air Mobility Wing, and air chiefs voted to approve the concept this year. From there, the AAAF will approve the idea, and air chiefs will encourage their national defense ministers to bring it to the African Union for its approval.
Ọláyanjú Andrew Pópóọlá, AAAF Permanent Secretariat director, said the mobility wing would be similar to the Strategic Airlift Capability Heavy Airlift Wing in Pápa, Hungary, and NATO's AWACS Wing in Geilenkirchen, Germany.
The Heavy Airlift Wing in Hungary has 12 member nations and is the first of its kind aimed at "maximizing military strategic airlift capability through the sharing of resources and pooling of capacity," according to its website. It began in 2008 and received its first air asset, a Globemaster C-17 transport plane, in July 2009. Two more were delivered three months later. Member nations include the United States and 11 from Europe.
The wing has flown missions to Afghanistan, the Central African Republic, Haiti, Iraq and Libya, to name a few. In 2013, it supported the Economic Community of West African States in Mali. A multinational staff of 150 operate the fleet of three C-17s. As of early April 2023, the wing had flown 3,200 missions, moved 98,000 tons of cargo and logged 36,000 flight hours.
Sarr told ADF that the intent is to have an air wing that will have its own assets and be run by Africans. It will be established in one or two countries, and then various nations will contribute personnel and spare parts. It would handle maintenance and be available for humanitarian aid and disaster response and other types of strategic airlift.
"It's going to be like a wing we have in our air forces, but it's going to be a multinational wing in the sense that it's going to be run by different air forces," Sarr said. "So, we'll agree on who's going to do what. And this wing will be for all African nations, like if you have a disaster, we have to [for example], give a lift to one specific contingent in a mission, so we're going to do such a mission this way."
In another vote, air chiefs agreed to share costs associated with future AACS events so that no one country bears the full weight of funding the symposium.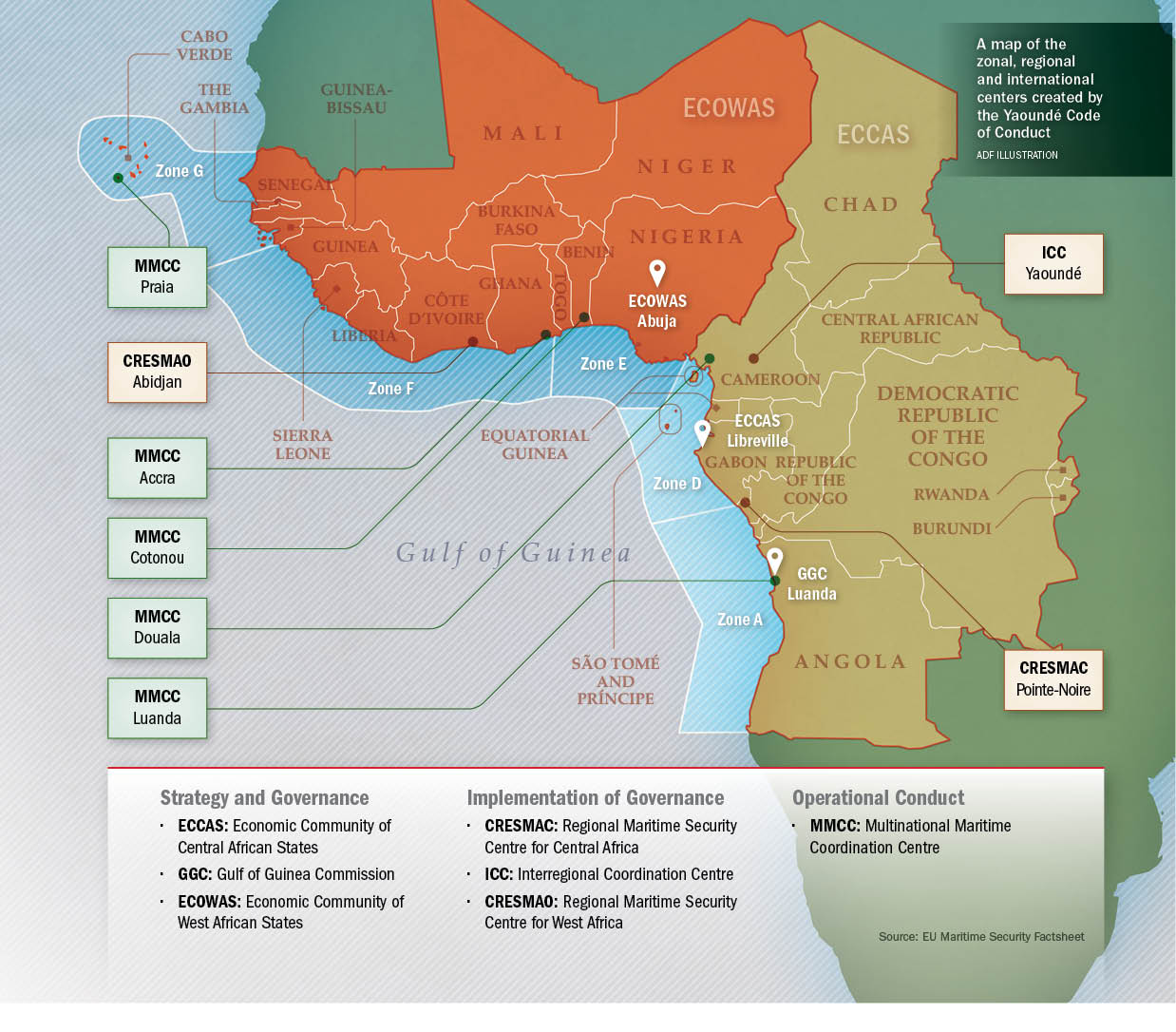 The Value of Gathering
During the conference, air chiefs or their designates met for presentations on humanitarian action and disaster relief; intelligence, surveillance and reconnaissance; women, peace and security; and other subjects. The symposium provided time for bilateral meetings between air chiefs so they could discuss more specific issues one on one.
The symposium also included a forum for senior enlisted officers and cultural performances to foster camaraderie among those attending.
Air force leaders said they found value in coming together to share concerns and challenges.
"The symposium enhances our relationships," said Brig. Gen. Hermalas Ndabashinze, chief of the Burundi Air Force. "We share our air force value among presentations and among bilateral meetings." He said if air chiefs see something working elsewhere, they can try to apply that best practice to their own force.
Chirwa, Malawi's air force commander, agreed. "This conference has got so many advantages," he said. "Malawi as a country values safety, security and peace. So, the vision of the African air chiefs is to come together and build a strong African relationship in terms of safety, peace and security. So, this is a special forum to contribute as a Malawian, as an air force, to contribute toward this important partnership with so many other countries."
Sarr said the symposium helps build relationships that can pay dividends later. "When you get together, when you get to know each other, it's making it very easy if something happens," he told ADF. "Let's say if there is a disaster in a country, well, the air force chief will be able to count on his counterparts. He's going to just take his phone and call them, and they'll be helping. That is what is the first important output we have from these symposiums, these gatherings."
African nations participating in the symposium were Algeria, Angola, Benin, Botswana, Burundi, Cameroon, the Central African Republic, Chad, Côte d'Ivoire, the Democratic Republic of the Congo, Egypt, Equatorial Guinea, Eswatini, Gabon, Ghana, Guinea-Bissau, Kenya, Lesotho, Libya, Madagascar, Malawi, Mauritania, Morocco, Mozambique, Niger, Nigeria, the Republic of the Congo, Rwanda, Senegal, Sierra Leone, Somalia, Tanzania, Togo, Tunisia, Uganda and Zambia.
The next AACS is planned for early 2024 and will take place in Tunisia. Its theme will center on building next-generation capabilities for Africa.  
---
Air Chiefs Hear Pitch to Add Aviation to Maritime Architecture
ADF STAFF
Ten years after the signing of the Yaoundé Code of Conduct, West African nations have seen meaningful gains in maritime security.
Information is flowing freely from coordination centers in each of the five cooperation zones and into regional centers in Pointe Noire, Republic of the Congo; Abidjan, Côte d'Ivoire; and to the Interregional Coordination Centre in Yaoundé, Cameroon.
Technology put in place in 2020 allows the sharing of logs, photos and recordings, and helps users aggregate surveillance data to identify suspicious vessels. The results are significant. 
Piracy in the Gulf of Guinea has declined from 81 incidents reported in 2020 to only 34 incidents in 2021. In the first nine months of 2022, there were only 13 reported incidents, according to the Organized Crime and Corruption Reporting Project.
The only thing missing from the Yaoundé Architecture, says air and maritime consultant Phillip Heyl, is an air component.
"Now one thing we didn't do 10 years ago, and the reason I'm here, is because we didn't set up an air component to the Yaoundé Code of Conduct," Heyl told officials at the African Air Chiefs Symposium (AACS) in Dakar, Senegal. The Economic Community of West African States (ECOWAS), he said, wants to add an air component to its Integrated Maritime Strategy.
"As all of you know, you can't catch bad guys on the water without aircraft. It's essential."
Heyl, of The Heyl Group, is contracted to the U.S. Air Force and is working with ECOWAS on the air concept. He said his pitch was the first given to African air chiefs on the idea. He said some air forces, such as Ghana, Nigeria and Senegal, contribute to offshore patrols, but not at a level needed to fully control the maritime space. He added that international partners would be willing to fund such air patrols. 
Integrating air patrols with vessel patrols would add a crucial dimension to the code's maritime architecture and help secure the entire region's blue economy, which has grown in recent years to include oil and natural gas discoveries. That, Heyl told ADF, can help generate income to address a wide range of other needs, such as education and alleviating poverty. "But if you don't govern it, everyone takes it." 
The Nigerian Maritime Administration and Safety Agency has made recent strides toward securing its maritime domain through its $195 million Integrated National Security and Waterways Protection Infrastructure, known as the Deep Blue Project. But Nigeria bought its own land, sea and air assets, he said.
"What we are talking about doing here is taking existing assets, an existing air force, that doesn't really have an offshore ISR (intelligence, surveillance and reconnaissance) mission, and asking them to contribute that," Heyl told ADF. "We're not buying new airplanes; we're just using what we have. Because one of the strategic initiatives is better coordination of your own agencies. It doesn't cost you any more; you pay them anyway. So why not get them all to work together to do something?"
Brig. Gen. Papa Souleymane Sarr, Senegal's air chief of staff and co-host of the AACS, told ADF that he is "very, very supportive" of the idea.
"Senegal is among those countries contributing in that we've put our assets to do maritime surveillance," Sarr said. "I'm supportive of what they are doing in there, and of course we'll add our voice to others to make it happen, and I think we will be able to achieve it, especially when [Heyl's] saying there's some possible funding African nations can get from donors or wherever. I think this is ground we can dig in to find solutions."
Heyl told the air chiefs they should coordinate with ECOWAS and the Economic Community of Central African States to get air force personnel working in the various zones' monitoring centers. 
"That maritime security, combined with the air component, will mean economic development," he said. "That's the bottom line."