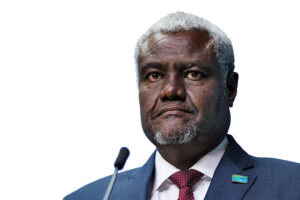 Moussa Faki Mahamat, chairperson of the African Union Commission, spoke at the 16th Extraordinary Session of the Assembly of the African Union on Terrorism and Unconstitutional Changes of Government in Africa in Malabo, Equatorial Guinea, on May 28, 2022. His remarks have been edited for space and clarity.
We have all recently witnessed, with dismay and concern, the resurgence of military coups d'etat in some of our member states. We are thus witnessing the resurgence of a practice that we believed to be gone forever, with the advent of a new era, the promising one of democratic consolidation.
Among the causes of these changes put forward by the putschists over recent months is prominently the inability, according to them, of the democratically elected civil powers to effectively combat terrorism. 
The sustainability and stability of democratic institutions is a guarantee of the economic and social development of our countries. Conversely, the untimely ruptures of the ongoing democratic processes constitute obstacles on the path of the emergence of the continent.
It is, therefore, becoming urgent to refine the analysis of the causes of this resurgence of military usurpations of power in order to determine the appropriate therapy.
At this stage, we cannot pass over in silence the issue of the delays in the transition processes carried out by the governments resulting from coups d'etat. The delays are becoming a source of tension and dissension detrimental to the stability of the states concerned and those of their neighbors.
It is important to stress the urgent need for better coordination of the actions of the African Union and those of the regional economic communities to better support a rapid restoration of the normal constitutional order. 
Let us stop considering the fight against terrorism as an ordinary phenomenon that can be solved by meetings, seminars and other colloquia. Strong and coordinated actions and concrete intra-African solidarity commensurate with the danger are the conditions for our victory over this gangrene.
Likewise, let's stop looking elsewhere when the political practices in our states clash with the rules and principles of virtuous governance that we have unanimously and sovereignly adopted. Sovereignty and the principle of noninterference must not take precedence over the duty of truth that we have toward each other. It is also the place to appeal to the republican spirit of the African armed forces so that they refrain from any intervention likely to compromise the democratic achievements of the last 30 years on the continent.
Africa is undoubtedly the last continent in the world to experience terrorism with such intensity and where unconstitutional changes still exist. It is indisputable that these two phenomena are reversing our development priorities and hampering our march toward progress. We must no longer accept this. We must take up this double challenge through bold and courageous measures, both within the states and at the regional and continental level, so that these intolerable attacks on our security and stability cease to flourish on the continent.