Obangame Express Sharpens Maritime Security Skills, Fosters Cooperation
ADF STAFF
Members of the Royal Moroccan Armed Forces knifed through the Gulf of Guinea in two speeding patrol boats. Their destination: a massive vessel on the horizon.
They arrived in minutes.
"One by one, one by one," one of them called as they ascended a ladder on the side of the ship with their guns drawn.
On board, they did a thorough search for contraband and signs of illicit activity.
The Moroccan forces were participating in Obangame Express 2023, the largest multinational maritime exercise in Western and Central Africa. The annual international maritime security exercise sponsored by U.S. Africa Command (AFRICOM) began January 23.
Now in its 12th year, the exercise is one of three NAVAF-facilitated regional exercises that offers opportunities for forces from across the continent to collaborate to address transnational maritime concerns.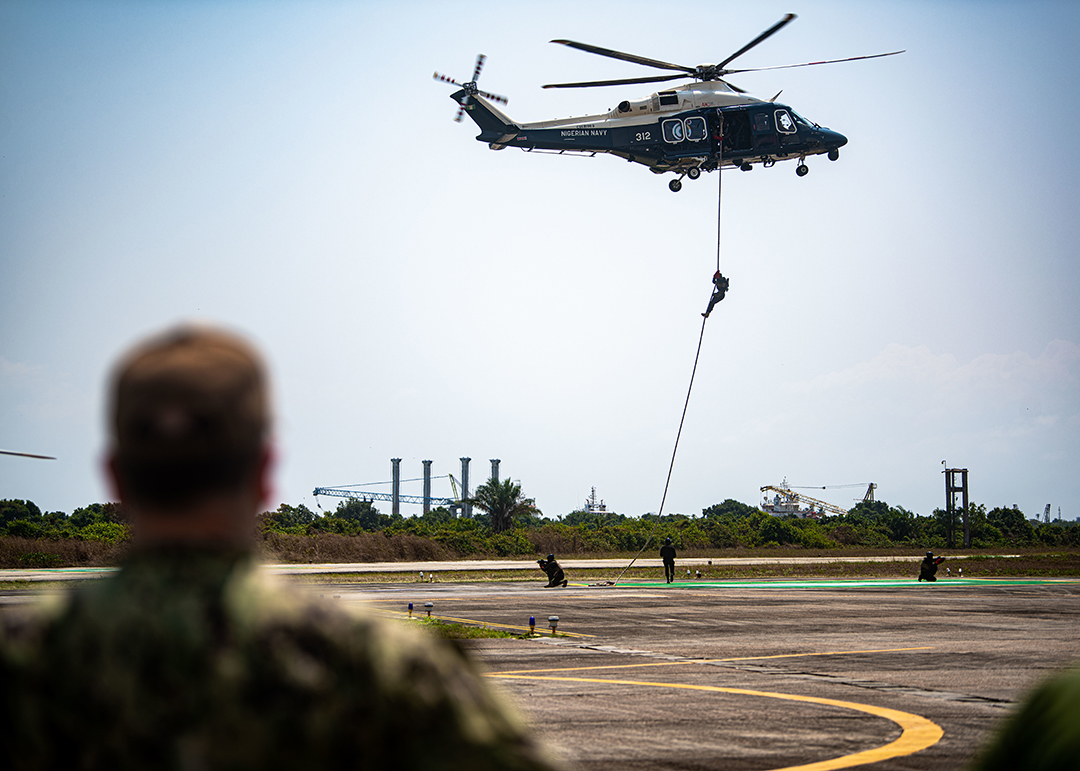 "This will no doubt enhance the African Continental Free Trade Agreement as well as develop a sustainable blue economy, which of course is the future of the world," Nigerian Navy Vice Adm. Awwal Gambo, Chief of Naval Staff, said during the opening ceremony.
Nigeria hosted this year's exercise, with 31 participating nations, including Angola, Benin, Cabo Verde, Cameroon, Côte d'Ivoire, the Democratic Republic of Congo, Gabon, The Gambia, Ghana, Guinea-Bissau, Liberia, Morocco, Namibia, the Republic of Congo, São Tomé and Príncipe,, Senegal, Sierra Leone and Togo.
The exercise brought together 90 ships and 450 participants, including Sailors, Coast Guard members, aviators and Soldiers.
Conducted throughout the Gulf of Guinea and the southern Atlantic Ocean, the weeklong exercise also featured training on search and rescue operations, medical casualty response, radio communication and information management techniques.
While piracy, drug trafficking and weapons smuggling are challenges around the Gulf of Guinea, the region has emerged as the world's hot spot for illegal, unreported and unregulated (IUU) fishing, which steals an estimated $2.3 billion to $9.4 billion annually from local governments. The continent loses $11.5 billion annually to illegal fishing, according to the Financial Transparency Coalition.
"The issues that we're facing today that we're dealing with in this exercise — counternarcotics, piracy, IUU (fishing) — these are global issues," U.S. Navy Vice Adm. Thomas Ishee, commander of the U.S. 6th Fleet, said at the opening ceremony. "We share those practices because we no longer live in a small, closed world where we can think only about the problems in our own territorial waters or within our own country.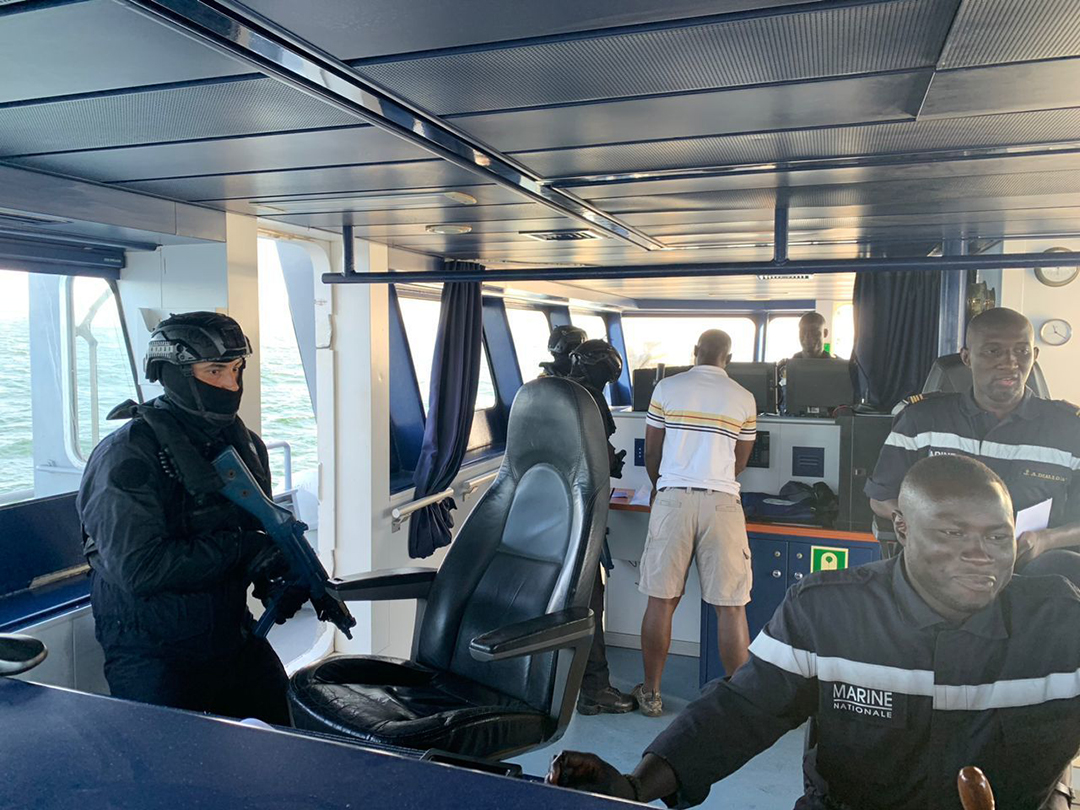 As the exercise drew to a close,  Nigerian officers offered a tour of the country's Joint Maritime Security Training Center, Western Naval Command, Naval Air Base Ojo and the Special Boat Squadron.
The tour offered insight into the multifaceted approach Nigeria and other nations take in the region's maritime security domain. Nigeria recently launched its Deep Blue Project, a multipronged approach to confronting piracy in the Gulf of Guinea. The $195 million project brings together a mix of ships, aircraft and drones to patrol the busy shipping lanes off Nigeria's coast. It identifies potential problem areas and respond quickly to piracy.
The project and other regional efforts seem to be working. While there were 81 piracy incidents in the Gulf in 2020, there were only 34 incidents in 2021. In the first nine months of 2022, there were only 13 reported incidents, according to the Organized Crime and Corruption Reporting Project.
During the closing ceremony, Gambo said exercises like Obangame Express are critical in helping regional navies and coast guards address ongoing maritime security challenges.
"Coming together is a beginning, staying together is progress and working together is success," Gambo said. "These are powerful testimonies of steadfast commitment … enhancing maritime security across the board."