Grand African NEMO Makes Waves in Gulf of Guinea
ADF STAFF
More than 20 nations recently completed the Grand African Navy Exercise for Maritime Operations (NEMO) 2022, an annual event led by the French Navy.
The first phase focused on at-sea skills such as boarding vessels to combat illegal fishing, piracy, drug trafficking, pollution and performing at-sea rescues. The second phase focused on collaboration and information sharing between national maritime operational centers, maritime coordination centers and regional maritime safety centers.
"This exercise is organized in the framework of the code of conduct resulting from the Yaoundé process," Nigerian Navy Chief of Staff Vice Adm. Awwal Gambo said in a report by Nigerian news channel Silverbird News24. "We aim to create a safe and secure maritime environment for shipping and other activities through the prevention of piracy, sea robbery, crude oil thefts, illegal conquering and other forms of criminalities."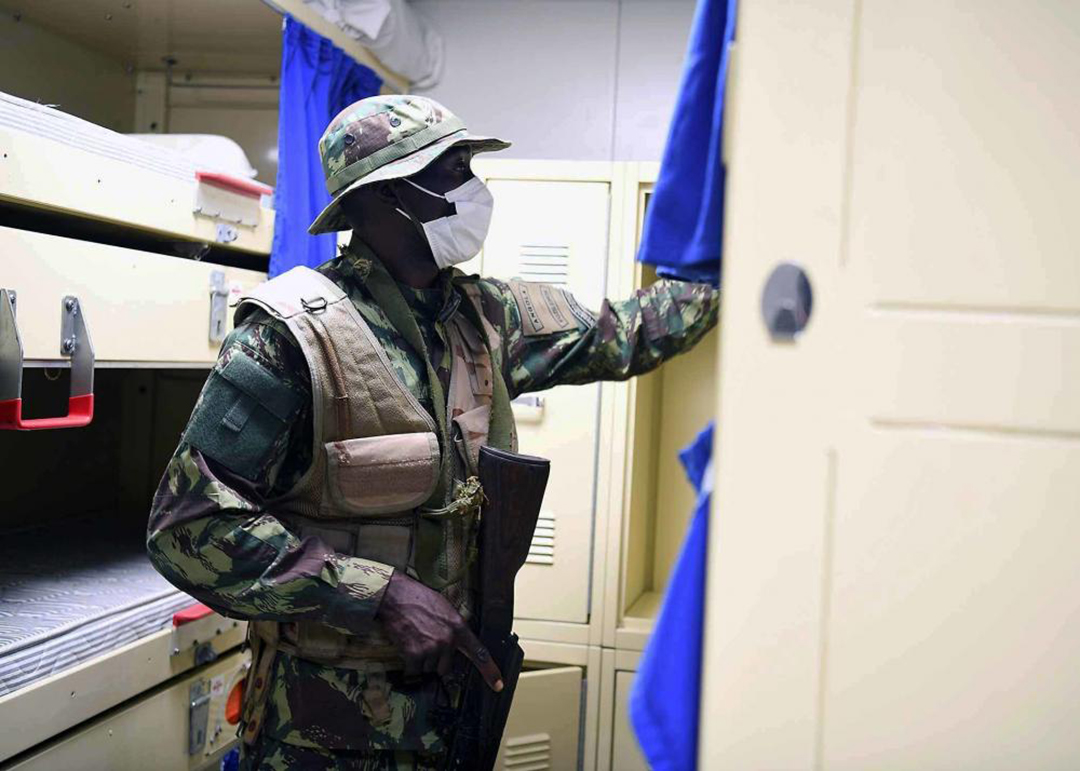 Other participating African nations included Angola, Benin, Cabo Verde, Cameroon, Côte d'Ivoire, Democratic Republic of the Congo, Gabon, The Gambia, Ghana, Guinea, Liberia, Morocco, São-Tomé and Príncipe, Senegal, Sierra Leone and Togo, according to a news release from the French Navy
Belgium, Brazil, Denmark, Italy, Spain, the United Kingdom and the United States also participated.
About 30 surface vessels and five aircraft participated throughout the weeklong exercise that began October 10. Among the vessels was the U.S. Navy ship USS Hershel "Woody" Williams.
The event was not limited to simulations. During the exercise, a French Falcon 50 aircraft located a fishing vessel in distress, and authorities guided a nearby merchant vessel to help seven fishermen on board. In another drill, the French frigate Germinal and its embarked helicopter located a canoe suspected of drug smuggling and guided an Ivoirian patrol boat to intercept the canoe.
"This Gulf of Guinea training opportunity further emphasizes our resolve, and the commitment and resolve of our partners and allies, to work together to improve the stability and security of coastal Africa," U.S. Navy Capt. Michael Concannon, commanding officer of the Hershel "Woody" Williams, said in a news release.
During the event, Nigerian Navy Rear Adm. Yakubu Wambai expressed confidence in the Nigerian Navy's readiness to provide leadership for combat operations with neighboring nations.
NEMO22 is "geared toward enhancing the operationality and collaborative efforts of both the Nigerian Navy and other Gulf of Guinea navies," Wambai said in the Silverbird News24 report. "The essence is to continue to keep the Gulf of Guinea and host nation waters as safe as possible. We believe that we will continue to see that Nigerian waters are becoming piracy free."
In 2021, Nigeria launched its Deep Blue Project, a multipronged approach to confronting piracy in the Gulf of Guinea. The $195 million project includes a mix of ships, aircraft and drones to patrol the busy shipping lanes off Nigeria's coast. It identifies potential problem areas and responds quickly to piracy. It also has a land-based component.
According to the International Chamber of Commerce's International Maritime Bureau (IMB), 13 piracy and armed robbery incidents were reported in 2022 in the Gulf of Guinea region through mid-October. That's down from 27 incidents over the same period in 2021.
During the exercise, nations were trained to use the Yaoundé Architecture Regional Information System (YARIS), a computerized maritime database used for information sharing. The platform is a tool for analysis and decision-making at sea. YARIS also can highlight specific threats and alert criteria to automatically detect suspicious vessels.
In late July, YARIS helped Guinean authorities arrest a vessel suspected of illegal fishing. Capt. Ibrahima Bah, head of operations and training at Guinea's Maritime Operations Center, said the platform tracked the vessel for three days before it was boarded and inspected.
"The YARIS system makes it possible to define several maritime zones and to observe the movements of vessels within these areas," Bah said on the Gulf of Guinea Interregional Network's website.