Drones Can be Deadly Weapons For Extremists
Terrorists are using drones to identify targets and conduct surveillance in Africa. The next step will be weaponizing them.
ADF STAFF
Cheap, widely available drone technology has the potential to revolutionize medicine delivery, crop treatment and surveillance across Africa. But where innovators see an opportunity to improve lives, extremist groups see a chance to destroy them.
In the Middle East, terror groups have begun weaponizing off-the-shelf drones to attack civilian and military targets. Now, experts are warning, that deadly tactic could be coming to Africa.
"For $2,000 you can breach any fence in the world," Dedrone CEO Aaditya Devarakonda said, describing drones to Forbes magazine. "It's the most asymmetric threat out there." Dedrone secures airspace to protect organizations from malicious drones.
Signal-controlled drones, also known as unmanned aerial systems, date to the mid-1930s. Today, drones range from tiny radio-controlled $30 toys to craft the size of an airplane. In between are a staggering array of devices capable of transmitting video, scouting troop movements and carrying cargo.
The sophistication of over-the-counter "hobbyist" drones is astonishing. A simple drone that costs less than $1,000 includes four rechargeable motors with 30 minutes of flight time, a three-axis camera shooting high-resolution video, a sensor capable of shooting nighttime video and a video transmission range of more than 11 kilometers.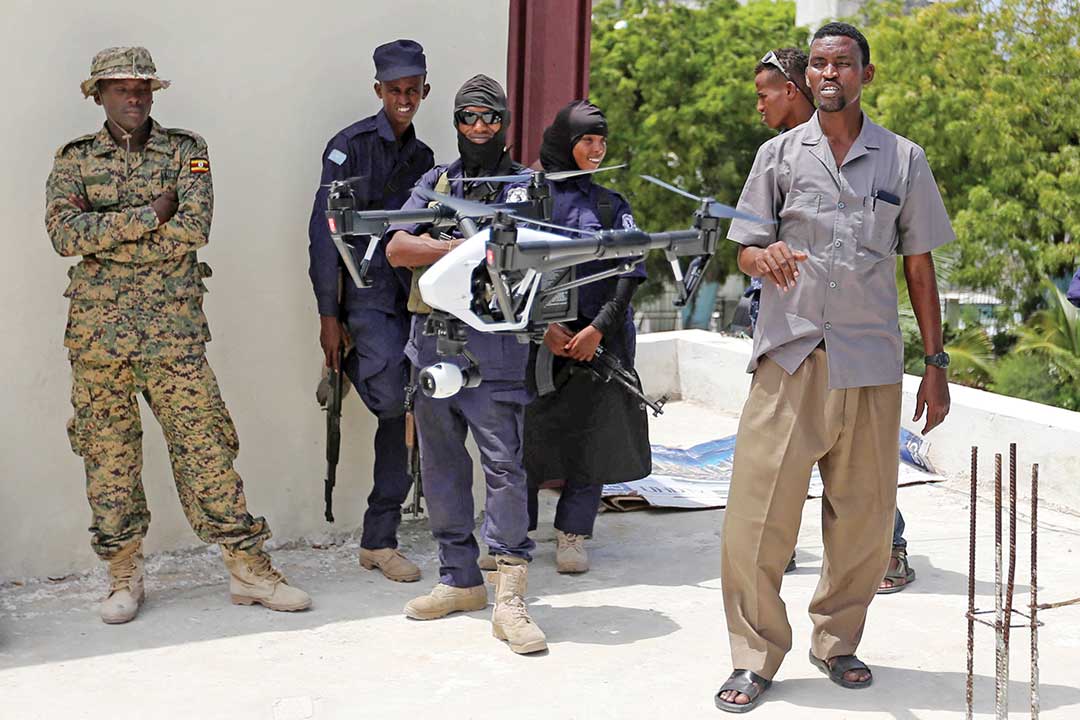 Most inexpensive drones can't carry much — less than 2 kilograms — but numerous companies have developed drones capable of transporting up to 200 kilograms. Such drones typically sell for about $250,000. That demonstrates the pace of drone development in the 21st century: A drone with such capacity would have been inconceivable at that price 20 years ago.
Science writer Kashyap Vyas said the past 10 years have seen a "huge explosion" in drone development.
"Drones are expected to become smaller and lighter with much longer battery life and flight times," Vyas wrote for the website Interesting Engineering. "In the civilian market, developments in improving flight times are allowing them to serve as delivery platforms, for use in emergency services, and for data collection in a number of areas too dangerous for humans, such as in power plants or fires."
Some now describe drone technology as a modern-day Pandora's box in that what started out for things such as aerial photography has grown and evolved in positive and terrible ways.
DRONES IN AFRICA
To date, there have been no reports of weaponized drones used by terror groups in Africa, but experts warn that this could change quickly.
Murtala Abdullahi, a Nigerian reporter who covers security issues for the site HumAngle, said drone access is tightly regulated in Nigeria so extremist groups have resorted to capturing government drones. So far, they mostly have been used for surveillance or propaganda efforts, but he said the groups are intent on expanding their use and want to learn from extremist groups in the Middle East.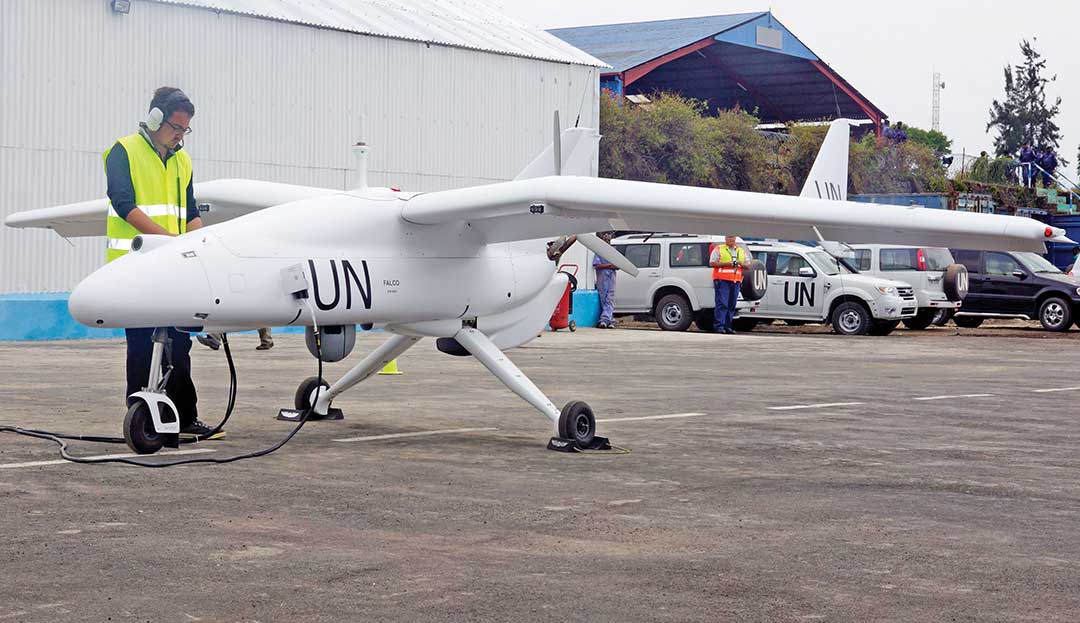 "It has not been as sophisticated as in the Middle East where drones have been equipped with explosives to target troops, but it doesn't mean it won't happen in the future," Abdullahi said during an Africa Center for Strategic Studies (ACSS) webinar. "Information technology has allowed these groups to have knowledge from other regions, which means there is a huge risk of them improving what they already have by learning from others."
In Mozambique, extremists in Cabo Delgado province use drones for surveillance. Then-Mozambican Interior Minister Amade Miquidade reported in 2020 that extremists had deployed drones in a region where a Southern African Development Community stabilization force had been authorized.
During extremist attacks in late March and early April 2021 that targeted, among other areas, the strategically important town of Palma, Miquidade said militants used drones to improve attack precision.
"If we look at the ease with which [the insurgents] are getting weapons and mounting attacks on the military, I will never underplay the possibility that they start making use of more technologically advanced capabilities, and with that I include drones," said Jasmine Opperman, a South African security consultant, in an ACSS paper. Opperman added that, "If you can bring in cellphones by the hundreds through illegal smuggling routes, what is preventing them from bringing in drones?"
Experts also are warning that drones have the potential to replace suicide bombers.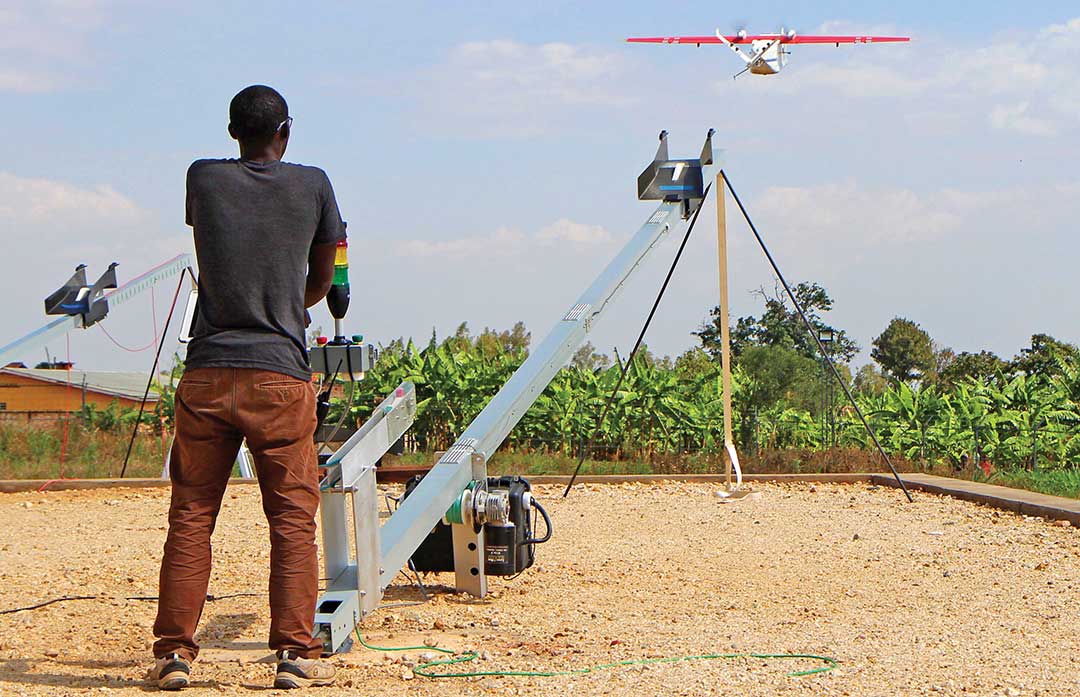 "Terrorist groups need individuals to carry out their attacks," wrote Maj. Thomas Pledger, an infantry officer in the U.S. Army National Guard. "Many groups typically conduct attacks with the expectation that their members will sacrifice themselves during the attack, either by being caught or killed. The use of drones, however, can allow an individual or a small group to conduct multiple attacks without self-sacrifice."
A major concern, say drone experts, is that developments in drone technology coincide with advancements in artificial intelligence (AI). Using AI could mean drones that don't need an operator. Experts envision extremists using "swarms" of small, inexpensive AI drones in targeted attacks.
Retired Col. David Peddle, a former member of the South African National Defence Force, confirmed that armed nonstate actors have been using drones for surveillance and believes it will be only "a matter of time" before the deployment of swarms or clusters of offensive drones in Africa, given their accessibility and relatively low cost.
Other experts agree, saying that modern technology and manufacturing has made drones increasingly affordable for terrorists. In his book "Life 3.0," physicist Max Tegmark wrote that "small AI-powered killer drones are likely to cost little more than a smartphone."
Additionally, drones will minimize the human investment required for terrorist attacks, with researchers noting that increased autonomy will enable one person to inflict more damage. AI could make terrorism cheaper and lower the human costs required to commit attacks, creating a new generation of "lone wolf" terrorists.
The technology to attack individuals — facial recognition software, drones and machine-to-machine communication — already exists. Tegmark envisioned inexpensive AI-equipped assassination drones that are straight out of a James Bond movie: "All they need to do is upload their target's photo and address into the killer drone; it can then fly to the destination, identify and eliminate the person, and self-destruct to ensure that nobody knows who was responsible."
Researcher Jacob Ware, writing for the security website War on the Rocks, said the combination of simple AI and drones poses a genuine threat throughout the world.
"Terrorist groups are increasingly using 21st-century technologies, including drones and elementary artificial intelligence, in attacks," Ware reported. "As it continues to be weaponized, AI could prove a formidable threat, allowing adversaries — including nonstate actors — to automate killing on a massive scale. The combination of drone expertise and more sophisticated AI could allow terrorist groups to acquire or develop lethal autonomous weapons, or 'killer robots,' which would dramatically increase their capacity to create incidents of mass destruction in Western cities."
Pledger's study noted that drones open a new range of terrorist tactics and targets. 
"A particularly frightening application of drones is the distribution of chemical and biological agents, especially infectious diseases," Pledger wrote. "Conversations around infectious disease are so prevalent, and the fear is known."
Pledger predicted that because of their "relatively low cost" and the "significant" distance from which they can be deployed, drones will be used as a "primary tactic of future terrorist attacks."
"Critical infrastructure is also vulnerable, and hardening thousands of locations against attack would be financially restrictive, at best," he wrote. "Probable infrastructure targets include fuel or water storage facilities, gas pipelines, power distribution plants and food supply locations, many of which are minimally or completely unmanned."
Karen Allen, a security expert for the Institute for Security Studies in South Africa, said drones represent "a new iteration of digital technology, and Africa will be involved."
"Although drone technology is largely used for positive purposes, the possibility for individuals to build drones with smartphones and open-source software will accelerate, and the results may be destabilizing," she wrote. "In short, drones are likely to be an integral part of future warfare in Africa."  
---
A History of Weaponized Drones
Terrorists' use of drones as weapons dates back almost a decade. Here are some known drone attacks:
Al-Qaida used multiple drones in 2013 in an unsuccessful attack in Pakistan.
The Islamic State group used small drones in attacks on Iraq and Syria in 2014.
The Islamic State group used drones to drop light explosives on Iraqi Soldiers during the battle for Mosul in 2016 and 2017.
A swarm of drones armed with bombs attacked Russian bases in western Syria in January 2018. Ten drones rigged with explosives attacked a Russian air base while another three targeted a Russian naval facility. 
Armed drones struck two oil-pumping stations in Saudi Arabia in May 2019. Officials blamed the attack on Yemen's Houthi rebels. Months later, Houthi forces launched drone attacks on three Saudi air bases. Houthi sources said the drones hit their targets, but Saudi officials said the drones were intercepted and downed.
Houthi drones attacked two major oil facilities in Saudi Arabia in September 2019, causing fires.
On September 14, 2019, the Houthis launched drone attacks at two major oil facilities run by Saudi Aramco and caused a blaze.
Pakistan-based terrorists used two armed drones to attack an Indian Air Force base in June 2021.