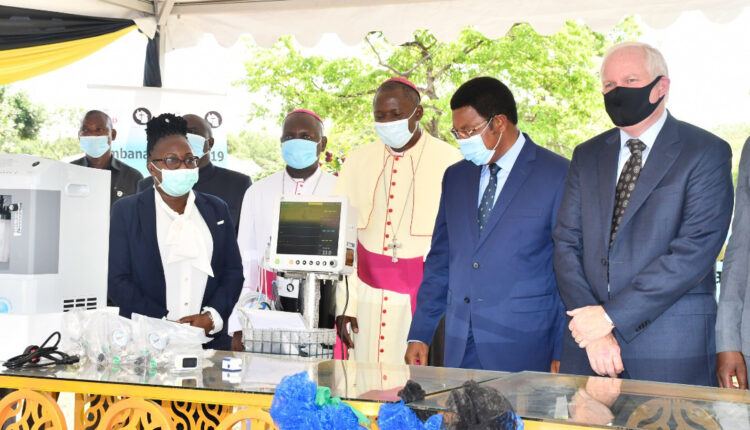 Reading Time:
2
minutes
ADF STAFF
The Tanzania Episcopal Conference and the United States joined forces on a project that aims to help medical facilities, health care workers, religious leaders and people with disabilities halt the spread of COVID-19.
The U.S. Agency for International Development (USAID) supported the effort, known as Pambana na Uviko-19, by donating $550,000 toward the purchase of oxygen cylinders, patient monitors and oxygen concentrators. The equipment will be distributed to 12 hospitals in Arusha, Bukoba, Dar es Salaam, Iringa, Kagera, Kigoma, Kilimanjaro, Mbeya, Morogoro, Mtwara, Ruvuma and Singida.
"We commend USAID for extending their support to raise awareness on the importance of COVID-19 vaccination in saving people's lives," Archbishop Jude Thaddaeus Ruwa'ichi of the Archdiocese of Dar es Salaam said during a launch ceremony in October. "The project will ensure many people are educated."
The new partnership is a continuation of support the U.S has offered Tanzania since the pandemic began.
"While mitigating the effects of COVID-19 is critical, the best way to address the pandemic is to get the virus controlled before it infects people," U.S Ambassador to Tanzania Donald Wright said at the ceremony.
In early September, USAID helped Tanzania launch a $750,000, 10-month project that aims to improve health care for critically ill COVID-19 patients at four regional referral hospitals. The funds are meant to purchase oxygen therapy equipment and provide training for health care workers to use and maintain it. The U.S. has contributed more than $25 million toward Tanzania's COVID-19 response.
According to the Africa Centres for Disease Control and Prevention, Tanzania had reported just more than 26,000 COVID-19 cases and 725 deaths as of November 8.
Changing Course
Tanzanian health officials have long battled COVID-19 skepticism. The late President John Magufuli was a staunch coronavirus denier, but new President Samia Suluhu Hassan has worked to strengthen the country's response after Magufuli died in March 2021.
In mid-April, Hassan announced the formation of a task force of health experts to advise her on handling the pandemic and called on religious leaders to preach about the realities of COVID-19 to their congregants.
In May, Tanzania installed medical oxygen production plants at seven of its largest national hospitals to help treat COVID-19 patients and other critically ill people through a project funded by the World Bank. The plants can fill 200 oxygen cylinders a day.
In October, Health Minister Dorothy Gwajima pledged that the country would publish weekly COVID-19 updates. Under Magufuli's leadership, the country went more than a year without publishing pandemic-related data.
Also that month, Hassan allocated 5.1 billion Tanzanian shillings (about $2.2 million) for research aimed at halting the pandemic. The funds are part of a $567.25 million package approved for Tanzania in September by the International Monetary Fund.
Despite Hassan's science-based approach to the pandemic, misinformation continues to fuel COVID-19 skepticism, Dr. Deus Kitapondya, a medical specialist in Dar es Salaam, told international news publication Quartz Africa.
"There is still not really a comprehensive approach," Kitapondya said. "We are seeing large gatherings of people with very few wearing masks. There is little social distancing."