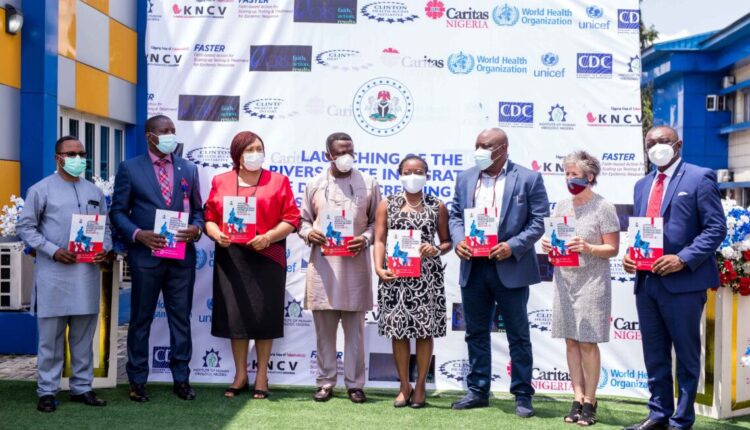 Reading Time:
2
minutes
ADF STAFF
With help from the U.S. Centers for Disease Control and Prevention (CDC), Nigerian officials opened an integrated screening and service delivery site for tuberculosis (TB), HIV and COVID-19 on October 25.
Located at Rivers State University Teaching Hospital in Port Harcourt, the initiative's goal is to incorporate COVID-19 screening where HIV and TB services already are provided as a way to improve coronavirus detection and prevention measures.
"The triple epidemic of HIV, TB and COVID-19 poses a challenge and an opportunity," Dr. Mary Adetinuke Boyd, country director of the U.S. CDC, said during a launch ceremony. "The challenge is that all three diseases are relentless, damaging and continue to cost countless lives in our communities. However, because detection, treatment and prevention exist and are readily available to us right here and right now, we have an opportunity to respond and save many lives."
The initiative also will increase the use of an antigen-based rapid diagnostic test to identify COVID-19 cases faster. Nigeria has endured three waves of COVID-19 infections, and Rivers State has reported the third-highest number of COVID-19 cases and deaths in the country, according to the U.S. Embassy in Nigeria.
Despite the emergence of COVID-19, TB and HIV still are far deadlier in Nigeria.
As of November 5, COVID-19 had sickened about 212,450 Nigerians and killed more than 2,900, according to the Africa Centers for Disease Control and Prevention.
In 2020, 1.7 million people in Nigeria had HIV, 49,000 of whom died from AIDS, according to German database company Statista.
About 245,000 Nigerians die from TB and roughly 590,000 new cases are reported each year. Of the new TB cases, about 140,000 also have HIV, according to the Copenhagen Consensus Center.
The COVID-19 pandemic has forced Nigeria's government to make bigger investments in medical infrastructure, Ememabasi Bassey, chief medical director at the University of Uyo Teaching Hospital, told Nigerian newspaper the Daily Sun.
"The present Federal Government has invested in [more] medical infrastructure than any others in the last couple of decades," Bassey told the newspaper. "For instance, during the pandemic last year, the Federal Government released funds to the management of the hospital, Uyo, opened a modular testing laboratory and other projects that could help in combating the virus."
In response to a growing need for oxygen amid a deadly surge in cases, Nigerian President Muhammadu Buhari approved about $17 million to build 38 oxygen plants across the nation. The government earmarked an additional $671,000 to repair oxygen facilities in five hospitals.
Since the pandemic started, the U.S. has donated more than $73 million toward Nigeria's COVID-19 prevention efforts, including donations of ventilators, COVID-19 detection surveys, technical assistance and service plans.
In February 2021, the U.S. donated a $1.3 million field hospital to the Federal Medical Center in Abuja. The field hospital includes four negative-pressure isolation facilities that can house up to 40 patients, an auxiliary generator, beds, showers, lavatories and equipment. Its negative-pressure rooms ensure that patients in any condition receive medical care, including surgeries, without risk of contaminated air flowing out.