Donated Intensive Care Unit Beds Boost Namibia's COVID-19 Response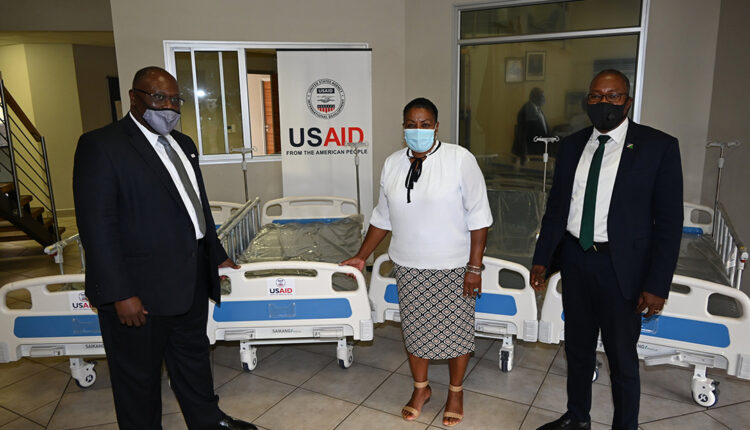 Reading Time:
2
minutes
ADF STAFF
As experts warned of a pending fourth wave of COVID-19 infections in Africa, the United States donated 70 intensive care unit (ICU) beds to Namibia's Ministry of Health and Social Services.
Worth more than N$700,000 ($46,000), the beds will be distributed at hospitals in the towns of Gobabis, Katima, Katutura, Mulilo, Oniipa, Oshakati, Rundu, Swakopmund and Walvis Bay. The U.S. donated the beds October 20.
During the third COVID-19 wave, many Namibian health facilities did not have enough ICU beds to meet demand. The beds are crucial in treating COVID-19 patients who have severe respiratory issues.
"These state-of-the-art ICU beds will help improve Namibia's COVID-19 and non-COVID clinical case management," McDonald Homer, country representative for the U.S. Agency for International Development, said at a handover ceremony in Windhoek.
The U.S. plans to ship an additional 200 emergency field beds to help Namibia respond to future surges of COVID-19 infections.
Driven by the delta coronavirus variant, the pandemic's third wave struck Namibia hard in July. Hospitals across the nation were overcrowded, and health care workers were physically and emotionally exhausted. Lack of hospital beds and medical oxygen led to an alarming surge of COVID-19 deaths, putting mortuaries at capacity.
According to the Africa Centres for Disease Control and Prevention, Namibia reported nearly 129,000 COVID-19 infections and 3,550 deaths, as of October 28.
The U.S. has donated more than $6.7 million toward Namibia's COVID-19 response.
In July, the U.S. delivered 176 tablet computers, 53 laptop computers and 250 remote temperature-monitoring devices to the country. That donation was made a week after the BBC reported that Namibia had the world's highest daily COVID-19 death rate, at 22 per 1 million people. Infection rates gradually declined, and Namibia reported fewer than 50 COVID-19 infections through much of October.
Also in July, the U.S. donated personal protective equipment and supplies worth $294,000 to Namibia's Health Ministry. The delivery included 140,000 surgical masks, more than 25,000 N95 masks, 2,000 face shields, 87,000 gloves, 21,000 protective gowns and suits, 450 liters of antibacterial soap and 12,000 paper towel rolls.
In April, the U.S. donated 30 centrifuges, 15 vortex mixers, 12 biosafety cabinets, 10 refrigerators and 10 freezers to help strengthen laboratory capacity and protect laboratory workers.
Economic, Employment Woes
COVID-19 has harmed Namibia's mining- and tourism-based economy. In June, Namibian President Hage Geingob created a Business Rescue Task Force to help businesses in financial distress.
"Covid-19 has led to adverse socio-economic impacts and untold losses for businesses, which were largely unanticipated," Geingob said. "Therefore, I expect the members of this Task Force to ensure the efficient and effective rescue and recovery of businesses in financial distress, preserving jobs and entrenching a stronger entrepreneurial culture in the country."
Namibia's economy contracted by 6.5% in the first quarter of 2021, Reuters reported. Its economy contracted by a record 8% in 2020.
Due partially to COVID-19, more than 145,000 Namibian workers lost their jobs between January 1, 2020, and September 30, 2021, The Namibian newspaper reported.