ADF STAFF
Niger's military has launched a program to improve the lives of citizens living in the Agadez region surrounding Air Base 201.
The newly created Action Civil-Militaire (ACM) division of the Forces Armées Nigeriennes (FAN) is conducting humanitarian aid missions. The ACM has conducted its missions in conjunction with U.S. Civil Affairs teams stationed at Nigerien Air Base 201.
Under the program, ACM members select villages to receive aid and execute each mission supported by U.S. Civil Affairs.
ACM members have contacted multiple communities near the base to determine how best to meet residents' needs. Seven missions are in the works, with at least three already conducted.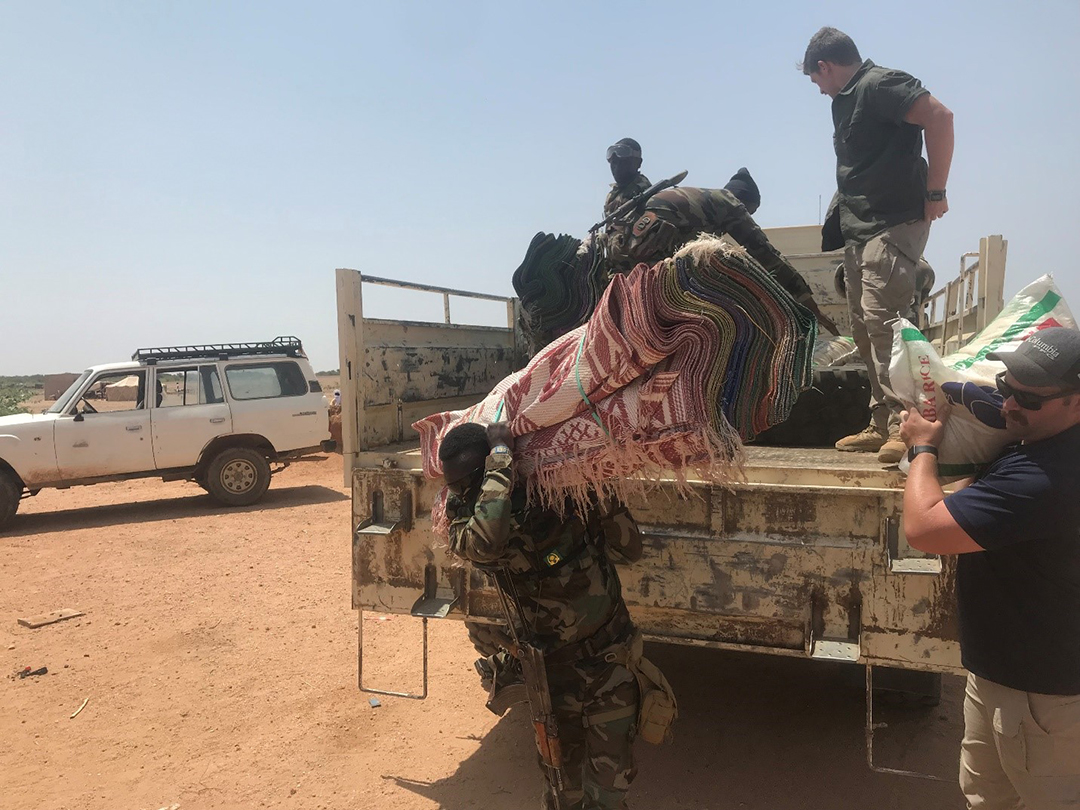 Future missions will expand the programs' reach into the region. A separate ACM unit is performing similar missions out of Nigerien Air Base 101 in Niamey, the nation's capital.
In May, an Air Base 201 ACM mission to Beital, 30 kilometers north of the base, provided residents with 3,000 kilograms of rice, 120 mats and 120 buckets. A September mission to Teghazert, 8 kilometers east of the base, coincided with the celebration of the community choosing a new chief. The ACM gave the community footballs, rice, prayer mats, buckets, soap and mosquito netting.
The commanders of Defense Zone 2 and Air Base 201 praised the careful planning and execution of the ACM operations.
"We are incredibly pleased with how smoothly the logistics and communications went as the mission progressed, allowing us to aid our fellow countrymen in need," said Nigerien Capt. Badage Oumarou, the base commander.
An estimated 4,200 residents of the Agadez region have benefited from the ACM humanitarian missions.
"The Nigerien ACM team is an impressive group of people who genuinely want to help their fellow countrymen, and it is an honor working with them to improve people's lives in Niger," said U.S. Army Capt. Verzoni, the U.S. Civil Affairs team commander.
The missions are building ties between members of the FAN and villagers in a region whose porous international borders are prone to extremism and extremist groups linked to Islamic State, al-Qaida and other organizations. Niger is part of the G5 Sahel Joint Force, a security alliance of five countries working to rid the region of extremist activities.
"FAN soldiers who used to have little or no connection with these villages are now out interacting with the children, playing soccer, speaking with village elders of tribes different from their own," U.S. Army Staff Sgt. Jarrod Mattison of the Civil Affairs team told ADF.
Mattison said villagers are excited to receive support from the FAN Soldiers during their visits.
"This being a fledgling operation overall effectiveness is difficult to measure as of yet. However, the feeling on the ground is entirely positive."