Djibouti Symposium Empowers Women in Security Sector
Reading Time:
2
minutes
ADF STAFF
Kenyan Army Lt. Col. Irene Machangoh looked around the room, then looked at the women seated at her table and noticed something they had in common that drew them to serve their countries.
"We all believe there is power in the uniform we wear," the foreign liaison officer to the Combined Joint Task Force-Horn of Africa (CJTF-HOA) said at the gathering in Djibouti.
The uniform, she said, is a symbol that helps service members — particularly women — visualize their strength.
Empowering and encouraging women was one of many objectives at the inaugural Women in Security Symposium in Djibouti City on September 22.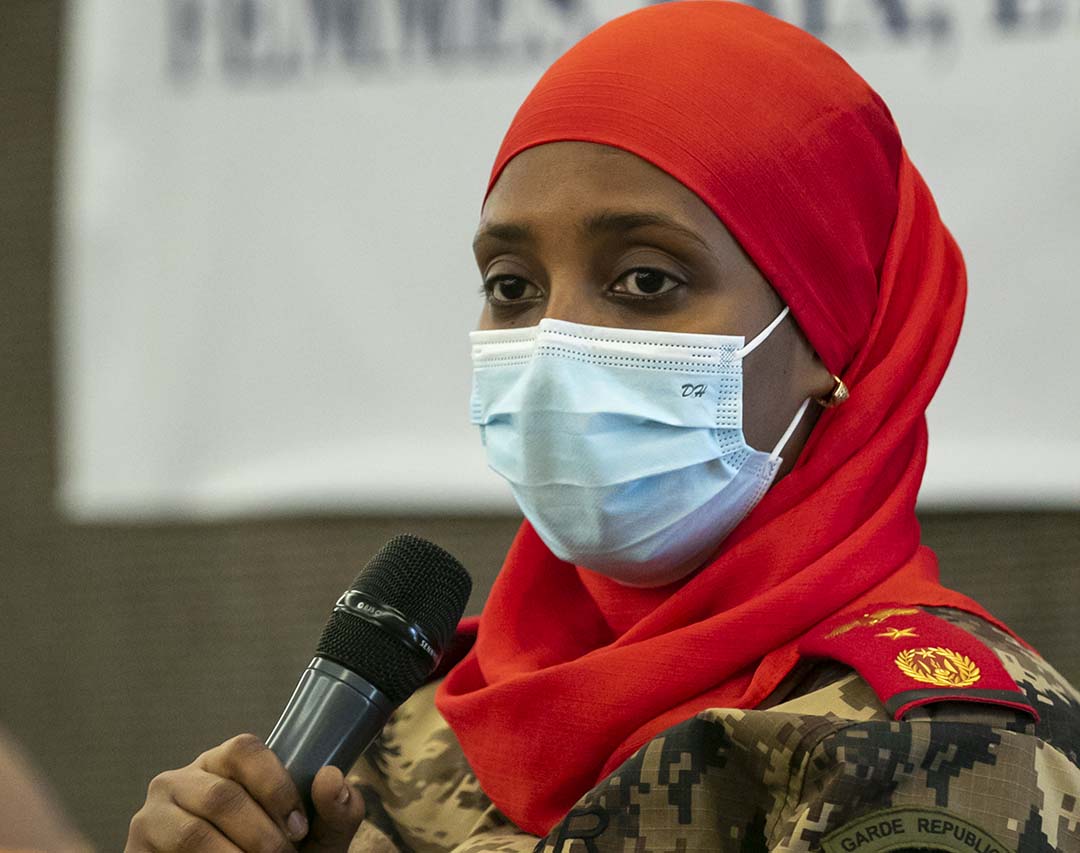 More than 30 women serving with Armed Forces Djibouti, Gendarmerie, Republican Guard, National Police and Djiboutian Coast Guard joined leaders from Italy, Japan, Kenya, Spain and the United States to build partnerships and share knowledge.
Part of the U.S. Department of Defense's Women, Peace and Security initiative, the event focused on incorporating a gender perspective into the security sector.
Noting that their uniforms were a symbol of unity for the participants, Machangoh also said the women share a bond and constantly encourage each other not to give up.
Four panelists discussed their experiences as women serving in military and police forces.
One panelist, Djibouti Republican Guard Lt. Col. Habone Abdourahman Ali, spoke of the gender-related challenges she overcame, some physical, to rise through the ranks.
Through it all, she said she leaned on two things.
"Hard work and having confidence," she said.
Another panelist, U.S. Embassy Djibouti Deputy Chief of Mission Andrea Tomaszewicz, said the ascension of women in the security sector required sacrifice.
"Women's successes weren't without risks," she said. "Some faced anger or worse from their partners or spouses who resented their wife's success even though they benefited from greater economic security for their family."
Tomaszewicz acknowledged the importance of women serving in positions of power and having equal access to education and financial capital.
Throughout the forum, participants posed questions about leadership, work-life balance and crisis response.
The most important thing a service branch can do for its female members is build a culture of equality and support, said keynote speaker Brig. Gen. Aida T. Borras.
"I believe greatness and excellence always rises to the top regardless of your gender," said the deputy commander of the U.S. Army Southern European Task Force in Africa. "If you invest in yourself and you help others — be they male or female — you will always be your best, and you will create a team of professionals."
Borras closed by sharing some advice: Seek opportunities for development, seek opportunities to contribute, and seek opportunities to mentor.
"As women serving in the security sector, we are noticed by our superiors, our colleagues, our subordinates and the public," she said. "It is important that we model the behaviors that we desire to see in others. Then find those opportunities to lift up other women so that they can advance and progress in their careers."