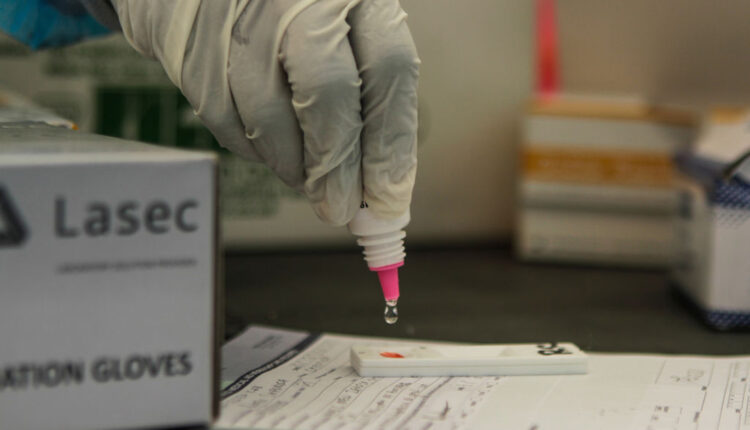 Reading Time:
2
minutes
ADF STAFF
Hoping to get ahead of another wave of COVID-19 infections, the Africa Centres for Disease Control and Prevention (Africa CDC) is adding community-level surveillance to its arsenal of weapons deployed against the pandemic.
Community-level surveillance has helped the agency respond quickly to outbreaks of Ebola and other diseases.
Africa CDC Director Dr. John Nkengasong said the surveillance program will focus on people who are nonsymptomatic. Testing for symptomatic people and for travelers will remain in place.
"It's about finding cases in the community and squashing them before they become wildfire," Nkengasong said.
He explains the plan this way: If sampling a community shows a rise in positive test results, health workers will conduct a public health campaign to blunt the increase. The campaign might include urging people who have tested positive to quarantine themselves. It could also include a push to use nonpharmacological prevention methods such as masking, hand-washing and limiting large groups.
The goal is to avoid the kind of spikes the continent has seen with the delta and beta variants that can overwhelm health systems.
"We can't continue living through waves," Nkengasong said. "It has severe consequences for the health system and the economy."
The new surveillance system will deploy antigen-based rapid tests on a large scale to identify infection hot spots and address them quickly. The tests are inexpensive, simple to use and provide results in a matter of minutes.
They work by detecting chemicals on the surface of the virus. They detect infection even if — as can be the case with COVID-19 — the person being tested has no symptoms. Most rapid tests are about 85% accurate, so they can present false negatives, especially for people with low viral loads. Lab-based PCR tests that read the virus's genetic code continue to be the standard to test travelers and for hospital settings.
Since the beginning of the pandemic, African countries have conducted more than 74 million COVID-19 tests. The average positivity rate is now between 11% and 12%, more than double the rate at which the World Health Organization recommends lockdowns.
Some countries, such as South Africa, continue to adjust social restrictions with the rise and fall of infection waves. However, the kind of total lockdowns that happened at the beginning of the pandemic remain largely out of the question due to the severe economic impact they had on people's lives and livelihoods.
"We cannot survive the rhythms of lockdowns," Nkengasong said.
The Africa CDC sees community surveillance as a way to address the demands of the pandemic while letting life return, more or less, to normal. Nkengasong believes more African countries need to invest in their public health infrastructure, increasing their ability to monitor threats to public health.
"The centrality of good public health is surveillance," Nkengasong said. "We really need to bring surveillance back to bear as an important tool to fight this pandemic."