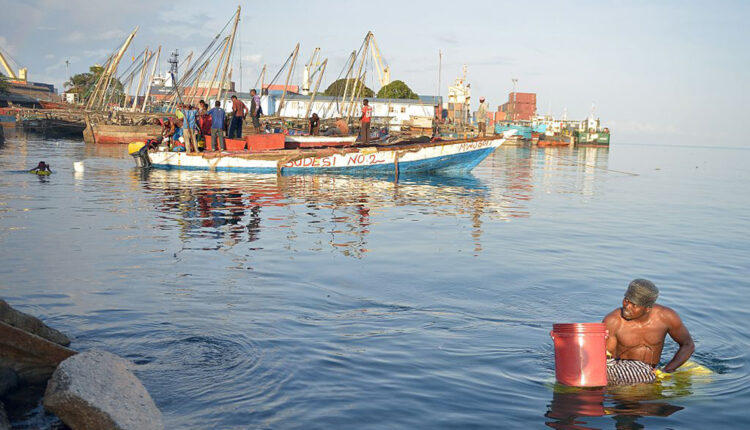 Reading Time:
2
minutes
ADF STAFF
Tanzanian authorities are focused on eliminating illegal, unreported and unregulated (IUU) fishing and stimulating the country's "blue economy," which includes the country's fisheries, tourism and aquaculture.
Tanzanian Livestock and Fisheries Minister Mashimba Ndaki said officials are determined to tighten current fishing industry regulations.
"Unfortunately, there are still dishonest and greedy fishermen in the country who are helping aliens to smuggle fish and other products outside the country, as well as engaging in fishing using prohibited fishing gear," Ndaki told Tanzanian newspaper Daily News.
In Kenya, Mozambique and Tanzania, the use of driftnets — banned 30 years ago by the United Nations — is largely responsible for depleting fish stocks, threatening job security and ruining ecosystems, according to Greenpeace. Driftnets hang vertically from flotation devices dragged by fishing boats and can scoop up indiscriminate amounts of marine life.
In August, Zanzibar officials also pledged that their government will continue cooperating with various institutions to implement a blue economy agenda by boosting the fisheries sector. Zanzibar is a Tanzanian archipelago.
Abdallah Hussein Kombo, Zanzibar's minister of blue economy and fisheries, joined Mudrik Ramadhan Soraga, Tanzania's minister of labor, economy and investment, at a meeting that focused on private and public blue economy investments.
"Many strategic plans are underway," the ministers said in a news release. "We need serious and capable people with workable plans to achieve what we already have. Join us with your investment plans for endorsement."
Potential investor Herry Kitlya seemed pleased by the proceedings.
"We recommend using local experts," Kitlya said in the Daily News report. "With knowledge transfer, Tanzanians will be learning from other countries that have recorded success in investing in fishing, particularly deep-sea fishing."
Kitlya added that promoting and deploying Zanzibar's small-scale fishing industry workers in fishing projects will improve their catch and sustain the local market.
Patrol Challenges
Increased fishing patrol and surveillance efforts could be crucial to unlocking Tanzania's blue economy potential. Its 850 kilometer coastline, including Zanzibar and several small islands, makes it particularly difficult to patrol.
Since 2018, Tanzania has partnered with Sea Shepherd Global, a nongovernmental organization, to increase maritime security efforts. Shortly after the partnership was formed, Sea Shepherd helped Tanzanian authorities arrest the captain and owner of a Malaysian-flagged shark-finning vessel. The men were sentenced to 20-year prison terms, the organization reported.
Shortly after the Sea Shepherd patrols began, 10 arrests were made. Following the arrests, 24 vessels immediately departed Tanzanian waters, 19 of which did so before receiving mandatory inspections. That signaled to authorities that they were most likely participating in illegal activity and wanted to evade capture, according to Sea Shepherd.
Tanzania is also supported by FISH-i Africa, a partnership with Comoros, Kenya, Madagascar, Mauritius, Mozambique, Seychelles and Somalia, that promotes information-sharing and regional cooperation to combat large-scale illegal fishing in the Western Indian Ocean.
Tanzanian authorities are also keen to protect inland waters from illegal fishermen. In March, national immigration officials announced that 135 illegal immigrants from Burundi, the Democratic Republic of the Congo and Rwanda were arrested over a monthlong period on charges of illegally fishing on Lake Tanganyika, the world's second-oldest freshwater lake.
Tanzania takes in an estimated 390,000 metric tons of fish from deep sea and inland fishing. The government hopes to increase fish production to at least 714,000 metric tons to achieve its per-capita fish consumption target of 10.5 kilograms, SeafoodSource reported.