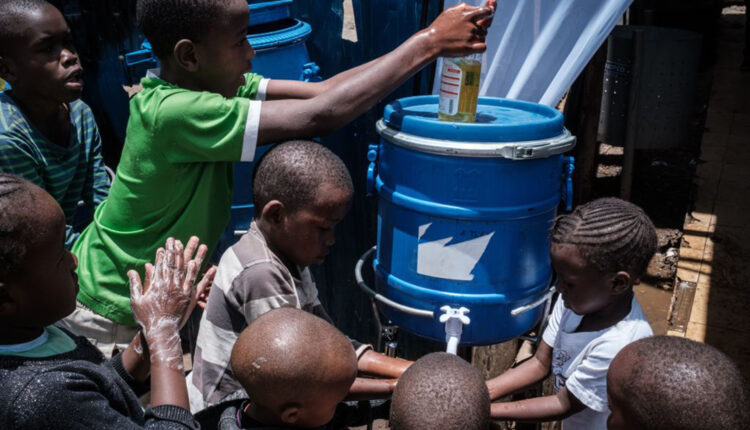 Reading Time:
3
minutes
ADF STAFF
An examination of households across Africa has found that more than half the continent's 1.3 billion residents lack the conditions to prevent the spread of COVID-19 in their homes.
The analysis by researchers at the University of Bristol in the United Kingdom was published in July. Researchers built their report from household surveys conducted over the past decade representing nearly 3.5 million Africans.
The study looked at what portion of residents lived in homes that had on-site water for hand-washing, good ventilation and low residential density — all conditions that would help them avoid COVID-19 infection through nonpharmacological intervention (NPI) methods.
Since the beginning of the COVID-19 pandemic in early 2020, public health experts at the World Health Organization and the Africa Centres for Disease Control and Prevention (Africa CDC) have promoted NPI techniques such as masks, hand-washing and social distancing as simple and effective ways to interrupt the spread of COVID-19.
People quickly adopted those methods early in the pandemic, but fatigue has caused some to stop practicing them. The Africa CDC and pan-African telecom company MTN recently launched a public relations campaign focused on renewing the public's dedication to masking and other NPI methods to stem the spread of COVID-19's highly infectious delta variant.
"If we offer the virus the chance to spread, it will spread. Let there be no doubt," Africa CDC Director Dr. John Nkengasong said during a recent press briefing.
The virus that causes COVID-19 travels on microscopic droplets expelled when people cough, sneeze or breathe heavily. Although masks catch the vast majority of those particles, small, poorly ventilated spaces allow the virus to spread. People can also transfer the virus if they fail to keep their hands clean.
For up to 900 million Africans, avoiding COVID-19 is extremely difficult, especially when lockdowns force them to shelter at home, according to researchers.
"Hundreds of millions of people across Africa simply lack means for implementing NPIs to prevent SARS-CoV-2 transmission," the report's authors wrote.
The outbreak of the pandemic led to a surge in making cloth face masks, installing communal hand-washing stations, and shifting in-person activities such as school and church to online platforms.
However, those efforts did little to change the home conditions of millions living in large, multigenerational households that lack indoor plumbing and refrigeration. According to the report:
More than 718 million Africans — 54% of the population — live in households with six or more people, and about 40% of those slept in the same room with three or more people. Both of those conditions make it difficult to meet the social-distancing aspect of NPI, researchers said.
More than 70% of households lacked at-home access to water — ranging from a low of 0.6% in Mauritius to a high of 93% in the Central Africa Republic. Researchers considered the lack of on-site water to be an obstacle to hand-washing and other sanitary methods to avoid the spread of COVID-19.
Nearly 80% of households in the survey lacked a refrigerator, 45% shared toilet facilities with other households, and 60% lacked their own cooking facilities — all indicators that the households were unable to quarantine effectively to avoid spreading the virus. Countries across the Sahel region and the Central African Republic tended to rank highest in these indicators.
Given those conditions, "physical distancing policies — such as lockdowns — that depend on persons remaining in their homes for extended periods of time, are unlikely to be feasible or effective," the authors wrote.
Researchers estimated that about 246 million Africans live in multigenerational households with at least one person 60 or older. People 60 and older are at a higher risk of dying from COVID-19. A lack of NPI options makes it more likely that children and other family members will pass the virus to those older family members.
The report's authors noted that practicing NPI methods at home is only part of the challenge for people trying to prevent the spread of COVID-19. Plenty of other challenges exist outside the home that researchers couldn't quantify, such as visiting crowded markets to work and shop, and transporting children and adults for school and work.
The findings, the authors wrote, raise the urgency of "addressing the underlying conditions of poverty that place populations at increased risk for morbidity and mortality from respiratory virus outbreaks and pandemics."