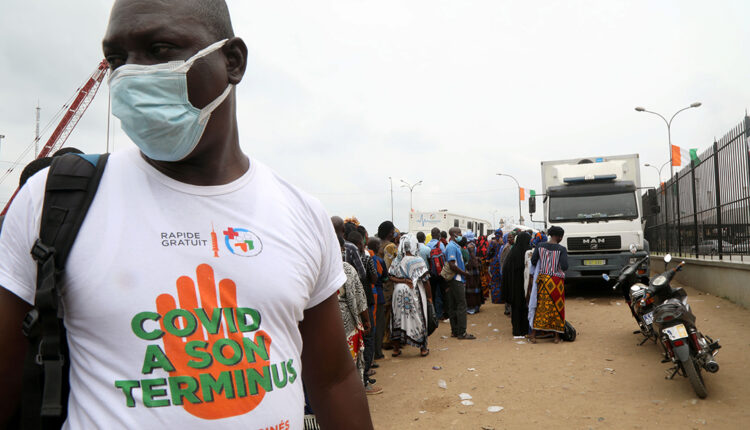 Reading Time:
3
minutes
ADF STAFF
Rigid lockdowns might not be the best initial response to a pandemic in economically struggling countries, a South African scholar argues.
To slow the spread of COVID-19 and future pandemics, African policymakers and governments first should employ nonmedical social and economic measures, Nicholas Ngepah, a professor of economics at the University of Johannesburg, wrote in a July study published in African Development Review.
"What has happened during COVID-19 is that people get locked down by strict regulations. But the majority don't have the nutrition, basic economic opportunities and infrastructure to cope," Ngepah told online journal News Medical. "It becomes almost impossible for a poor person to keep the rules of the lockdown. The rules are very strict, but people will contravene them. They will be willing to fight with public order policing to get their livelihoods going."
Ngepah's study was based on data gleaned from 53 African nations, including South Africa. In areas where the poor have little faith in government before a pandemic, draconian rules to halt an outbreak will backfire as economic desperation sets in, Ngepah wrote.
He said he believes that when a government is widely viewed as corrupt, impoverished workers will feel that they are paying more than their fair share.
"For a country with high levels of inequality like South Africa, you can't just wake up in the morning, declare lockdown and send soldiers and police to try and enforce it, without checking first how the more deprived people are living," Ngepah told News Medical. "Especially in South Africa where we know that more than half the population is living below the poverty line."
Echoing other analysts and health experts, Ngepah noted that quickly closing national borders and ensuring that populations have adequate sanitation services are key to mitigating the effects of a pandemic.
The continent reported more than 7.9 million COVID-19 cases and more than 200,000 deaths as of September 7, according to the Africa Centres for Disease Control and Prevention. South Africa has been the hardest-hit African country, with more than 2.8 million cases and more than 83,600 deaths.
Several African nations have been lauded by the World Health Organization and other medical bodies for their prompt, effective responses to the pandemic.
Although it is labeled a low-income country by the World Bank, Rwanda has been repeatedly cited as a country that tackled COVID-19 correctly from the outset. The government did impose a lockdown, but it also mobilized community health care workers and police and college students to work as contact tracers, and established national and regional command posts to track cases.
To protect health workers, Rwanda also made quick use of robots in COVID-19 clinics to take patients' temperatures and deliver supplies.
Tolbert Nyenswah, who ran the Liberian Ministry of Health's response to the Ebola outbreak in 2014, told National Public Radio (NPR) that even if Rwandan President Paul Kagame's response seemed heavy-handed to some, he demanded accountability from his Health Ministry, which inspired public trust.
"Rwanda, from all indications, is a success story for Africa," Nyenswah told NPR.
Senegal also drew on its experience battling Ebola in 2014 to address COVID-19. Even before the first case was confirmed there, President Mackey Sall was meeting with health officials to formulate a national response. Sall quickly implemented a dusk-to-dawn curfew, restricted travel among the country's 14 regions, halted international flights, put schools on pause, and closed restaurants and mosques.
Togo and Tunisia were noted along with Rwanda for their responses to the COVID-19 outbreak by the Lowy Institute, an Australian think tank that researches international political, strategic and economic issues.
Most countries used the same measures to contain the virus, such as stay-at-home orders, lockdowns and border closures, but a country's success was determined, in part, on how effectively its government persuaded residents to adhere to those measures. The "low-tech" nature of the preventive measures may have benefited developing countries, the report found.