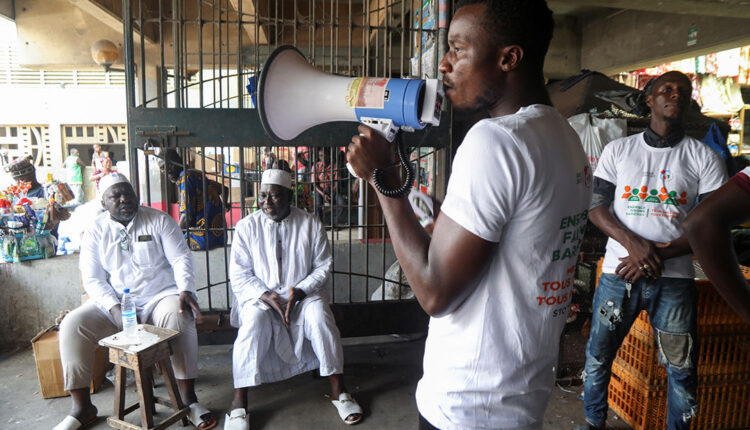 Reading Time:
2
minutes
ADF STAFF
Although COVID-19 vaccine doses have been in short supply, Côte d'Ivoire has been one of Africa's leaders in trying to protect its citizens from the disease. Now the country is taking its vaccination efforts a step further by sending a dozen mobile clinics to busy areas of Abidjan, its largest city and economic capital.
Côte d'Ivoire received its first vaccine doses in late February. The country began vaccinations by March 1, making it the first country in the world to do so through the COVAX initiative. The World Health Organization (WHO); Gavi, the Vaccine Alliance; the Coalition for Epidemic Preparedness Innovations; and UNICEF lead the initiative.
"The program plays a crucial role," Kouacou Epa, a UNICEF immunization specialist, told Voice of America. "We know that the vaccines are being used more in the developed countries, but we know the coronavirus is also here in Côte d'Ivoire and the other developing nations. What COVAX is doing is to make sure the vaccines are available in quantity and quality to help countries attain herd immunity, stop the disease and, if possible, go back to the normal lives we knew before."
As of early July, the country had administered about 800,000 doses, reaching about 3% of the population. With the mobile units, the country's goal was to treat an additional 200,000 people within the month.
To reach that number, officials were visiting the city's busiest places, including its huge open-air markets, where most of its 5 million residents shop.
"We are very happy; proximity suits everyone," shopper Minigna Keita told Reuters. "I was going to get vaccinated later but, while I was doing my shopping, I saw that you could get vaccinated here so I took advantage of it."
In the Treichville district, health workers used megaphones to encourage people to get shots.
"This morning it was a little slow, but people have started to show up in large numbers after seeing that the first people vaccinated did not have any problems," Sylvie Sie, who coordinates vaccinations in the district, told Reuters.
Côte d'Ivoire has been ahead of many other countries in promoting vaccines — including at football matches — but like most countries, efforts initially were met with indifference and suspicion. Health officials said they had to overcome misinformation about the vaccines' safety and effectiveness.
The country was hoping to get another 1.2 million doses before the end of July. Bloomberg news service reported that the country is buying the additional doses from European sources outside the COVAX program.
Côte d'Ivoire, like some other countries, is offering incentives for people to get the shot, including free tickets to a football match between the Ivoirian national team and Burkina Faso.
Ivoirian health officials told Voice of America that in addition to the vaccines, they will continue to test for the virus. And they have a cold-chain system in place to handle vaccines that require lower storage temperatures.
The World Bank has taken notice of the country's initiatives and has agreed to help it obtain equipment for its smaller medical clinics. Côte d'Ivoire and the World Bank have reached a $300 million financing agreement to get loans to buy or lease the equipment.
Prime Minister Patrick Achi hopes the country someday can become a regional leader in medicine.
Achi told Reuters that one of the goals is to help make sure the country's clinics "have the possibility of becoming hospitals and subregional hospitals, so that Côte d'Ivoire becomes a hospital destination — a medical hub."