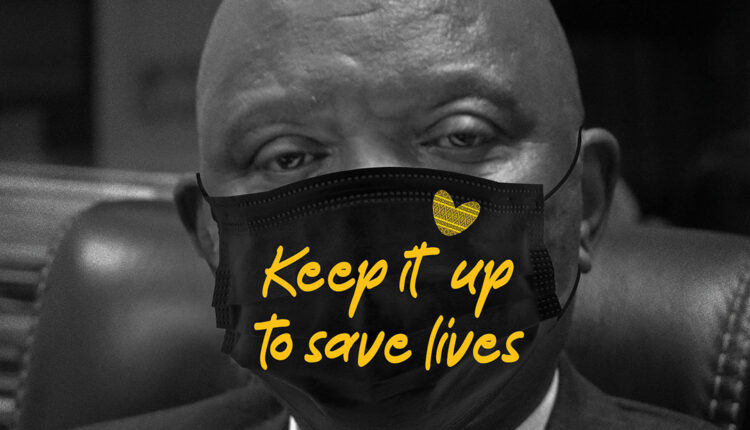 Reading Time:
2
minutes
ADF STAFF
A man rips off his mask and screams in frustration. A cook pulls down her mask for a gasp of air in a hot kitchen. A nurse reveals deep creases left in her skin due to prolonged mask use.
These images are part of a new advertising campaign that shows the harsh reality of pandemic fatigue but urges people to make "one more push" to defeat the virus.
"We're closer than ever to taking back control, to the things we miss and love," the 'One More Push' campaign states. "This is our rallying cry, to inspire everyone to do whatever it takes to get there."
The Africa Centres for Disease Control and Prevention (Africa CDC) and mobile network company MTN Group launched the joint campaign to encourage people to continue wearing masks, washing their hands and practicing social distancing to halt the spread of COVID-19.
The campaign also aims to promote COVID-19 vaccine efficacy and safety. Endorsed by African health ministers, the effort aligns with a previous "Prevent, Monitor and Treat" campaign and is an extension of the African Union's "Adapted Africa Joint Continental Strategy for COVID-19 Pandemic."
"With third and fourth waves of COVID-19 sweeping across parts of Africa, we cannot overstate the importance of everyone doing their best right now to keep the virus at bay," Africa CDC Director Dr. John Nkengasong said in a news release. "This campaign aims to encourage people to keep practicing the preventive measures we know can limit the spread of COVID-19."
After the pandemic spread to Africa last year, the MTN Group spearheaded the "Wear It For Me" campaign that encouraged people to wear masks to protect the elderly. The group also contributed $25 million toward the continent's pandemic prevention efforts, including a rollout of 7 million vaccines to health workers across the continent.
People are encouraged to visit onemorepushafrica.com to receive accurate information about COVID-19 and vaccines and to follow #OneMorePushAfrica on social media.
Africa is far behind its vaccination campaign goals: Less than 2% of the population has been vaccinated. Several countries, including Rwanda, Senegal and South Africa, announced plans to produce COVID-19 vaccines locally after vaccine deliveries to Africa through the COVAX initiative almost stalled in May when the Serum Institute of India diverted doses for domestic use.

"The 'One More Push' campaign is about encouraging the people of Africa to remain vigilant in fighting COVID-19 at a time when we are experiencing new waves of infections and vaccination progress towards herd immunity is still some time away for our people," MTN Group President and CEO Ralph Mupita said in a news release.
Wim Vanhelleputte, CEO of MTN Uganda, implored all Ugandans to "keep up the fight" against COVID-19.
"Uganda is currently in the middle of the second wave of this pandemic, which has been more detrimental than the first wave," Vanhelleputte told Ugandan newspaper The Daily Monitor. "In these times, we all ought to double our efforts to safeguard ourselves and loved ones against the deadly disease."
MTN Africa produced a commercial featuring a popular 1970s song to promote "One More Push." It shows clips of everyday people struggling with masks, being sprayed with sanitizer as they entered businesses, communicating with loved ones via cellphone and coping with pandemic-related unemployment.

The message, via the song's lyrics, suggests a return to normal life if people continue to adhere to COVID-19 safety precautions:
"Don't stop thinking about tomorrow
"It'll soon be here
"Better than before
"Yesterday's gone, yesterday's gone"