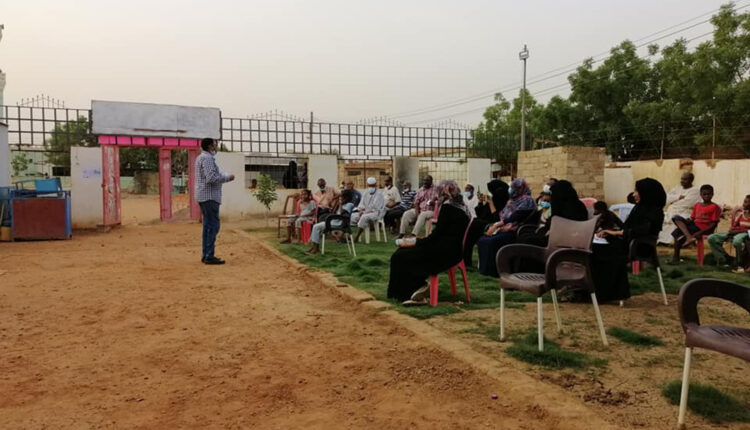 Reading Time:
3
minutes
ADF STAFF
It started as a small idea between two doctors based in the United States who wanted to help their native Sudan with a community-based response to COVID-19.
Dr. Reem Ahmed of Emory University in Georgia and Dr. Nada Fadul of the University of Nebraska met during the early days of the pandemic while working for advocacy groups such as the Sudanese American Medical Association and the Coalition of Sudanese Organizations Against COVID-19.
They helped respond to the first wave by fundraising and coordinating the shipment of personal protective equipment and test kits, the installation of oxygen systems in three hospitals, and ultraviolet decontamination systems in eight isolation centers. They conducted a virtual training curriculum with three Sudanese universities.
Despite being more than 11,000 kilometers away, they recognized the impact their medical expertise could have on their home country.
"We started off brainstorming by ourselves how we could help manage mild to moderate cases," Ahmed told ADF. "We thought about utilizing the human resource of all the students in medical schools and universities that were all shut down because of the pandemic."
Sudan's Ministry of Health has described the situation as dire.
The nation has had 36,347 confirmed COVID-19 cases and 2,737 deaths as of June 20, according to the Africa Centres for Disease Control and Prevention, but Sudan had conducted only 254,875 tests among its population of more than 43 million.
"This is just the tip of the iceberg compared to what is going on in rural and remote areas," Fadul told ADF. "The country was completely unprepared. The health care system was destroyed by the previous dictatorship.
"We started hearing stories about people knowing they had COVID but refusing to get tested, going out anyway, going to funerals for COVID patients. The more obituaries I saw, the more I realized the second wave is hitting hard. It was absolutely terrible."
Ahmed's and Fadul's brainchild was the Community Medical Response Team (CMRT), a multifaceted initiative that trains and deploys Sudanese students with a medical background across the country to treat COVID-19 patients in their homes.
Ahmed, Fadul and other experts around the world conduct virtual mentoring and training sessions with a group of 40 students who are paid to work in Sudan as trainers for a larger team of 150 volunteers who implement the program, neighborhood by neighborhood.
"In the beginning, we connected with medical students, and then one student connected us to a student network — nursing, pharmacy, dental students," Fadul said. "It was great, because not every neighborhood has medical students. Maybe one has a pharmacy student, or another has a nursing student and a pharmacy student. Then we have a team."
Students made a flyer and spread the word on social media. Fadul and Ahmed gave a live streaming presentation to about 200 students who signed up en masse.
"We needed trainers on the ground who know the health care system and how things work," Fadul said. "Initially it was 10 really highly selected individuals, great leaders. We started training them. We gave them the medical knowledge but said, 'We need you to tell us how this is going to work on the ground.'
"It was very clear we needed buy-in from the ministries, and we needed allies in the communities. We needed to partner with leaders, like the imam of the local mosque, a local physician, the resistance committee or the neighborhood service committee."
The students built new networks and strengthened existing collaborations. Then they recruited volunteers in 50 neighborhoods to start the program.
As Ahmed and Fadul have watched it grow, the CMRT has exceeded their highest hopes.
"We've got a wonderful team," Ahmed said. "It's like a snowball that started so small, all these brilliant medical students doing not just what we ask them to do but now thinking with us on how to make more progress, expand, do other health promotions, help with the vaccine campaign."
The CMRT started in May and is funded through March 2022, when it is slated to transition its model to address prenatal care, heart disease and other medical treatments.
"It's not just COVID-19; this project is definitely more than that," Ahmed said. "It's helping a whole generation find and fine-tune themselves as leaders and help their communities. When I talk to them, I am aware of how I can prepare this young generation to lead in the future."