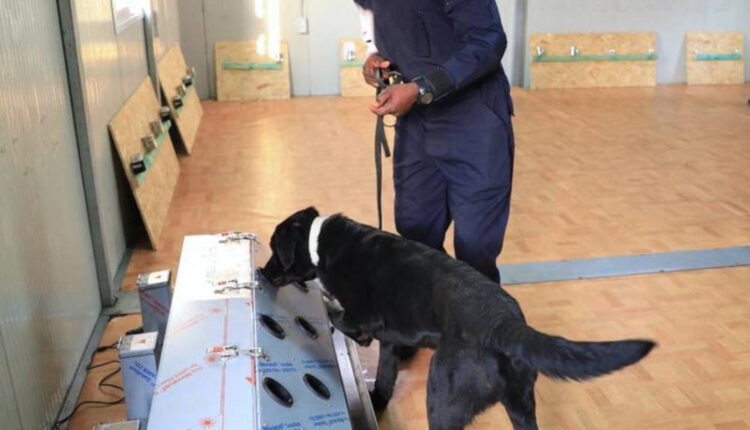 Reading Time:
2
minutes
ADF STAFF
If there's an innovation that helps fight COVID-19, chances are Rwanda is using it.
Robots, thermal cameras and drones all have contributed to the nation's pandemic response.
The latest initiative? Dogs trained to sniff out COVID-19.
Rwanda Biomedical Centre (RBC), in a joint effort with Rwanda National Police, launched a three-month pilot program June 4 using five sniffer dogs to screen for the disease at Kigali International Airport.
The dogs can detect COVID-19 by smelling sweat samples taken from passengers with cotton cloths. The samples then go to a sniffing cabin in a separate area.
"It's not all that different from the way we use specialized machines for testing, and this is far cheaper and faster," Dr. Sabin Nsanzimana, RBC director general, said to the media after a June 5 demonstration.
"If you have seen 10,000 people go into a stadium for a game, how long do you think it would take doctors to test all of those people? These dogs can test 200 people per minute under the right circumstances. Obviously, no lab can take tests at that pace."
People infected with COVID-19 produce a scent that is imperceptible to humans. Trained dogs, however, can recognize it instantly. The current lab process takes at least two days for people to receive results, Nsanzimana noted.
Professor Leo Mutesa, a researcher at the University of Rwanda, said the dogs were imported from the Netherlands, trained by police and German researchers for more than 400 hours, and have a 94% success rate.
The first country on the continent to use dogs to screen for COVID-19, Rwanda's use of technology and other innovations has earned worldwide praise as part of its largely successful national pandemic response. There have been fewer than 400 deaths as of late June.
"As usual when we see something helpful in health, we try it," Nsanzimana said.
The project began late last year as a collaboration with the German Embassy, which supplied the training system.
In July 2020, German researchers presented a study showing trained dogs' ability to discriminate between positive and negative samples of COVID-19. Similar sniffer dog initiatives were then used at airports in the United Arab Emirates, Lebanon and Finland.
"Data shows that there is an impact for countries like the Emirates that picked [up] the idea and started exploring it," Mutesa said to reporters on June 5.
Rwandan police and health officials visited Dubai police headquarters in December 2020 to tour the veterinary clinic and learn best practices. Officers in Rwanda's Canine Brigade later trained as dog handlers.
Sniffer dogs have been deployed worldwide to detect things such as cancer, explosives, drugs and currency. Canine noses have 300 million scent receptors, compared to 5 or 6 million in humans.
Nsanzimana said the dogs used in Rwanda also might be trained to test for other medical conditions such as diabetes, tuberculosis and viruses that cause other illnesses.
For now, he said, the best use of these very good dogs is to help contain the spread of COVID-19.
"We want this method of testing to be used in other parts of the country as well. Being able to test people when entering markets, stadiums and other venues could help us to return to normalcy far more easily."