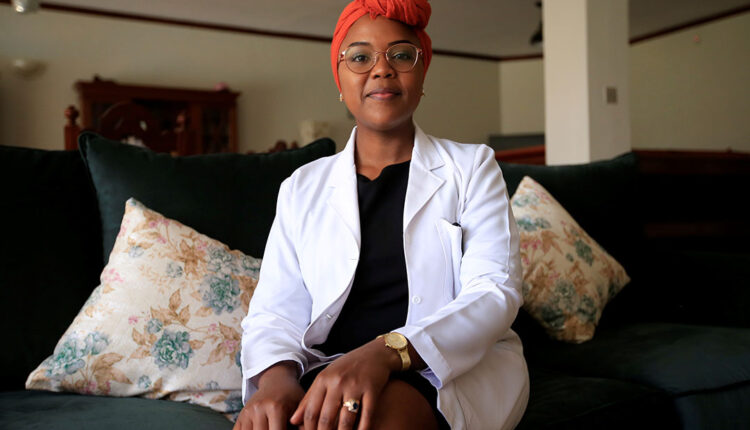 Reading Time:
2
minutes
ADF STAFF
Dr. Edith Serem couldn't help noticing her colleagues' reactions after she got vaccinated against COVID-19 at her hospital in Nairobi, Kenya, in April.
Some nurses joked about side effects. Others on the staff watched her carefully for days to see whether she was healthy. Some then took their first doses. Others refused.
What Serem saw firsthand is a phenomenon known as vaccine hesitancy, and it's nothing new. In fact, with the speedy development of COVID-19 vaccines, hesitancy is happening around the world.
"There are a lot of people still holding out on the vaccine," Serem told Reuters. "Quite a lot of people are waiting for something to show up. A lot of people are still very apprehensive about the side effects."
Months before COVID-19 was identified, the World Health Organization (WHO) called vaccine hesitancy one of their top 10 threats to global health.
"The reluctance or refusal to vaccinate despite the availability of vaccines threatens to reverse progress made in tackling vaccine-preventable diseases," the organization declared in 2019.
With doses of COVID-19 vaccines in short supply across the continent, however, Africa can ill afford further delays.
Africa's 1.3 billion people represent 16% of the world's population, but the WHO says the continent has received less than 2% of the vaccine doses administered globally.
Some countries are experiencing a second or third wave of the disease, but with more than 4.5 million cases and more than 122,000 deaths, Africa hasn't been hit nearly as hard as other parts of the world.
Those numbers and a lack of personal experience with COVID-19 have led some Africans to believe the pandemic isn't important or is a hoax — one of many fresh conspiracy theories. Many citizens don't trust their governments and the politicians urging them to get vaccinated.
"If we are to defeat this pandemic, which we have to do for our own survival and the survival of our economies, we have to do this at speed and at scale," said Dr. John Nkengasong, director of the Africa Centres for Disease Control and Prevention.
Because of the shortage of doses, African health officials now say their goal is to vaccinate at least 30% of the population by the end of the year, reaching 60% in 2022.
But hesitancy already has affected many immunization campaigns.
Kenya began its drive with 400,000 front-line health staff members and other essential workers in early March after delivery of more than a million doses from COVAX, the global vaccine-sharing initiative.
Near the end of April, Health Ministry data showed that only 152,700 health workers had been vaccinated.
Nigeria received its first shipment of 3.92 million shots on March 2. By April 23, the Health Ministry reported just over 1.15 million doses had been administered.
At that pace, it could take months to use the doses and nearly a decade to vaccinate the country's adult population.
Chika Offor, founder of the Vaccine Network for Disease Control advocacy group in Nigeria's capital, Abuja, said Nigerians' fears rose when some European governments paused their use of the same vaccine.
"Unfortunately, immediately after they started distributing the vaccines, this whole story of blood clots and all sorts of things came up," she told Reuters. "That caused a lot of problems in Nigeria."
Nkengasong quickly contested those fears, citing data to show the blood-clotting reaction is extremely rare.
"Let me just say this very clearly — the benefit outweighs the risk," he said in a briefing. "You don't go to war with what you need, you go to war with what you have."