U.S.-Niger Armed Forces Program Informs Civilians of IED Danger
ADF STAFF
Last October, two workers from the Samira gold mine in western Niger died when their vehicle struck an improvised explosive device (IED). Five months later, in February, another bomb killed members of the nation's Independent National Electoral Commission on the day of the presidential election.
IEDs have become a major safety issue in Niger, where porous borders allow extremists such as the Islamic State in the Greater Sahara (ISGS) to cross over from neighboring Mali. ISGS is active in the Tillaberi region, where the mine workers and the electoral commission workers were killed.
"Improvised explosive devices are one of the major concerns in our operations," Col.-Maj. Hamadou Djibo, head of the Niger Armed Forces (FAN), told a meeting with members of U.S. Africa Command. "The civilian populations are not also spared."
During the gathering at the headquarters of the FAN general staff, U.S. military personnel presented FAN with 50,000 posters and brochures designed to educate Niger's population about the risk of IEDs and how to respond when they are discovered.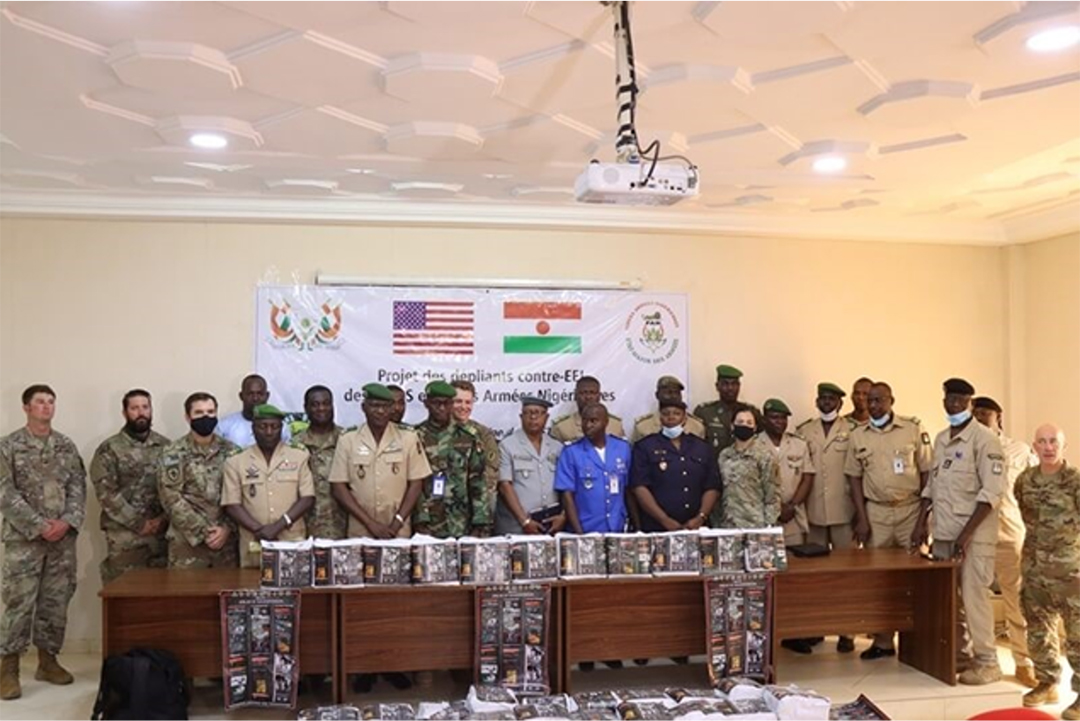 The posters and brochures include images of weapons civilians should avoid, along with a telephone number to call if they find one. Most of all, the posters warn people to avoid touching a suspected IED.
U.S. Army Capt. Lucas Holmes told the gathering that the information campaign aims to bring together residents, religious leaders and traditional leaders with Niger's security forces to drive out the extremists.
"The path to follow in order to defeat and destroy violent extremist organizations and their criminal networks may be difficult, but one thing is certain: The Nigerien government and its people will win," Holmes said.
The posters are part of U.S. Africa Command's ongoing counter-improvised explosive device  project to train militaries across the Sahel and Lake Chad Basin in responding to these bombs. Along with FAN Soldiers, U.S. trainers have worked with Soldiers in Cameroon, Chad and Nigeria.
In Niger, U.S. forces have trained 90 Soldiers to defuse IEDs as part of the effort to prevent the devices from killing or maiming people. Djibo said U.S. forces will continue to work with Niger's military and security members to improve their ability to address the spread of IEDs in the country.
"The production of these 50,000 brochures made available to the Nigerien Army by the American government will further strengthen our capacities to counter this threat and reduce these destructive effects on our populations," Djibo said.