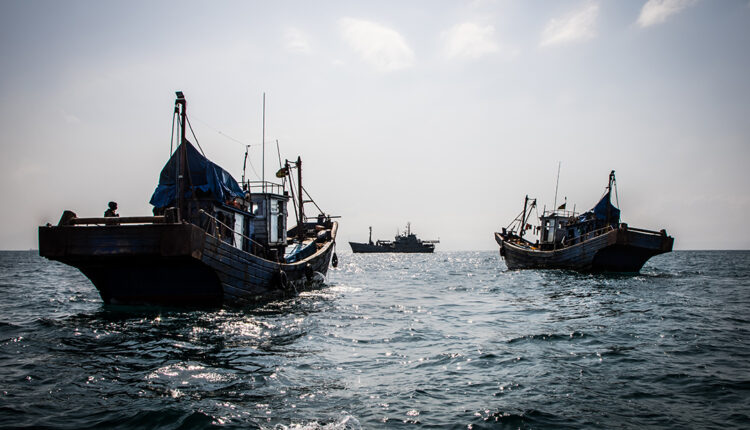 Reading Time:
2
minutes
ADF STAFF
A skiff carrying up to 10 armed pirates approached a Sea Shepherd Global vessel off the coast of Benin.
When the skiff got to within about 100 meters of the Bob Barker, the pirates got a surprise. The Sea Shepherd boat was carrying armed members of the Beninese Navy, who were patrolling in search of illegal fishing vessels.
"The armed Benin Navy Sailors on board Bob Barker fired 10 warning shots," Peter Hammarstedt, Sea Shepherd's director of campaigns, told ADF in an email. "The pirates then retreated."
The November 2020 incident highlighted a trend in an area long targeted by foreign vessels involved in illegal, unreported and unregulated (IUU) fishing, which deprives locals of jobs and decimates fish populations. Pirates attack more often in waters where IUU fishing occurs, according to a new study published by PLOS One, a peer-reviewed scientific journal.
In the first quarter of 2021, the Gulf of Guinea accounted for 43% of all piracy incidents in the African region, according to the International Maritime Bureau (IMB). In that time, 38 incidents were reported in the Gulf of Guinea, including 33 boarded vessels, two attempted attacks and a hijacked boat.
Although the total number of piracy incidents in the Gulf of Guinea was down from 47 over the same period in 2020, violence against sailors is on the rise, the IMB reported. In the first quarter of last year, pirates kidnapped 22 sailors. That number rose to 40 kidnappings and one death during the first quarter of 2021.
In 2020, the Gulf of Guinea accounted for more than 95% of all maritime kidnappings, according to the IMB.
Loss of fishing income may have driven some West African fishermen to turn to piracy, according to Raj Desai, lead author of the PLOS One study and professor of international development at Georgetown University.
"Fishers have skills that are very transferable to piracy, such as how to navigate and operate boats, so it's very simple for them to become pirates," Desai told Live Science.
Hammarstedt and other experts say the majority of pirates are from Nigeria's Delta region and that piracy has been a growing problem for years. Besides Benin, Sea Shepherd partners with the governments of Gabon, The Gambia, Liberia, Namibia, São Tomé and Príncipe, and Tanzania to combat IUU fishing and other maritime crimes.
Pirates will try to attack "any type of vessel" that they can board but recently have begun targeting fishing vessels, Hammarstedt said. "Fishing vessels are slow and have a low freeboard — making them relatively easy to board — and are unlikely to have armed guards on board," Hammarstedt said. "They are also plentiful. That makes them an easy target, especially when the goal of the pirates is not to steal cargo but instead to kidnap persons to hold for ransom."
The attack thwarted by Sea Shepherd and the Beninese Navy only temporarily dissuaded area pirate attacks. On March 11, pirates kidnapped 15 crew members aboard a Maltese-flagged chemical tanker about 200 miles south of the port city of Cotonou, according to the International Chamber of Commerce (ICC).
"It's critical that seafarers remain cautious and vigilant when traveling in nearby waters and report all incidents to the regional authorities and the IMB [Piracy Reporting Centre]," IMB Director Michael Howlett told the ICC. "Only improved knowledge-sharing channels and increased collaboration between maritime response authorities will reduce" the threat of piracy.