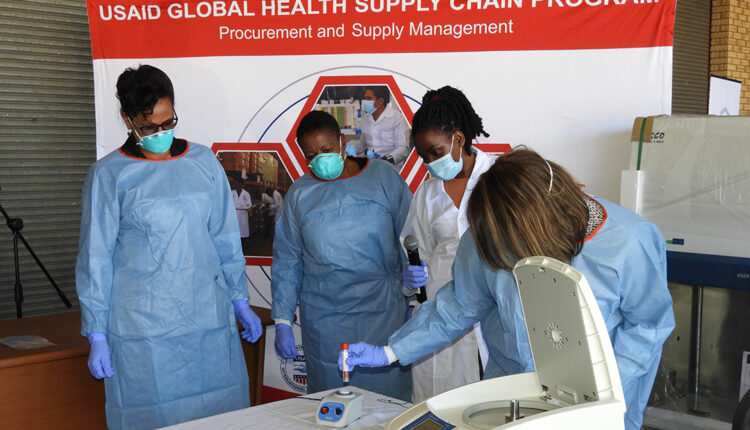 Reading Time:
2
minutes
ADF STAFF
A few weeks after Namibia launched its COVID-19 vaccination campaign, the country received $422,000 worth of high-tech equipment that will help keep laboratory workers safe.
The U.S. donation of 30 centrifuges, 15 vortex mixers, 12 biosafety cabinets, 10 refrigerators and 10 freezers also will help strengthen laboratory capacity during the outbreak.
Centrifuges isolate infectious materials needed for testing, while biosafety cabinets provide special shielding and air flow to keep COVID-19 specimens away from laboratory workers. Vortex mixers blend test samples to ensure that the virus is as evenly distributed as possible during extraction of the ribonucleic acid, or RNA.
The refrigerators and freezers increase the availability of temperature-controlled storage for COVID-19 samples and tests.
"This donation builds on the United States' promise to assist Namibia as we all battle this virus," U.S. Ambassador to Namibia Lisa Johnson said. "We are in this together. America remains committed to contributing to global health security and humanitarian assistance worldwide and here in Namibia."
The U.S. has committed more than $7 million toward Namibia's COVID-19 response since April 2020.
In November 2020, the U.S. delivered 11,000 face shields and 3,000 nasal testing swabs to the country. The swab pack included a sample collection system that was in high demand among medical facilities around the globe.
The next month, the U.S. helped fund the temporary hiring of 24 public health workers, including two public health officers, six nurses, seven surveillance officers, seven administrative workers, and two data managers at the Ministry of Health and Social Services. They were deployed in the Erongo, Karas, Kavango, Khomas, Ohangwena, Omaheke and Zambezi regions.
The U.S. also has helped Namibia implement procedures for the safe collection and transport of COVID-19 specimens, safe handling of specimens in clinical and laboratory settings, and quality assurance in testing procedures.
With a population of more than 2.5 million people, Namibia is hoping to increase vaccinations, as less than half a percent of the population had received a vaccine by mid-April, Newsweek magazine reported.
An investigation by The Namibian newspaper showed that vaccine hesitancy was fueled by disinformation campaigns thriving on social networks such as WhatsApp.
Dr. Ishmael Katjitae was among the first Namibians to receive the vaccine. He told Namibian newspaper New Era that he did so to show his countrymen the jab is safe.
"People have been vaccinated for years. Small children have been vaccinated, and people have been vaccinating animals," Dr. Katjitae told the newspaper. "There was no doubt that this thing has actually been working because we all know what happens if you don't get vaccinated. To me, any vaccine that has gone under trial, which has been tested, is effective."