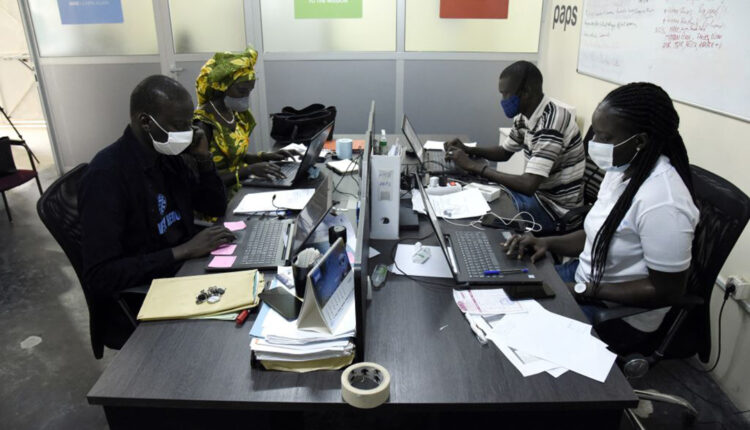 Reading Time:
3
minutes
ADF STAFF
Justus Muhando was leading a project to digitally map the island of Zanzibar when COVID-19 disrupted his work.
The pandemic forced him and his team to leave Tanzania in March 2020, as lockdowns spread across Africa. A few months later, they were back. But many aspects of their work had changed profoundly.
"We have a footprint of around 500,000 buildings," he said in a World Bank video presented at a virtual panel on April 13, 2021. "That's a very big task."
To accomplish it, the Kenyan company he works for, Spatial Collective, opted to use microtasking — breaking down the big task into small tasks — to train, organize and pay 10 community members to collect data by going door to door with tablets, all while following COVID-19 safety measures.
"Microtasking is faster, more digital," he said. "We train you, and then using tools like WhatsApp, we give out tasks. Then we do payment by mobile money."
COVID-19 has taken the lives of more than 126,000 people in Africa and caused immense economic pain. It has forced businesses to adapt and people to redefine their idea of work and workplaces.
Albert Zeufack, the World Bank's chief economist for Africa, opened the panel discussion by calling on countries to invest in digital skills and infrastructure.
"The digital economy in Africa is positioning itself to drive the future of work," he said. "Most firms have increased their connectivity to digital tools, and more people are using e-commerce across the continent."
The effects of COVID-19 lockdowns and social distancing stimulated innovation and collaboration. The pandemic quickly showed that video conferencing made remote work viable for many.
Countries such as South Africa have experienced major shifts across the board. Many in the formal work sector telework. More than 2.5 million workers in South Africa are part of the informal sector with little or no benefits and support from employers.
Others in South Africa's growing gig economy, also known as freelance or contract workers, were hit hard by unemployment.
Marc Kahn, global head of people and organization for South African financial services company Investec, sees the wave of unemployment as an opportunity.
"People are, in effect, going to be independent self-proprietors, selling their labor," he said on the company's website. "In the future world of the gig economy, people will cluster together in sensible ways and then uncluster and reconnect in various gigs to deliver a very agile value chain.
"That's the future world."
The young median age of Africa's population is considered a strength in terms of adapting to technology and a changing landscape.
However, most African countries have seen most of their people struggle with COVID-19-related unemployment and poverty. The pandemic has exacerbated an already growing gap between the haves and have nots, according to Ibrahima Guimba-Saïdou, director general of the National Agency for the Information Society in Niger.
"We have accelerated into the fourth industrial revolution, which is based on technology," he said during the virtual panel. "One of the biggest challenges for us is to get our people connected. Even in the major cities we barely have good internet connectivity. We have energy problems. That's where the priority now needs to be."
Still, Zeufack said the impact of the COVID-19-triggered 2020 recession in Sub-Saharan Africa is less severe than anticipated.
The World Bank's 2021 forecast for growth in the region is 2.3% to 3.4%. In 2022, inflation-adjusted gross domestic product could grow 3.1% to 4.5%.
"Prospects for recovery in the region are strengthening," he said. "Sustaining economic growth above 4.5% is absolutely necessary for our countries to start rolling back some of the severe damage inflicted to our economies by COVID-19.
"We know this is possible if we make the right investments."