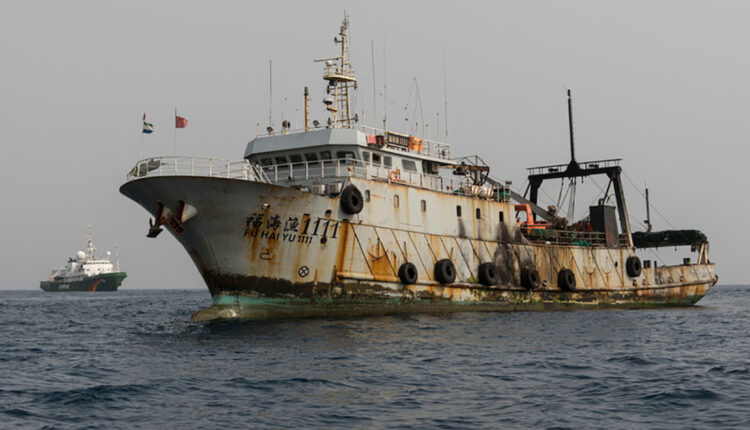 Reading Time:
2
minutes
ADF STAFF
Sierra Leone's government is battling tax evasion in the maritime sector in its continuing efforts to eliminate illegal fishing, which costs the country about $29 million a year.
The government says it will close businesses, take court action or withhold port clearance certificates from companies that don't pay taxes.
The country also has invested in six boats to patrol coastal inshore waters and in radio equipment, electronic tablets and Android phones to "strengthen the monitoring, control and surveillance of the fisheries sector," President Julius Maada Bio said in a Sierra Leone Telegraph report.
Illegal, unreported and unregulated (IUU) fishing in Sierra Leone primarily is committed by large industrial trawlers, about 75% of which are connected to China, according to estimates by China Dialogue Ocean.
China has targeted West African countries with insufficient maritime security forces for years. The illegal trawlers are known to fly flags of convenience, bribe local officials, submit false records, underreport their catches, fish in prohibited areas and harass local fishermen.
Economists say IUU fishing cost West African countries more than 300,000 artisanal fishing jobs and roughly $2.3 billion in revenue between 2010 and 2016, according to Liberia's Daily Observer newspaper.
Besides threatening the livelihoods of the tens of thousands of people working in Sierra Leone's artisanal fishing sector, illegal fishing threatens food security because fish accounts for 65% to 85% of animal protein consumed in the country, the Environmental Justice Foundation reported.
Sierra Leone previously has experimented with efforts to combat IUU fishing via tax collection, Tabitha Grace Mallory, a University of Washington professor who specializes in China's fishing policies, told ADF in an email. She said the country's greatest challenge will be in enforcing its rules.
"Without adequate enforcement capability, it doesn't matter if Sierra Leone prohibits foreign fishing fleets, and it will be difficult for Sierra Leone to carry out a tougher response to IUU fishing," said Mallory, who also founded the China Ocean Institute. "So, countries in the region can benefit from coordinated maritime enforcement. And, importantly, technology and other resources — most likely coming from outside parties — are needed to improve enforcement capability."
The July 2020 escape of three industrial trawlers from Sierra Leonean custody underlines Mallory's point. The Jian Mei 1, Jian Mei 4 and Hong Chang 1 were sanctioned for violating national laws and regulations after local fishermen documented their activities. Instead of paying fines, the vessels simply left.
Eliminating IUU fishing and corruption and mismanagement in the fisheries and marine resources sector has been a priority of Bio's since he took office in 2018. Two years earlier, the European Union issued Sierra Leone a yellow card after concluding that the country's level of development and engagement against IUU fishing was inadequate.
"Illegal, unreported and unregulated fishing was rife," Bio said in a Sierra Leone Telegraph report. "Tax evasion, underreporting, overfishing, by mainly illegal vessels within the country's Exclusive Economic Zone was destroying the country's fish stock, destroying the marine ecosystem, and depriving artisanal fishers and the entire artisanal fishing community chain of their livelihoods."
"We should recognize that IUU thrives where there are corrupt national regimes, poor national and international legal frameworks, ineffective or nonexistent enforcement mechanisms, and more," Bio said. "As with corruption, IUU thrives when risks are low for operatives and their cohorts. Like corruption, we must make [IUU] fishing risky and more expensive."