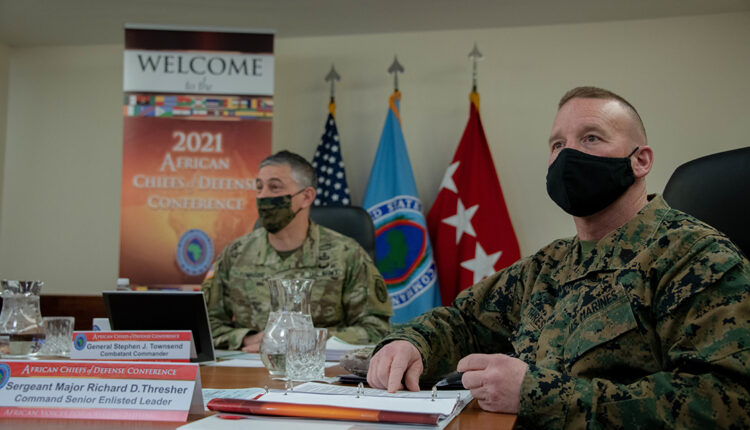 Reading Time:
3
minutes
ADF STAFF
Cooperative efforts and military professionalism were the topics of U.S. Africa Command's 2021 gathering of the continent's chiefs of defense.
The conference included 46 defense chiefs or their designees, who met virtually due to COVID-19 travel restrictions.
Gen. Stephen Townsend, AFRICOM commander since 2019, reminded the assembled chiefs that whether the subject is defeating violent extremists, disrupting illegal fishing or fighting the COVID-19 pandemic, U.S. and African interests are intertwined.
"We are in this together," Townsend said. "Your opportunities are our opportunities. Your challenges are our challenges. Your successes are our successes."
On the subject of cooperation and combined operations, conference attendees agreed that communication is the key to success — especially in areas such as the Sahel, where several multinational missions overlap. The Sahel is an operational theater for the G5 Sahel Joint Force, the United Nations peacekeeping mission in Mali and the Multinational Joint Task Force, among other efforts targeting extremists who use that region as a base.
Defense chiefs pointed out that, although regional multinational forces are critical to handling the continent's problems, those forces remain chronically underfunded, hindering their effectiveness. Many of the militaries involved also focus more on their own national priorities than the broader goal, weakening the mission, the chiefs said.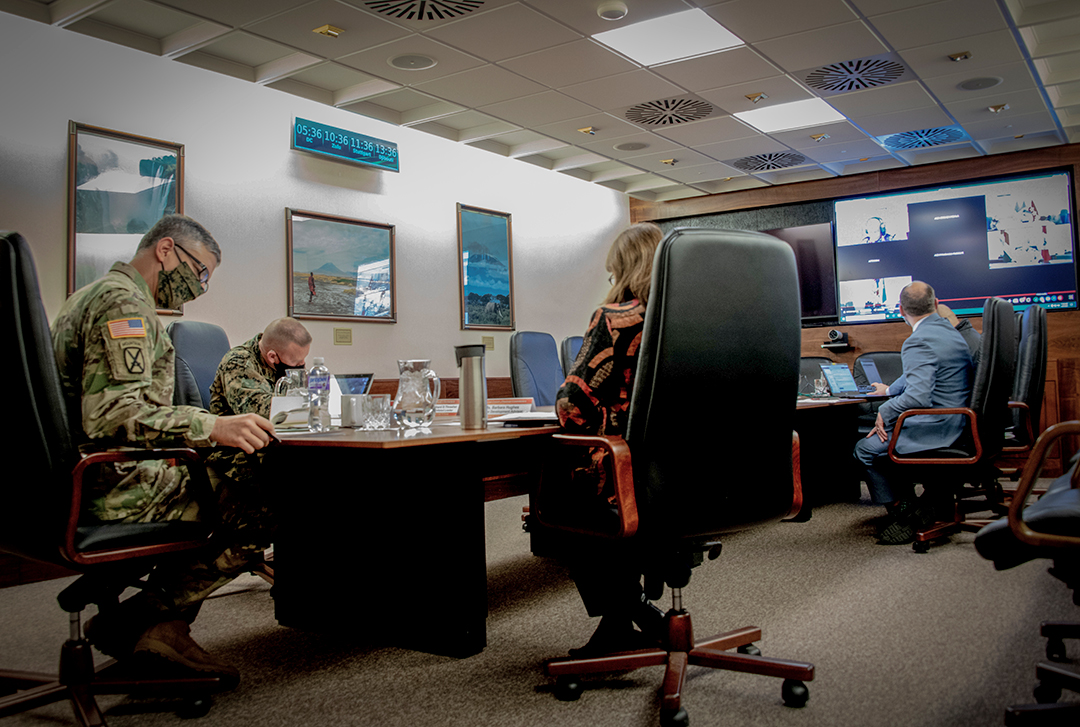 Island nations pointed out that most multinational forces are focused on land operations. Africa would benefit from a similar approach to patrolling the continent's sprawling offshore economic zones to stop illegal fishing, drug trafficking and similar activities, they argued.
Sudanese businessman Dr. Mohammed "Mo" Ibrahim, one of two keynote speakers, cited an Africa Check survey that shows that the continent's citizens trust their national militaries more than their civilian leaders. Ibrahim suggested that military leaders could set the example for cross-border cooperation and strengthening key national institutions.
In the decades since independence, most African nations have fallen short on developing the institutions that are the foundation of stable countries, he said.
"Institutions are the guardians of democracy," Ibrahim said.
Professionalism, attendees agreed, is an important way to strengthen national militaries and help them build respect in the eyes of the societies they protect.
That starts with moving away from conscription and focusing on careful recruitment and training of volunteer military members, from the lowest-ranking private to the highest-ranking general. In the process, the military will reflect the society it represents, improving public trust and support. Investing in professional military education and focusing on advancing technology will keep militaries prepared for future fights, attendees said.
The COVID-19 pandemic has become the latest challenge to Africa's militaries and an example of fighting an enemy most people could not have predicted, participants agreed.
Nations across Africa have worked with U.S. Africa Command, the U.S. Agency for International Development and other groups to bolster their defenses against COVID-19, which has so far infected more than 3 million Africans.
Ultimately, global success in fighting the virus depends on a fair and equitable distribution of vaccines that includes Africa, Ibrahim said.
"This is a global pandemic. It demands a global solution," he said. "We, as human beings, need to have the victory lap together."
Ibrahim urged the defense chiefs to search for areas where they can cooperate.
"We need you not to wage war on each other, but to bring peace to our people," he said. "Without peace and security, we cannot move forward. This is the matter in your hands."