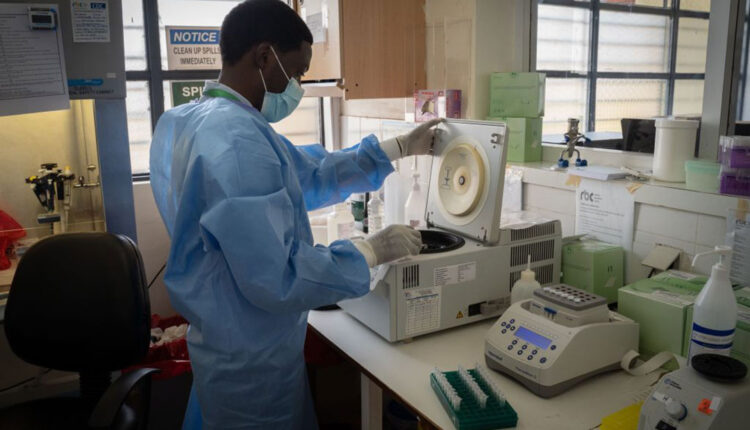 Rwanda Offers Free Rapid Diagnostic Testing Nationwide
Reading Time:
2
minutes
ADF STAFF
As African nations face a second wave of COVID-19 infections, Rwanda is providing residents with free rapid diagnostic tests to curb further spread of the disease.
The test kits went out to 42 health centers around the country in mid-December, paid for by the government. The goal is to make testing more widely available to the country's citizens, the Rwanda Biomedical Centre said.
Dr. Sabine Nsanzimana, the center's director, told The New Times that tests are available for anyone who has contracted COVID-19 or who has had close contact with someone testing positive.
On Twitter, Nsanzimana asked anyone with COVID-19 symptoms — fever, cough or shortness of breath — to get tested "urgently."
The rapid diagnostic test can confirm active COVID-19 infections by looking for virus antigens through a nasal swab.
According to Julien Niyingabira, head of the Rwanda Health Communication Centre, the tests' accuracy is more than 90%. Despite that, he added, the tests are not approved to provide a negative COVID-19 certification for travel.
"For symptomatic persons, tests are more precise than in asymptomatic persons," Niyingabira told The New Times.
Travel to and from the country requires a negative result on a real-time polymerase chain reaction test, which is more accurate than a rapid test. It detects the COVID-19 virus's genetic material, identifying the disease in people who are asymptomatic but still infectious.
As of early January 2021, Rwanda had reported more than 8,600 cases of COVID-19, 101 deaths and 6,700 recoveries. In total, the country of 12 million has conducted nearly 740,000 tests in a concerted effort to track down any case of COVID-19. That comes out to about 85 tests for every positive result. Each test runs about $50.
Rwanda reopened its international airport in August 2020, but land borders remain closed except for cargo shipments and returning Rwandan citizens.
The country is operating at the World Health Organization's Pandemic Phase 3. Under those guidelines business has resumed at restaurants, hotels, shops and elsewhere, but they operate under a 6 p.m. curfew. Swimming pools and gyms remain closed. Large gatherings, such as weddings, are banned. Masks are required in public.
Rwanda responded aggressively to COVID-19 after the first case was reported in March 2020. It activated community health care workers, police and college students to do contact tracing. It set up command posts to track cases. It used robots in clinics to take patients' vitals and deliver supplies.
Nsanzimana told National Public Radio that the country has drawn on its experience fighting HIV to fight COVID-19.
"The main machines we are using for COVID testing are the HIV machines that were [already] there," Nsanzimana said. "We are using the same structure, same people, same infrastructure and laboratory diagnostics, but applying it to COVID testing."