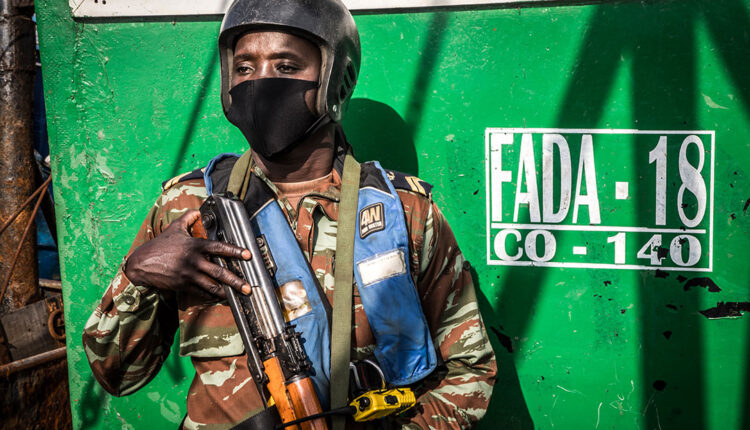 Open Records Help Combat Illegal Fishing
Reading Time:
3
minutes
ADF STAFF
Illegal fishing robs nations of natural wealth and leads to food insecurity, but African countries have the tools to fight back.
The Environmental Justice Foundation (EJF) issued a report detailing ways countries can combat illegal, unreported and unregulated (IUU) fishing. The foundation's Charter for Transparency lists several simple, low-cost steps countries can take to confront the practice.
Many illegal trawlers are apt to change vessel names, fly different flags and remove ships from registers. The EJF report — available at ejfoundation.org — says one simple remedy is for all countries to publish vessel license lists and ownership details online. The foundation realized the practice was necessary after one of its members in Sierra Leone learned of a trawler illegally fishing in the country's inshore exclusion zone.
Alerted by the foundation, authorities discovered that the vessel was fishing under Guinean and Sierra Leonean flags, which is illegal under international maritime law. If the countries' fishing vessel registries were public, the illegal trawler could have been detected online much more quickly.
Because all governments keep records of the sanctions they impose for fishing-related crimes, the EJF report also recommends adding those records to a public register so other nations can make more informed decisions when considering issuing fishing licenses.
The foundation's report argues that such a measure might have helped Senegalese authorities this year, when vessels in China's Fu Yuan Yu fleet — previously caught fishing illegally in Djibouti — were granted fishing licenses amid lockdown measures to contain COVID-19.
Senegal's Fishing Ministry publicly rejected the applications of 52 trawlers, but pressafrik.com, an online newspaper based in Dakar, reported that the government issued licenses to three trawlers in China's Fu Yuan Yu fleet. The report later was confirmed by Greenpeace, the nongovernmental environmental organization.
"If the license process was transparent, no one would be asking whether the department has signed new licenses or not," Mor Mbengue, a member of the Platform of Artisanal Players of Senegal's Fisheries, told Quartz Africa. "The artisanal fishing actors, who are the most impacted, are not always consulted by authorities when licenses are attributed, even though they should be as representatives of the Committee of License Attribution."
Chinese trawlers are among the most notorious illegal fishing vessels in West Africa.
Many Chinese fishing vessels are part of the distant water fishing fleet which is heavily subsidized by the Chinese government. Others are owned by a national fishing company, which is essentially a cooperative between Chinese and local business interests, said Peter Hammarstedt, Sea Shepherd Global director of campaigns. Sea Shepherd works with several West African governments to rid their waters of illegal trawlers.
"In the case of the latter, the fishing vessel is flagged to the African coastal/island state, but the beneficial owner is in China. Either way, they rely on local agents," Hammarstedt told ADF in an email.
The practice is especially prevalent in Ghana, where an EJF study showed that although all industrial trawlers in the country were Ghanaian on paper, at least 90% of the fleet was linked to Chinese ownership, despite a ban on foreign ownership in the trawl sector.
In November, the EJF released a smartphone app that helps artisanal fishermen in Ghana detect and report illegal fishing. The app — called Dase, which means "evidence" in Fante, a Ghanaian dialect — also is being developed for use in Liberia and Sierra Leone.
"Our approach is to establish direct contacts with fishers through traditional authorities (chief fishermen) at the landing beaches, fisheries extension officers and our local staff based in the communities," Steve Trent, executive director of the foundation, told ADF in an email. "We have found that establishing trust and delivering ongoing capacity building to fishers to engage in monitoring is the most effective way of ensuring [that] robust and actionable information is collected over time."