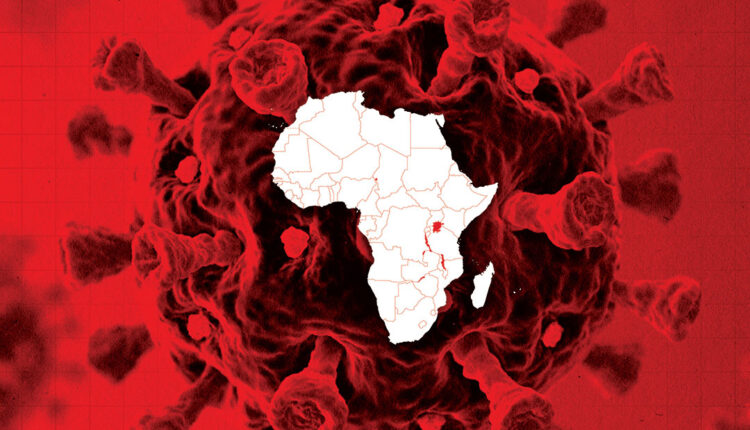 Reading Time:
10
minutes
ADF STAFF
As a frightening new respiratory illness flared in western China and eventually made its way into Europe, Africa was dealing with several other infectious disease outbreaks.
In the Democratic Republic of the Congo (DRC), workers were trying to quell a stubborn Ebola epidemic in the east of the nation that began in August 2018. In January 2019, a measles outbreak hit the DRC, infecting more than 300,000 people by mid-March 2020. In Nigeria, health officials were facing their largest-ever outbreak of Lassa fever, a seasonal illness carried by rats and spread through their waste.
All of this happened as the continent dealt with seasonal cholera outbreaks and the ever-present malaria, yellow fever and tuberculosis threats. Southern Africa continued to deal with the profound HIV/AIDS problem, which has been a health concern there for decades. The shadow of the West African Ebola outbreak of 2014-2016, which killed more than 11,000 in Guinea, Liberia and Sierra Leone, still haunted the continent.
It was into this context that SARS-CoV-2, the coronavirus that causes COVID-19, slipped into Egypt and then Algeria. Sub-Saharan Africa's first case emerged in Nigeria after an Italian man arrived in Lagos from Milan on February 24, 2020, without symptoms, France 24 reported. Four days later he was in quarantine in a Yaba hospital.
COVID-19's high infection rate, combined with the lack of a vaccine or effective medicinal treatment and low health care capacity, raised the specter of catastrophe on the continent of 1.2 billion people. By early May 2020, Africa had logged 54,027 cases of COVID-19 in 53 countries, and 2,074 had died.
Once more, a deadly disease was on Africa's doorstep. But as nations braced for the worst, health workers, government officials and security personnel displayed significant knowledge, ingenuity and foresight. Experience and resilience would be their greatest weapons.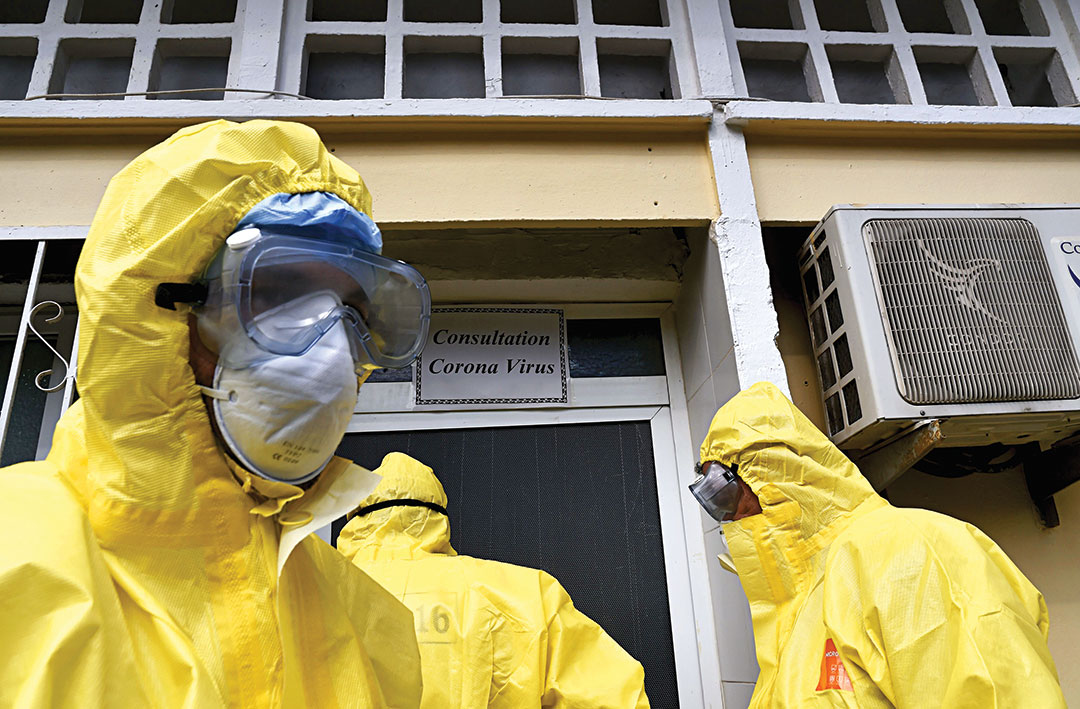 NIGERIA SPRINGS INTO ACTION
When the West African Ebola outbreak of 2014 began, some — including the World Health Organization (WHO) — were criticized for their sluggish responses. Nigeria, however, was not one of them.
Although not at the epicenter of the outbreak, Ebola did seep into the densely populated nation on July 20, 2014, according to Scientific American. Within a few weeks, 19 people contracted the disease. The ingredients for disaster were there, but Nigerian health officials responded with three key tactics:
Fast and thorough tracing of all potential contacts.
Sustained monitoring of those contacts.
Rapid isolation for those potentially infected.

 
The actions stopped the deadly virus in its tracks, limiting cases nationwide to just 20.
Ebola is many times deadlier than COVID-19; its death rate approached 50% in the West African pandemic, but it is harder to transmit from person to person. It requires direct contact with body fluids such as blood, feces, and other secretions and tissues. Certain traditional funeral practices were found to be a common mode of transmission.
COVID-19 spreads much more easily. People need only shake hands with an infected person or come in contact with a surface the person touched and then touch their face to introduce the pathogen into the body. The virus also can be breathed in via water droplets released during coughs and sneezes. Because it is less deadly, and because so many people never show symptoms, COVID-19 travels much faster and wider than does Ebola. This also makes it far more likely to overwhelm health systems, even in highly developed nations.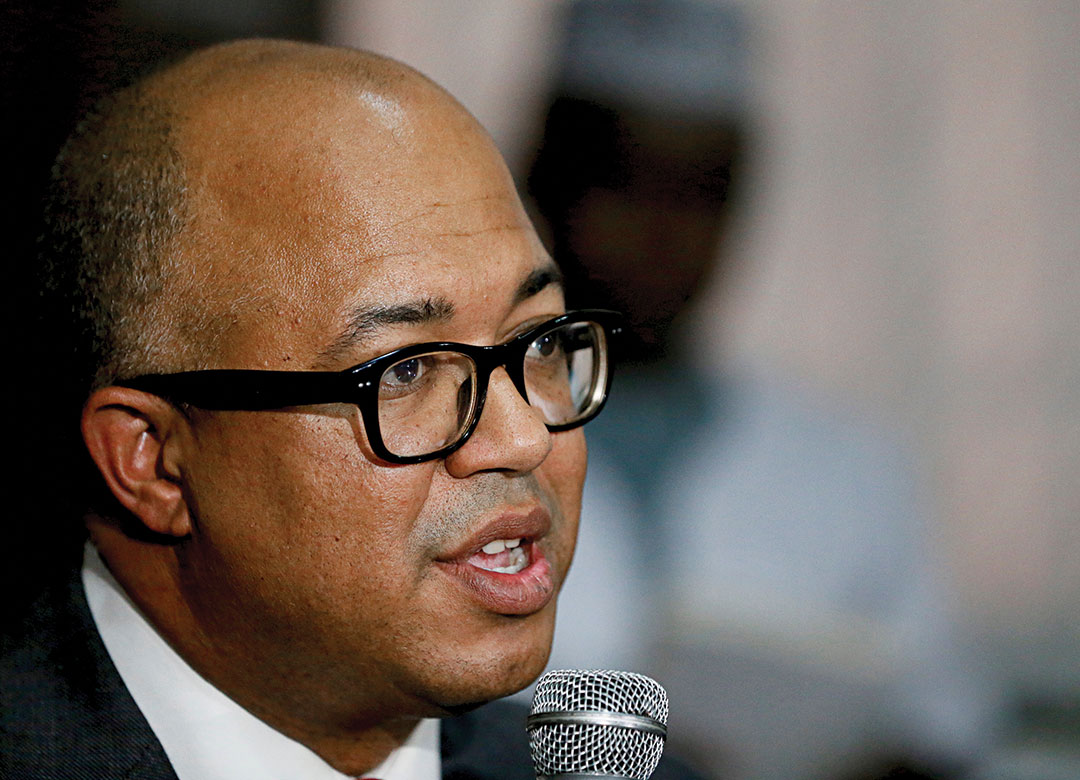 In 2018, Nigeria fully activated the Nigeria Centre for Disease Control (NCDC) and set up a network of laboratories across the country that could rapidly identify disease cases, according to The Scientist. Since the COVID-19 outbreak, the NCDC has undertaken aggressive public engagement campaigns to encourage safe and sanitary practices.
Nigeria's increased capacity was validated after its first COVID-19 case. Health workers took, tested and analyzed samples from the Italian traveler who brought the virus to the nation. Technicians sequenced the genome for those samples at the African Center of Excellence for Genomics of Infectious Diseases at Redeemer's University. It was the first analysis of SARS-CoV-2 in Africa.
The achievement marks Nigeria's ability to contribute to important disease genomics research and infection progression in real time, said Chikwe Ihekweazu, director general of the NCDC. It also shows that nations have invested in diagnostic capacity.
"Whether the tool is used for disease outbreaks or routine surveillance, we now have the capacity to perform in-country sequencing, which has traditionally been done through collaborations with laboratories outside the countries," Ihekweazu told The Scientist.
Nigeria also has been aggressive in screening incoming passengers at airports and through door-to-door home visits to halt the advance of COVID-19. The WHO has provided coordination and technical help for personnel at the arrival terminals of Murtala Muhammed International Airport in Lagos.
In mid-March, passenger monitoring included self-reporting forms and temperature checks. A nurse also watched passengers for any visible signs of illness. People with such signs or reports of illness or exposure were directed to undergo additional screening.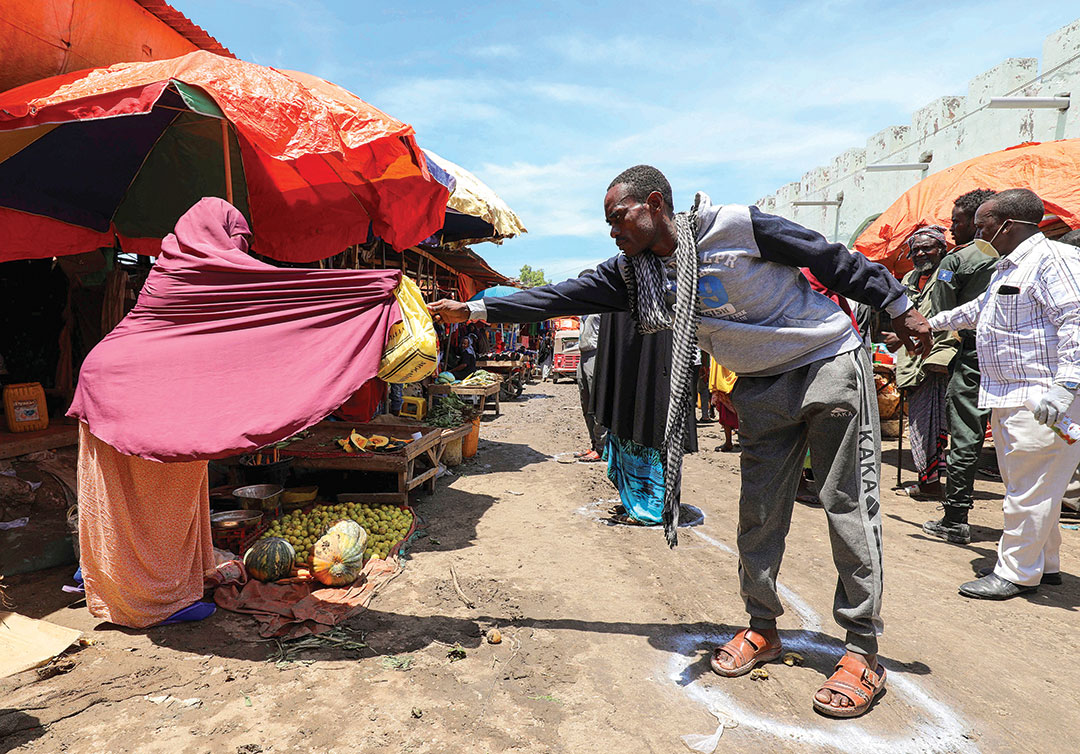 On April 10, Nigeria dispatched health workers to homes and health care facilities in Lagos, a city of 21 million, to conduct electronic surveys about COVID-19 symptoms. "This is in a bid to intensify our search for possible cases of COVID-19 in different communities across the state," Lagos State Commissioner for Health Akin Abayomi told Radio France Internationale.
In the midst of these disease surveillance efforts, Nigeria and other countries also were employing one of the most important weapons used in the Ebola outbreak: contact tracing. This technique is essential to any major communicable disease outbreak. The initial sick person is isolated and treated, and any people who may have been around him or her are tracked down and tested for symptoms. Contacts without symptoms are monitored until the incubation period has passed. If they have symptoms, they are isolated and treated, then their contacts are traced, and so on.
It is important to keep COVID-19 patients isolated from others receiving medical treatment when possible. Nigeria set up separate isolation clinics early on to keep from swamping its health system as cases increased, according to a paper by the Africa Center for Strategic Studies (ACSS). The same model is in place in about 20 countries.
Nations are showing that they have learned from Ebola and other disease outbreaks, the ACSS paper said. Nations that set up isolation centers during the 2014 and DRC Ebola outbreaks are reopening them to separate COVID-19 patients from regular health care centers. The previous experiences also have reinforced the need to focus on preventive measures over therapeutic treatments.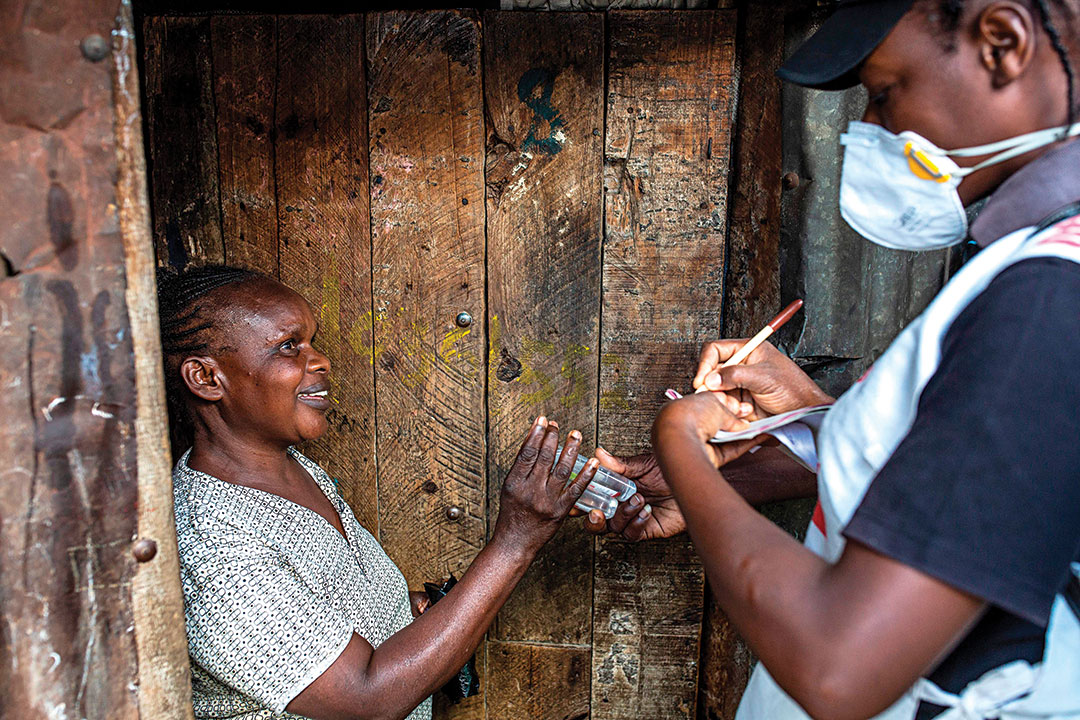 SOUTH AFRICA LEADS IN TESTING

In South Africa, years of treating and tracking tuberculosis and HIV have left health officials with the knowledge and infrastructure to test on a large scale.
Experts see extensive testing as a way to track the spread of the virus while making sure infected people are isolated and treated, and their contacts are checked. South Africa responded to this need by deploying mobile testing units and screening centers in its most densely populated townships, where up to 25% of the nation's 57 million people live, The Associated Press (AP) reported.
Dense populations, a common condition in many of Africa's urban townships, present a challenge. Social distancing, a crucial tactic in the fight against COVID-19, is virtually impossible in these areas. Large families often share a single room, and homes are close together. Hand-washing also is a problem when sometimes hundreds of people are forced to share a single tap. All these conditions make testing crucial.
"These are areas where there are high concentrations of people with HIV and TB who are at risk for severe symptoms," Durban virologist Denis Chopera, executive manager of the Sub-Saharan African Network for TB/HIV Research Excellence, told the AP. "These are areas that can quickly become hot spots."
South Africa was expecting to conduct 30,000 COVID-19 tests per day by the end of April 2020. That would rank it among the best in Africa.
"We have testing infrastructure, testing history and expertise that is unprecedented in the world," Francois Venter of the Wits Reproductive Health and HIV Institute at the University of the Witwatersrand told the AP. "It is an opportunity that we cannot afford to squander."
South Africa has long used a TB test that produces results in a couple of hours. That system, which extracts genetic material to get results, led to the development of a COVID-19 test, the AP reported. The nation was expected to begin using them in the spring. It is much faster than conventional swab tests.
"This will dramatically shorten our testing time, and the smaller machines can be placed in mobile vehicles, which are ideal for community testing," Dr. Kamy Chetty, CEO of the National Health Laboratory Service, told the AP.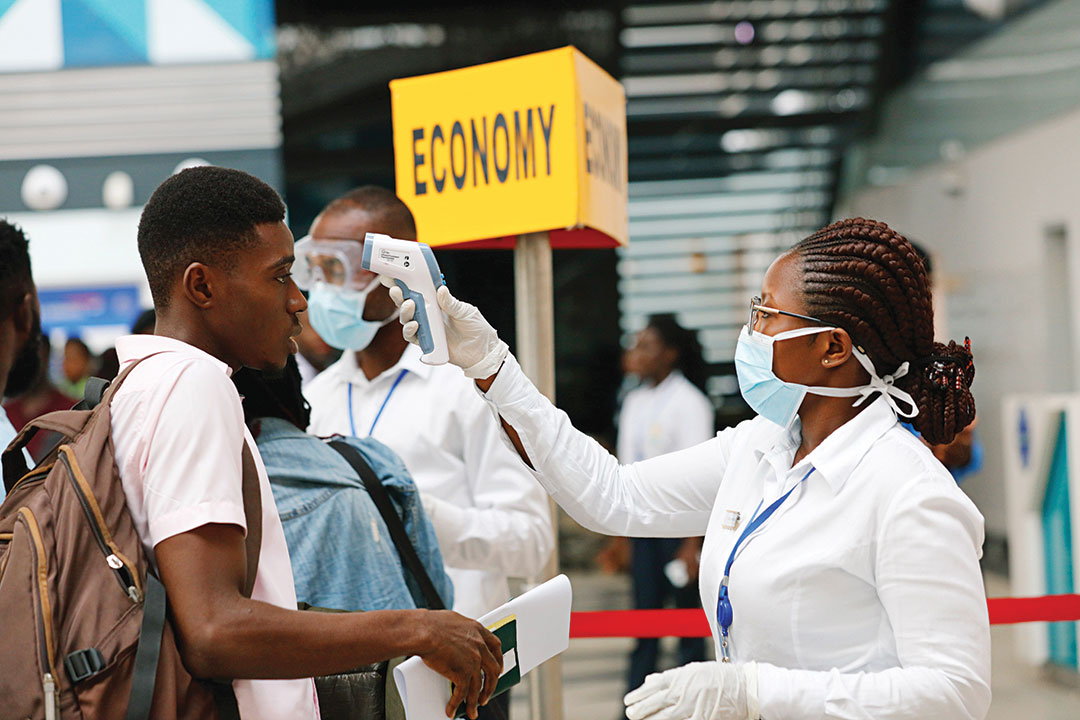 WEST AFRICA'S NEW CHALLENGE

Ebola left a lasting impression on Guinea, Liberia and Sierra Leone. All three countries were unprepared for the deadly virus, and their ability to respond relied heavily on help from other nations in Africa and elsewhere. However, when news of COVID-19 spread, the region's strong connections to China prompted it to respond early and with a wealth of foresight and experience.
Dr. Mosoka Fallah, a veteran of the 2014 pandemic and head of its National Public Health Institute, which was established in Ebola's wake, led Liberia's preparation strategy for COVID-19. He saw the potential danger almost immediately, learning that more than 300 Chinese citizens had arrived in Liberia from China, as had 80 Liberians. He began to communicate with counterparts in Sierra Leone and Guinea on a WhatsApp group, Time magazine reported. They talked about airport screenings, potential flight bans and quarantines. That was in January 2020, when many countries still had not realized the potential threat of the new virus.
By the end of January, Fallah was working with Dr. Jerry Brown, who ran one of Liberia's largest Ebola treatment centers. They worked to set up training to help hospital personnel recognize COVID-19 symptoms, Time reported. The WHO helped them buy test kits, and they had a staffer trained on how to test for the virus. That allowed Liberia to do all COVID-19 testing in country, a capacity not possible during the Ebola crisis. Fallah also brought back hand-washing stations that were everywhere during the Ebola outbreak.
Liberia confirmed its first case on March 16, 2020. A week later, officials declared a public health emergency and asked the United Nations Population Fund (UNFPA) for help. Officials urgently recruited contact tracers and trained and deployed them.
"It is not easy to work as a contract tracer, especially when there is still a high level of denial and stigmatization at the level of the community," said tracer Octavius Koon.
Given the low capacity in the health care sector at the time of the Ebola outbreak, affected nations learned that robust communication was necessary to avoid the spread of misinformation. Rumors could quickly get out of control and turn populations against those fighting the disease.
To combat mistrust during the COVID-19 pandemic, UNFPA recruits contact tracers from the most affected areas and deploys them within their communities.
The country learned a hard lesson in the Ebola outbreak about the importance of building trust among citizens. "The precipitous drop in infections came through behavioral change by the general public," Gyude Moore, a former advisor to then-President Ellen Johnson-Sirleaf, told the ACSS. "And that only happened once community engagement and trust were made a central part of the response."
THE ROLE OF SECURITY FORCES

Part of building and maintaining trust among civilians is by making sure that government representatives — particularly security forces — behave in ways that respect peoples' rights and follow the rule of law. West African nations learned during the Ebola crisis that great care must be taken in deploying police and military forces in support of a pandemic response. In the past, government officials have deployed security forces in the service of their own regimes without concern for civil rights. That history can make the optics of armed Soldiers enforcing quarantines troublesome for civilians.
Navigating the delicate balance of safety and civil obedience can be difficult for forces typically trained only for battlefield duties. John Siko, director of Dubai-based security consultancy Burnham Global, told Voice of America (VOA) that most African militaries are not trained to maintain "public order."
Some forces on the continent, such as those with extensive peacekeeping experience, build mock villages and use paid actors to test the response of Soldiers before deployment. "There's a great deal of desire and necessity for public order training to make sure that guys can respond in a human rights-respective manner when this does happen," Siko told VOA.
In South Africa, the nation with the most COVID-19 cases on the continent, a lockdown was largely successful, but some Soldiers and police have been accused of using excessive force. In March, 2,820 Soldiers were deployed for the lockdown. By the third week of April, President Cyril Ramaphosa had announced he would deploy an additional 73,180 troops to enforce the order until June 26, according to The Defense Post.
In early May, gun-toting Soldiers were patrolling South Africa's streets and stores, stopping citizens who were out and about without face masks.
With that kind of military presence, it is essential that Soldiers show restraint and respect for human rights. Their failure to do so actually can reduce the chances that sick people will seek help, wrote Dr. Shannon Smith, professor of practice and director of engagement at the ACSS. Security forces should be deployed with care, ideally under the guidance of health workers.
Social pressure is more likely to encourage civilians to adhere to social distancing and other pandemic requirements, wrote Dr. Mark Duerksen, research associate at the ACSS.
"Military and police forces would be better used to secure places like testing centers, hospitals, and health care workers if needed," Duerksen wrote in an April 9, 2020, ACSS paper. "Additionally, police may be deployed to protect women and children who are facing increased domestic violence while confined at home."
South Africa's Ramaphosa has asked South African troops working the pandemic to be "a force of kindness." In an article he wrote for Time in April 2020, Ramaphosa said Africa is united, proven under the fire of disease outbreaks, and full of world-class scientists and researchers.
"With the necessary support, we will be able to build on what we have," Ramaphosa wrote. "We will be able to bolster health infrastructure and health systems on the continent. We will be able to cushion our populations from the inevitable economic fallout, and we will be able to turn the tide against this pandemic, country by country."