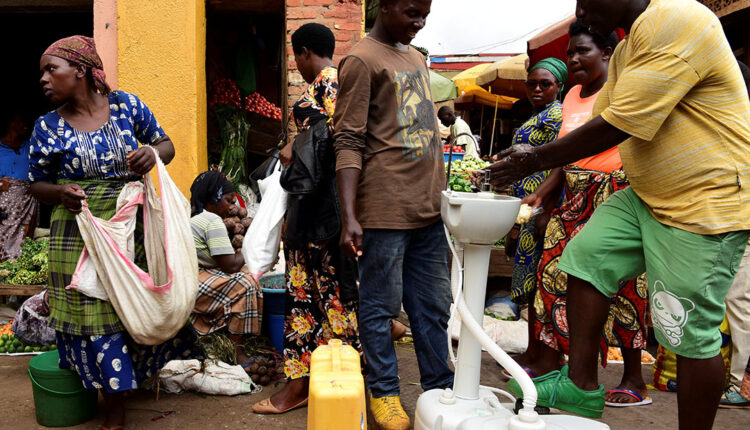 Reading Time:
2
minutes
ADF STAFF
A U.S. donation of three four-wheel-drive vehicles to Rwanda Medical Centre helps the country's health care workers conduct more contact tracing to contain the spread of COVID-19.
The vehicles let health officials more easily access people living in the country's rural areas. Rwandan officials established a contact-tracing system shortly after the first COVID-19 case was confirmed there in March.
During a handover ceremony, an enthusiastic Peter Vrooman, United States ambassador to Rwanda, drove one of the vehicles out of the medical center's parking lot and along tree-lined urban streets before returning.
Wearing a protective mask, Vrooman sprayed the SUV's keys with disinfectant before handing them to Sabin Nsanzimana, director general of the biomedical center, who was grateful for the donation.
"As I said before: 'Our lives and your lives,' and 'Your life is our life,'" Vrooman said, speaking in Kinyarwanda. "Today we say: 'Our cars are your cars!'"
The donation builds on $8.2 million the U.S. earmarked for Rwanda's COVID-19 battle. The U.S. previously donated 100 ventilators, personal protective equipment (PPE), hospital beds, sanitizer and other critical items to COVID-19 treatment centers.
Other U.S. donations helped increase laboratory diagnostic capacity and biosafety, enhance central and district-level surveillance, strengthen infection prevention efforts, and control severe respiratory infections.
The U.S. has invested more than $1.5 billion in Rwandan public health efforts over the past 20 years.
"U.S. public health assistance keeps everyone safer and is making a real difference in Rwandans' fight against COVID-19," Vrooman said.
Rwanda's relatively low infection rates are widely attributed to medical innovations, cutting-edge technology and its government's proactive response.
A month after the virus was detected, the Rwanda National Police deployed remote-controlled drones to inform Kigali residents about the virus and enforce lockdown measures.
With just one doctor for every 10,000 people, Rwanda was the first African nation to impose a total lockdown that also shut its country's borders. The country started screening travelers for COVID-19 in January.
Global shortages of surgical masks and PPE spurred dozens of Rwandan companies to produce their own. Wilfred Ndifonof the African Institute for Mathematical Sciences in Rwanda developed a fast, effective and inexpensive way to batch test people for the virus.
Even before Rwanda confirmed its first COVID-19 case, it established portable sinks and hand-washing stations throughout Kigali to guard against the virus.
"Rwanda has set the standard," Diafuka Saila-Ngita, a professor of infectious diseases at Tufts University in Massachusetts, told The Wall Street Journal. "It's a model of what other low-income nations should do to respond better to health emergencies."