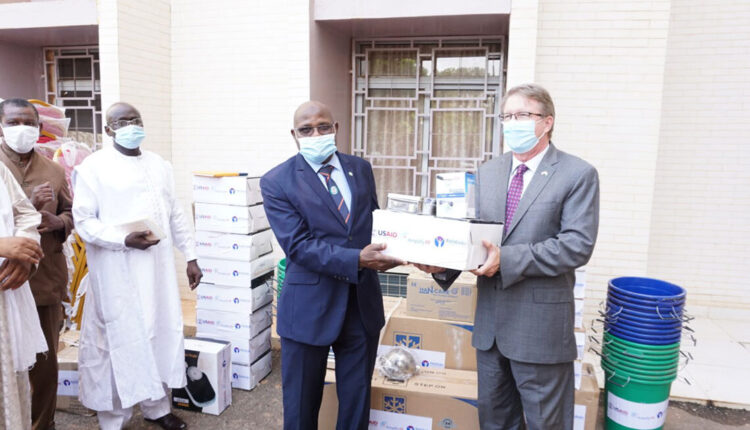 Reading Time:
2
minutes
ADF STAFF
Public health centers in Niamey, Niger's capital, and Zinder, its third-largest city, have received personal protective equipment, clinical materials and office supplies through the U.S. Agency for International Development.
The donation of about $57,000 in supplies supports services at 74 clinics.
The project is part of USAID assistance across four West African countries: Burkina Faso, Côte d'Ivoire, Niger and Togo.
Ambassador Eric Whitaker presented the materials to Nigerien Health Minister Dr. Ranaou Abache at a ceremony in Niamey. Whitaker highlighted the U.S. government's commitment to improve the well-being of Nigeriens.
"The U.S. government partners with the Nigerien government to support Niger's strategic development," Whitaker said.
One of the project's objectives is to upgrade health facilities by training clinical staff and by improving technical capabilities through new equipment.
Niger is part of the Ouagadougou Partnership, a collection of nine French-speaking West African countries formed to help women and families.
The partnership supports health centers that can send experts to individual homes rather than have patients come to health clinics where they might risk contracting COVID-19. The partnership also helps maintain access to health resources during virus-related lockdowns.
On October 28, during a meeting with Nigerien President Mahamadou Issoufou, USAID Mission Director to Niger Jo Lesser-Oltheten said the larger goal is to help Niger build its defenses against a range of threats and challenges.
"Our main goal is to help Nigeriens become more resilient in the face of different shocks like natural disasters, extremist violence and the economic crisis linked to COVID-19," she said. "This support is guided by our objective to accompany Niger on its road toward economic self-sufficiency."
« Notre objectif principal est d'aider les Nigériens à devenir plus résilients face aux différents chocs tels que les catastrophes naturelles, la violence extrémiste ou les retombées économiques de la COVID-19. Cet appui est guidé par notre objectif d'accompagner le Niger sur son chemin vers l'autosuffisance économique », a-t-elle souligné.