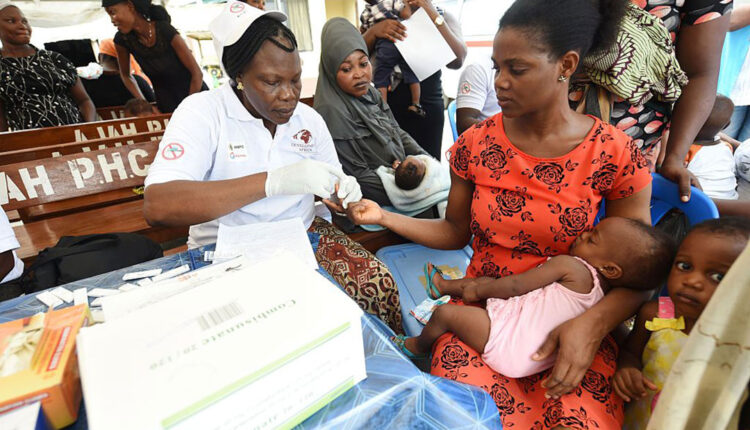 Nigeria Receives Nearly $1.4 Million in Clinical Equipment from U.S.
Reading Time:
2
minutes
ADF STAFF
The U.S. Agency for International Development (USAID) recently donated $1.4 million in medical equipment and training materials to improve the skills of front-line health care workers in northern Nigeria's Bauchi and Sokoto states.
The materials are meant to help address long-standing national issues pertaining to reproductive, maternal, newborn, child, nutrition and malaria services, Paul McDermott, who leads USAID Nigeria's Health, Population and Nutrition Office, told ADF in an email. The spread of COVID-19 has not seemed to exacerbate those issues, although lockdown measures have led to a reduction in immunization services, which Nigeria's government has plans to improve, he said.
The donated items, including training manuals, job aids, equipment and supplies, will be used in more than 360 medical facilities across the two states.
The materials will be used "during onsite and follow-up training to improve health workers' practical skills and competencies," McDermott said. "The equipment includes anatomical models used to simulate real-life situations and provide an opportunity for health care workers to gain practical experience in situations where real persons cannot be used as models for training."
The items include posters, flip charts and booklets that will "further help strengthen the skills of the health workforce and ensure that quality standards are maintained," McDermott added.
In Nigeria, serious health issues related to malnutrition and malaria continue to plague rural areas.  An estimated 2 million Nigerian children and 7% of Nigerian women of childbearing age suffer from acute malnutrition, which can lead to a lack of growth and development in children, among other health issues.
In 2019, the U.S. and Nigeria started a five-year partnership to boost the African nation's nutrition and food security by improving investments in agriculture-led economic growth.
Nigeria reports more annual malaria cases — about 100 million — and deaths — more than 300,000 — than any other country in the world, according to the U.S. Embassy in Nigeria. The mosquito-borne illness accounts for 60% of outpatient visits and 30% of hospitalizations among Nigerian children under 5. Symptoms include fever, headache, vomiting and fatigue.
In 2018, Nigeria accounted for a quarter of the world's malaria cases, according to the World Health Organization.
The U.S. has a long history of supporting Nigeria's health system. More than 20 years of American support helped Nigeria eradicate the wild polio virus earlier this year, and the U.S. has donated more than $54 million to Nigeria since the first COVID-19 infection was confirmed there in February.
In August, the U.S. delivered 200 ventilators to Nigeria to strengthen the West African country's COVID-19 response. Shortly after the pandemic hit Nigeria, the country of about 196 million people had only 500 total ventilators, which can help extend the lives of critically ill patients with severe breathing problems.
The U.S. helped Nigeria's Ministry of Health deliver the ventilators to treatment centers and intensive care units throughout the country and assisted with COVID-19 surveillance efforts.