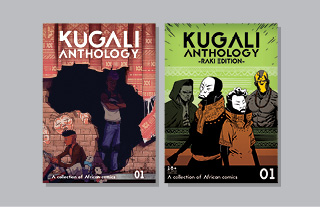 Comic Books Showcase African Narratives
Reading Time:
< 1
minute
To "showcase the best African narratives," some artists and writers have teamed up to publish comic books in print and online. They also are experimenting with augmented reality products.
Nigerians Ziki Nelson and Tolu Foyeh, along with Ugandan Hamid Ibrahim, have started Kugali Media, based in London and Lagos, Nigeria. All three men are under 30. Their flagship product, Kugali Anthology, is a collection of comics by contributors from across the continent and the diaspora.
They also are testing augmented reality (AR), similar to Pokémon Go, a game that is downloaded onto smartphones and combines visuals of computer-generated characters with the user's surroundings.
"At present we're looking at ways AR can enhance the comic reading experience, as well as recreating a traditional storytelling experience with a griot or elder appearing before you in AR and recounting a traditional tale," said Nelson in an email to ADF. "We're also interested in film and animation, and our goal is to adapt our comics for these mediums."
Most of their content is published in English, with one book translated to French. Their books are available for ordering at www.kugali.com. The company also launched a subscription service in 2019.
Although their target audience is Africans, they hope to reach a wider readership.
"Many of the stories we tell might resonate with Africans in a way that people outside the culture might not understand," wrote Nelson. "But ultimately, a good story should transcend borders and cultures."