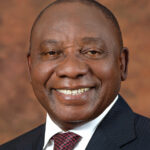 It is said that it is only in the service to one's fellow human that one's mettle is truly tested. And the Armed Forces of democratic South Africa can be justifiably proud of having produced Soldiers of resolve, of steadfastness and of great patriotism.
Through National Armed Forces Day we want to display to our people the capabilities and state of readiness of our Armed Forces. We also want to expand the public's understanding of the military's function and purpose in our society.
We all recall the iconic image of a young mother, clutching her newborn baby, Rosita, as she was pulled to the safety of a SANDF chopper during the Mozambican floods of 2000. We also recall with pride the deployment of the South African Military Health Service across hospitals in Gauteng in 2017 after an industrial action nearly paralyzed services in the province.
A year later, military health personnel were dispatched to Mahikeng Hospital in the northwest, where their intervention averted the collapse of health services in the facility.
The SANDF also has been involved in international peacekeeping missions on the continent, notably in the Democratic Republic of the Congo under the United Nations mission.
Whether it is engaging in anti-piracy patrols in the Mozambique Channel, battling veld fires in the Cape, doing border patrols as part of Operation Corona, or attending to critical infrastructure, our national defense force is a source of enduring pride.
It is a pride we want to impart to the next generation. For the SANDF to effectively carry out its mission, we need to recruit high-caliber individuals into its ranks.
The Armed Forces are a home for the youth of this country. It is the means through which they can serve, through which they can also step forward and say: thuma mina, meaning "Send me."
Over the years, the role of the Armed Forces has had to evolve in response to ever-changing global military, political, social and economic conditions. Our Navy, the host of today's event, has a particularly critical role to play.
We have a 3,000-kilometer-long coastline, the third-largest in Africa, and are strategically located on one of the world's most vital shipping lanes. Over 96 percent of our own exports and imports are carried by sea.
It is upon our Navy that we rely to protect our trade routes, to cooperate with neighboring countries and international bodies to promote regional maritime security, and to advance our developmental objectives as a country.
It is also the responsibility of our Armed Forces to guard our country's borders against the infiltration of transnational criminal syndicates, the flow of contraband, human trafficking, undocumented migrants and other illicit activities.
It is imperative, therefore, that all our Armed Forces are supported to enable them to respond effectively to current realities and threats, as well as emerging ones.
To our Soldiers, yours is a clear mission, to take the SANDF into the future. To uphold our constitutional order and the rule of law. To defend and protect our sovereignty and territorial integrity.
And, above all, to contribute toward the well-being, prosperity and upliftment of the people of South Africa.