ADF STAFF
The U.S. Navy once analyzed data and concluded that, in theory, a C-130 Hercules transport plane could carry 25,000 pounds of freight, fly for 4,000 kilometers and eventually land on an aircraft carrier.
On October 30, 1963, that theory was put to the test. A C-130 made a successful landing on an American aircraft carrier. Its 40-meter wingspan cleared the control tower by just 4 meters. 
Fifty-five years later, it retains the record for the largest, heaviest plane ever to land on a carrier.
It was hardly the most grueling test for a C-130. As reported by The Aviationist website, C-130s equipped with Teflon-coated skis are used in the Arctic and Antarctica. Ten of the planes, nicknamed "Ski-130s," routinely supply remote outposts with cargo loads in excess of 60 tons.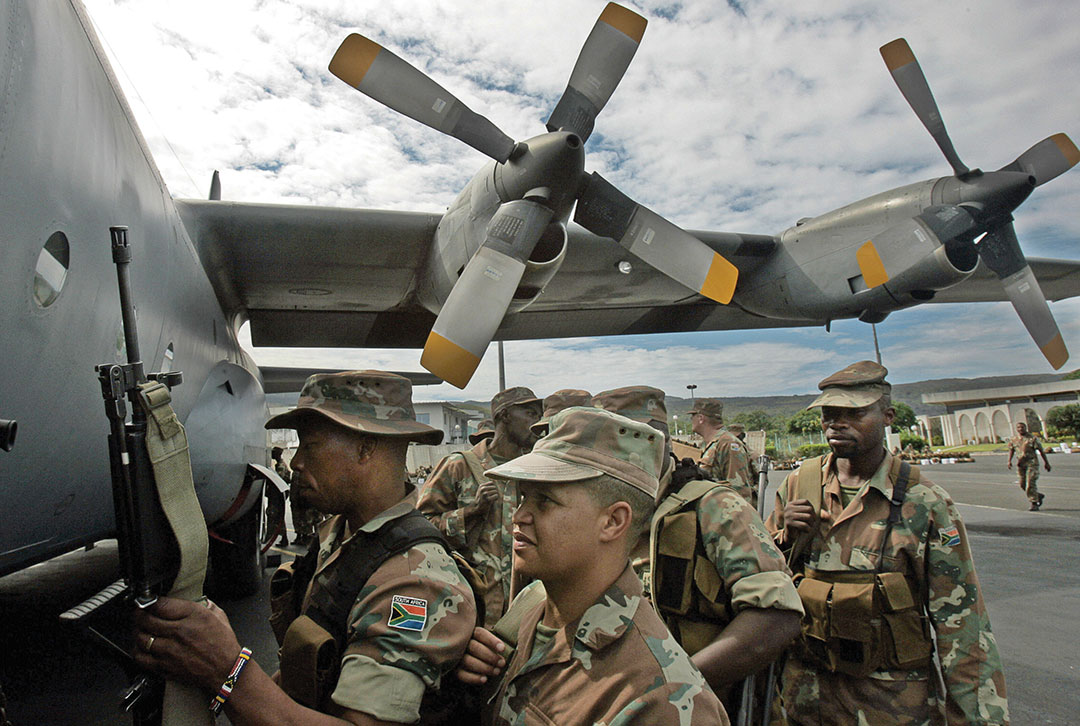 The Lockheed C-130 Hercules can be used, and has been used, for just about everything. The four-engine turboprop military transport plane has seen service as a troop carrier, a flying medical clinic, an airborne assault craft, a support craft for scientific research, a search-and-rescue plane, an aerial refueler, a maritime patroller and a firefighting craft. The list of uses could be much longer. There's even a civilian version called the LM-100J.
As of 2018, 16 countries in Africa were using C-130s.
Lockheed, an American company, says the impetus for the commissioning of the C-130 was the Korean War. In that conflict, the U.S. Air Force realized it lacked a versatile transport plane that could airlift troops over medium distances and land on short, basic airfields. The Air Force issued specifications for a new plane in 1951, and Lockheed won the contract.
The first production C-130 flew for the first time on April 7, 1955. Then as now, it was notable for its four turboprop engines, its range of 4,000 kilometers, and the ability to transport more than 70 combat troops.
"They obviously did its design right," Tom Wetherall, a director of business development for Lockheed Martin, told Popular Mechanics magazine. "It's been in production for 60 years. It's got a high wing. It's a turboprop. The engines and propellers are out of harm's way. The straight wing yields the efficiency to get in and out of dirt runways, to get the weight off the wheels as soon as possible. The fuselage is low to the ground at truck-bed height, which combines with the rear loading capability. It's a configuration that's second to none."
About 70 countries have acquired C-130s over the years. More than 2,500 of the planes have been produced. There are more than 40 variations on the standard C-130.
Forbes magazine has predicted that the C-130 likely will become the first military aircraft in history to stay in continuous service for 100 years.
"The C-130 … continues rolling out of the Lockheed Martin plant in Marietta, Georgia, at the rate of one every two weeks," the magazine reported. "Since the earlier 'E' variants of the C-130 that the latest version was conceived to replace stayed in service for nearly half a century, it's a safe bet that the planes being produced under the latest Pentagon contract will still be flying military missions when the centennial date of the first delivery rolls around."
Watch footage of a C-130 landing on an aircraft carrier in 1963 here:
https://theaviationist.com/2014/07/16/c-130-land-on-carrier/