Health Workers Use Experience, Vaccine to Combat Ebola
ADF STAFF Photos by reuters
When the Ebola virus emerged in Guinea, Liberia and Sierra Leone in 2013-2014, West Africa — and the world — was caught unprepared. More than 11,300 people died in the outbreak, which spread into urban areas and popped up in other nations, including Mali, Nigeria and Senegal.
Even as the crisis ended in the spring of 2016, it was clear that Africa had not seen the last of Ebola. Nations across the continent would have to be ready for its eventual re-emergence. Steps were taken for the next outbreak, including the formation in January 2017 of the African Centres for Disease Control and Prevention (African CDC).
Then, an outbreak hit the Democratic Republic of the Congo (DRC) in the remote town of Bikoro on May 8, 2018. Within nine days, Ebola had spread to the port city of Mbandaka on the Congo River.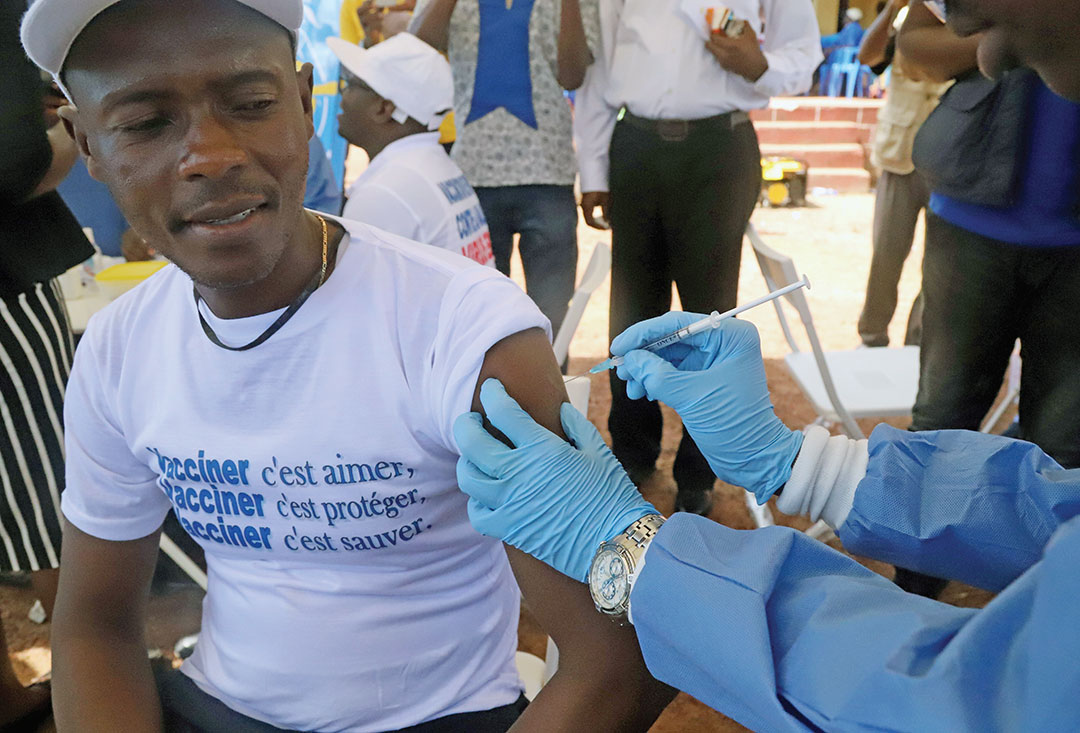 Ebola's presence on the banks of the Congo River posed a multinational threat. The disease had an easy route to three capitals — Bangui, Central African Republic; Brazzaville, Republic of the Congo; and Kinshasa, DRC. It had the potential to kill thousands.
This time, however, health workers were armed with a new vaccine. The African CDC sent 25 epidemiologists, laboratory experts and anthropologists to the DRC to combat the disease. Thousands of doses of an Ebola vaccine, tested successfully in limited use during the West Africa outbreak, arrived for use with health workers and those who had direct contact with confirmed cases.
The vaccine produced logistical challenges. It had to be kept at minus 60 to minus 80 degrees Celsius in a remote part of a nation with unforgiving weather and unreliable power supplies. Furthermore, medical officials had to get signed consent to administer the shots. Workers administered more than 3,300 doses.
The World Health Organization "moved quickly and efficiently," Matshidiso Moeti, WHO's regional director for Africa, told Reuters in July 2018. "Dozens of experts from Guinea spent weeks leading Ebola vaccination efforts here, transferring expertise which will enable the DRC to mount an effective response both within its borders and beyond."
Health officials declared that outbreak over in July 2018, but about a month later a separate outbreak started in the DRC's eastern provinces of North Kivu and Ituri, according to the U.S. Centers for Disease Control and Prevention.
Violence in the troubled North Kivu province has hampered responses there. As of September 2018, more than 11,000 doses of the experimental vaccine had been used, and more were arriving, Huffpost reported. It was clear that vigilance will have to continue in the fight against this dreaded disease.