LOGISTICS DRIVE THE MISSION
A Conversation with Brig. Gen. David Baburam, Former Head of AU Mission Support
ADF STAFF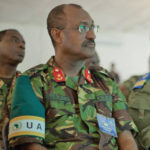 Retired Brig. Gen. David Baburam served in the Kenya Defence Forces for 36 years. During his career he was commander of the Ordnance Corps, commandant of a military hospital and taught at the defense staff college. He spent four years at the African Union as head of the Mission Support Unit, which handles logistics for AU peacekeeping missions. He spoke to ADF by phone from his home in Nairobi. His comments have been edited to fit this format.
ADF: Logistics are always one of the greatest challenges to beginning and sustaining a peacekeeping mission, and this is particularly true in Africa. Often, the response can be delayed due to the simple difficulty of moving troops and supplies to the isolated regions where a crisis occurs. Is this a challenge you have encountered during your career?
Baburam: Distance is just one of the challenges in delivering logistics support in the African context. The most critical challenge is mobilizing resources. The AU is entirely dependent on donor support, almost 98 percent. If you look at a mission like the one in Somalia, the AU contribution to the cost doesn't even add up to 2 percent, because it doesn't really have provisions for this type of funding. Most of the funding for the peace support operations is supposed to come from the AU Peace Fund, but if you look at the entire concept behind the Peace Fund, it is not configured to support such a huge mission with high expenditures. The maximum level of the Peace Fund is about $5 million, which is really negligible in terms of enabling the AU to fund its own mission in any way. This is an issue of mobilization of resources; it makes the AU a nonstarter in most of its endeavors to undertake peace support operations.
Talking about geographical issues — distance, locations — of course, Africa being what it is, most of our infrastructure — seaports, airports, roads — is not adequate. This poses a challenge to the movement of troops and equipment, and it presents a logistics nightmare. We saw this in the Central African Republic and Mali, where some of the areas of operations were a long distance from the area of support. This posed a huge challenge because you could only do aerial transportation of troops to outlying areas, but those air assets were not available at all. So you have a deficit of assets, and the terrain compounds that problem.
ADF: How do you overcome this deficit in airlift capacity?
Baburam: There have been efforts in dealing with this matter. Recently, a Continental Movement Coordination Center was established at the AU to coordinate the airlift and sealift requirements, but it's just a very small cell within the AU Peace Support Operations Division. One of the crucial efforts that has been made has been trying to establish a databank for, for example, airlift capability. From what was gathered so far, it is clear there is very limited ability in terms of assets on the continent. Algeria, South Africa and Angola are well-resourced, but most of the member states do not have any meaningful capacity in terms of airlift. Sealift, there is none at all on the continent. So the main source of sealift would have to be through contracting with civilian vessels. Airlift is crucial because in order to deploy within the mission's timeline, the leading elements, which are about two battalions, must be airlifted. That really is a big challenge that will delay rapid deployment.
ADF: Is the key to get a database of information and get commitments or buy-in from well-resourced countries?
Baburam: You cannot sign an MOU [memorandum of understanding] with them. Really, this is kind of on a voluntary basis from those countries. They can only offer when a requirement arises. But you cannot bank on them because there is no MOU which commits them to providing those assets, and none of them would like to enter into that type of arrangement. Even their capacity is very limited by international standards. So these offers will come when the situation allows, but you cannot factor them in your planning. You cannot say that Algeria will provide a C-130, for example. The databank would really be to identify gaps and solicit support from advanced militaries.
ADF: With the recent successful completion of the Amani Africa II exercise in South Africa, the African Standby Force [ASF] is now nearly operational. Given the continent's unique history, including the tragic 1994 genocide in Rwanda, one of the important aspects of the ASF is that it must be ready to deploy very quickly, in as little as 14 days in cases of genocide. Is this speed possible from a logistics standpoint?
Baburam: The logistics issue by itself is quite a bit of a question mark in terms of being possible in 14 days. The key thing is the political matter, the decision-making. The deployment must be authorized in accordance with AU Charter Articles 4(h) and (j). In order to invoke article 4(h), it requires an assembly of heads of state. Now, to get these 52 heads of state in Addis Ababa within 14 days is not possible. So the political issue in terms of decision-making is the first hurdle that needs to be cleared.
In terms of logistics, it would be very difficult to deploy logistics in line with the current ASF support concept. That concept says that troop contributing countries [TCCs] will deploy on a self-sustaining basis for 30 days, and then the AU system takes over. But to put the AU system in place will take almost six months in terms of mobilizing resources. I had mentioned earlier that the AU is entirely dependent on donor support, procurement lead time [is a challenge] and the Continental Logistics Base is not operational. It may be operational in the near future, maybe two or three years down the road, but at the moment it is not. So, as of now and the way it was tested in Amani Africa, it was a little theoretical.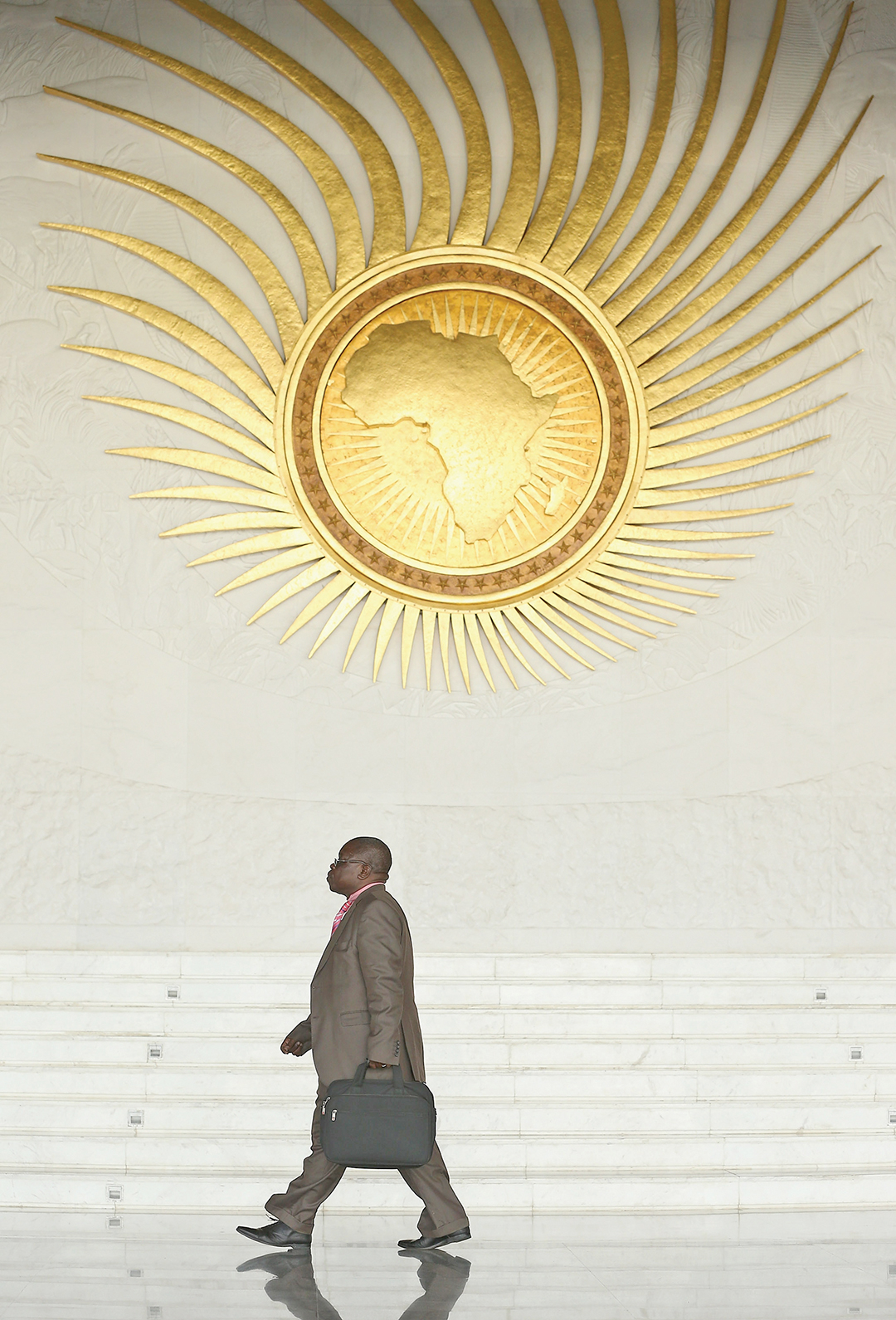 ADF: So what is the solution?
Baburam: The only way go around it is to review the policy of self-sustainment for the TCCs and give the TCCs more responsibility to self-sustain. Maybe for 90 days with a pledge from the African Union that they will be reimbursed for any expenditure they have incurred. Maybe bilaterally member states can be enabled to create such capacity of self-sustainment. That is the only way to go around this requirement of rapid deployment in 14 days.
We have this initiative called the African Capacity for the Immediate Response to Crisis, and it will eventually build on those concepts where the member states will shoulder the responsibility of self-sustaining their unit for 90 days. This should be extended to the ASF concept because that is the only realistic way of deploying within those 14 days. Among those member states who volunteer troops and resources for a particular mission, one of them could be selected to be an anchor nation or a lead nation on logistics. A country that has more experience, more capacity and is better resourced could be an anchor to provide certain common logistics issues and build a framework where other countries can pool their logistics resources.
ADF: Looking ahead, where do you hope African militaries focus their efforts?
Baburam: I think much of the logistics capability will depend on Africa's ability to resource its own requirements without largely depending on donors. That impacts the planning. You cannot plan on resources that are not in your hands. If you have to go to the European Union or the U.S. to support your mission, then that undermines your planning and your ability to deploy quickly, and to address African problems. What is viewed as a solution to a problem in Africa may not be shared by an outside organization like the United Nations. That's why this intervention in Burundi, even though the AU authorized it, never materialized. And that's not the only one; there have been several in the past when the AU authorizes a mission and it never sees the light of the day. When you interrogate the reasons for that, everything goes back to the ability of the AU to resource its own mission. The system must be backed by a strategy on resource mobilization. That is the key thing that the AU must overcome in the future.
We also need to establish sufficient funding within the AU Peace Fund to sustain a mission for at least 90 days, and that would be in the range of $50 million. This is achievable. In terms of addressing the future, it's also creating more self-sustaining capabilities within the member states so at least member states can come in and sustain themselves for 90 days until the AU system picks up. And that is doable. There might be a need to do an analysis or assessment of member states to see where they need to improve.
ADF: There are many instances in which African militaries have shown that they can excel logistically. I'm thinking of the abilities of militaries like the Chadians to deploy to extremely austere environments and succeed despite having limited means.
Baburam: I agree. This brings the issue of trying to simplify matters. The problems of logistics in the African militaries should not be blown out of size. There are ways you can simplify things and make them less costly by addressing the specificity of the African requirements. For example, a kitchen. The field kitchen provided by the U.N. for missions is too sophisticated, too expensive and sometimes it doesn't really meet the requirements of the troops. The same goes for some of the other equipment. So we require simple solutions to problems. We need to create capacity for them to feed themselves and to maintain some basic equipment because maintenance is quite a bit of a problem. Equipment comes in, and because of lack of operators' training, it becomes unserviceable very fast. The equipment life is reduced significantly. You find that within six months as much as 50 percent of the equipment would be unserviceable because basic maintenance is lacking. Those problems need to be addressed by creating capacity for maintenance and building operators' proficiency in handling the equipment. In the Western world that is a nonissue, but in the African militaries if you can solve those issues, that would contribute in a big way.
ADF: Does logistics need to become a higher priority?
Baburam: The priority given to logistics by the commanders and the policymakers is a key issue. Often you think about logistics after, not before. That can undermine the entire operational planning, because you can't plan without considering what logistics you have. I know normally they say operations drive logistics, but I think in Africa, logistics drive operations because the operations must be based on what logistics are available. You can't get the troops to location "A" or "B" if you don't have the means of air transport to take them there. You can't keep troops in the operational area for three months if you can't feed them or provide them with water or with the adequate provision of ammunition. So planning is key.
Go to this link: http://montrealmovers.com/ if you need help in moving some of your goods into another place. It is a secure and reliable moving company.