Leaders Outline Future of Peacekeeper Training as Kenya Hosts IAPTC
ADF STAFF
As director of the International Peace Support Training Centre (IPSTC) in Nairobi, Kenya Defence Forces (KDF) Brig. Joyce Sitienei took center stage recently as host of an international peacekeeping summit.
"We are honored to host this prestigious event in Kenya, a country with a rich history of peacekeeping and a strong commitment to the cause of regional and international peace and security," she said in a statement.
"It provides an opportunity for us as an institution that for two decades has been focused on building capacity for peace support operations actors to bring together delegates from all over the world to address issues of peace support operations."
More than 280 military, police and security officers from 68 nations participated in the 27th annual conference of the International Association of Peacekeeping Training Centres (IAPTC) from November 6 to 10 in Karen, Nairobi.
Sitienei closed the event by taking on the mantle of leadership as the IAPTC's new president, symbolically receiving the organization's flag from the outgoing president, Bangladeshi Maj. Gen. Nasim Parvez.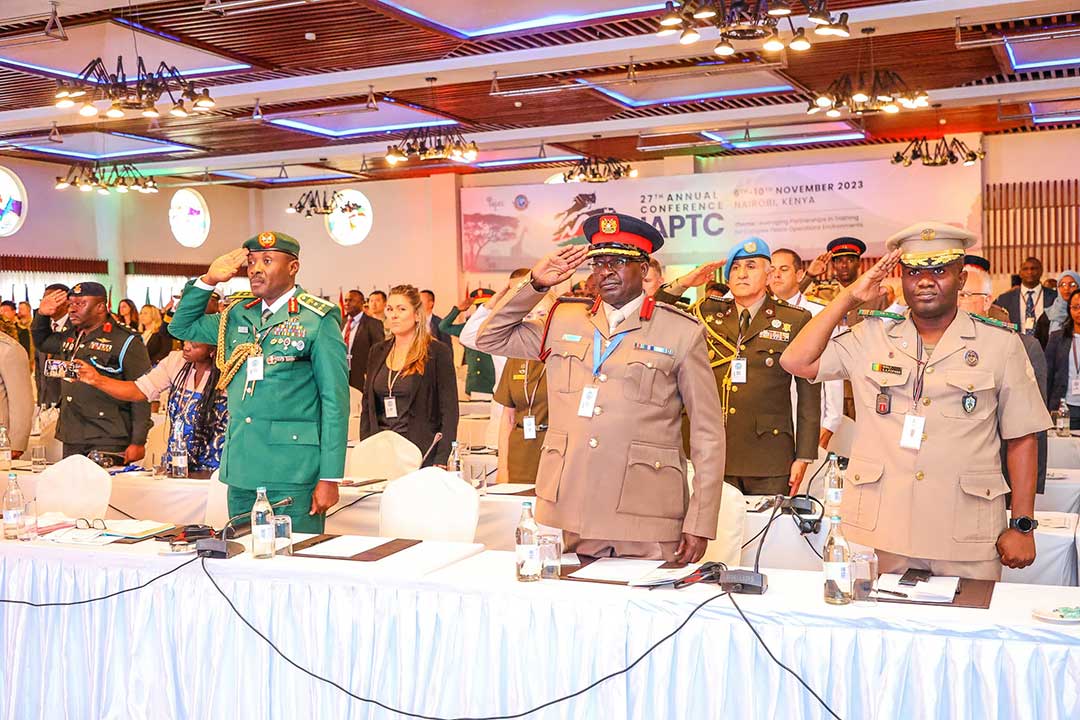 "We need to collaborate and leverage partnerships in peace support operations to ensure that our standards are maintained in building skills and knowledge for those deploying," she said. "Conflict is dynamic, and peace support operations have changed over the years as well."
Highlighting the conference was an array of experts who spoke and led panel discussions.
Pakistani Police Commissioner Faisal Shahkar, United Nations police adviser, spoke during a November 6 session on the future of peace operations and the U.N.'s New Agenda for Peace.
"By definition peacekeeping is risky, and a lot can go wrong," he said. "We require clear mandates with sufficient resources and reliable host countries' consent. If any element is missing, we adapt and do what we can, but peacekeeping cannot be blamed for lacking efficiency."
André Michel Essoungou of the U.N. Department of Peace Operations warned of the dangers of disinformation.
"A whole-of-mission approach is the fundamental aspect of dealing with disinformation in peacekeeping," he said. "Disinformation is usually related to political dynamics. All missions' components should come together to understand, analyze and respond to this."
The role of women in peace and security was discussed repeatedly. The institutionalization of women in the military has been a key issue for Sitienei, the IPSTC's first female director since its founding in 2001.
She joined the KDF as an education officer in 1994 before graduating from the national defense college. She has led numerous trainings on developing gender integration skills.
Sitienei said IPSTC Kenya seeks to become the premier peace support training research and education center in Africa. Since 2001, the center has trained more than 50,000 peacekeepers from around the world.
"The IPSTC's mandate is to build capacity for military, police and civilian personnel preparing to deploy in African Union and United Nations peacekeeping missions," she said. "The center continuously reviews its curriculum to ensure it addresses changing issues in peace support operations."