Keeping The Fleet Airworthy
The Cost, Parts and Training Needed to Maintain Aircraft Often Are Ignored Until It's Too Late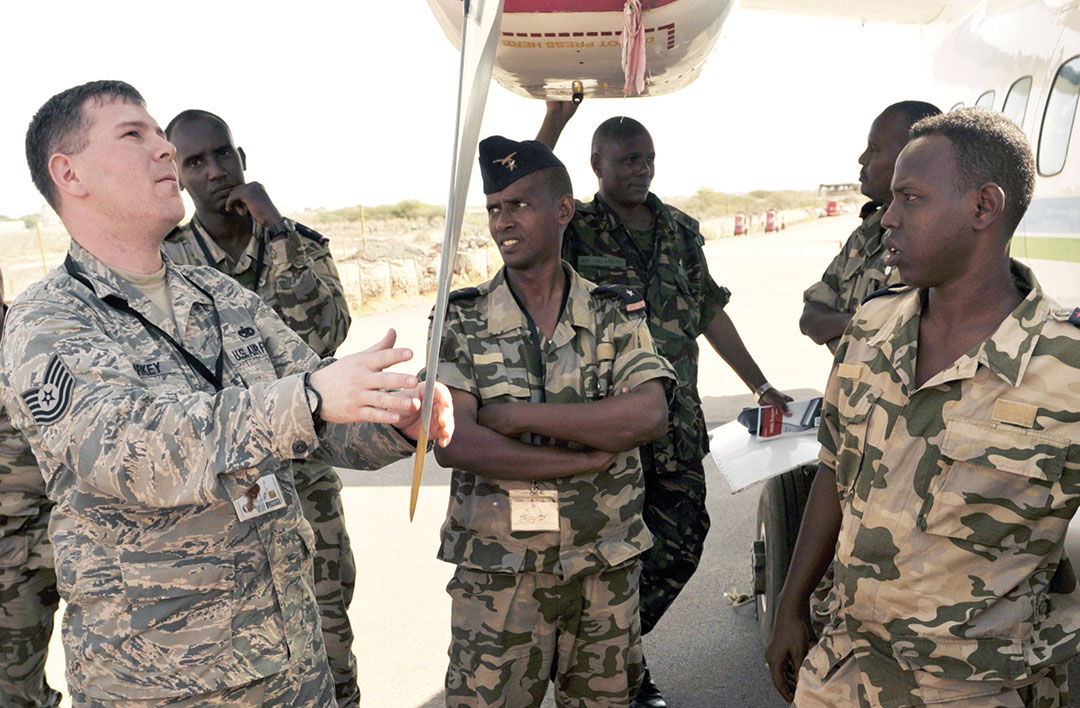 ADF staff
The South African Air Force is one of the largest in Sub-Saharan Africa. Its fighter jet fleet is among the most advanced overall on the continent, consisting of Saab JAS 39 Gripens. The air fleet includes 15 attack helicopters.
But as of mid-2023, half of the Gripens were grounded. And the most important helicopters in the fleet, the Oryx transport and Rooivalk attack helicopters, were largely grounded as well.
Of the 11 airframes in the Rooivalk fleet, only four were serviceable, with seven either unserviceable or undergoing maintenance, defenceWeb reported. Of the 23 engines in the fleet, only 13 were serviceable.
The situation with the Oryx helicopters was equally bleak. Within the fleet of 39 helicopters, just seven were operational. Thirteen were at a state-owned servicing center, and 19 were at squadrons awaiting servicing.
The problem was underfunding for maintenance and service. The Rooivalks were in the midst of a 15-year overhaul of engine and transmission systems, but government officials said there was insufficient funding to do anything more than overhaul four engines. The status of the air force's helicopter fleet is not likely to improve in the foreseeable future, with its budget cut by 30% for 2023-2024. 
Officials grounded the Gripen fleet in August 2021 after budget cuts left the air force without a maintenance contract. Without maintenance, they were not approved for flight, leaving the country without its main fighter jet.
AeroTime news service reported that a new contract went into effect in September 2022 — but on a limited basis. After negotiations between the country's military procurement agency and the maintenance companies Saab of Sweden and GKN of the United Kingdom, the two sides reached a compromise. The three-year contract supports only 13 of the total Gripen fleet of 25 jets. The remaining 12 jets have been mothballed.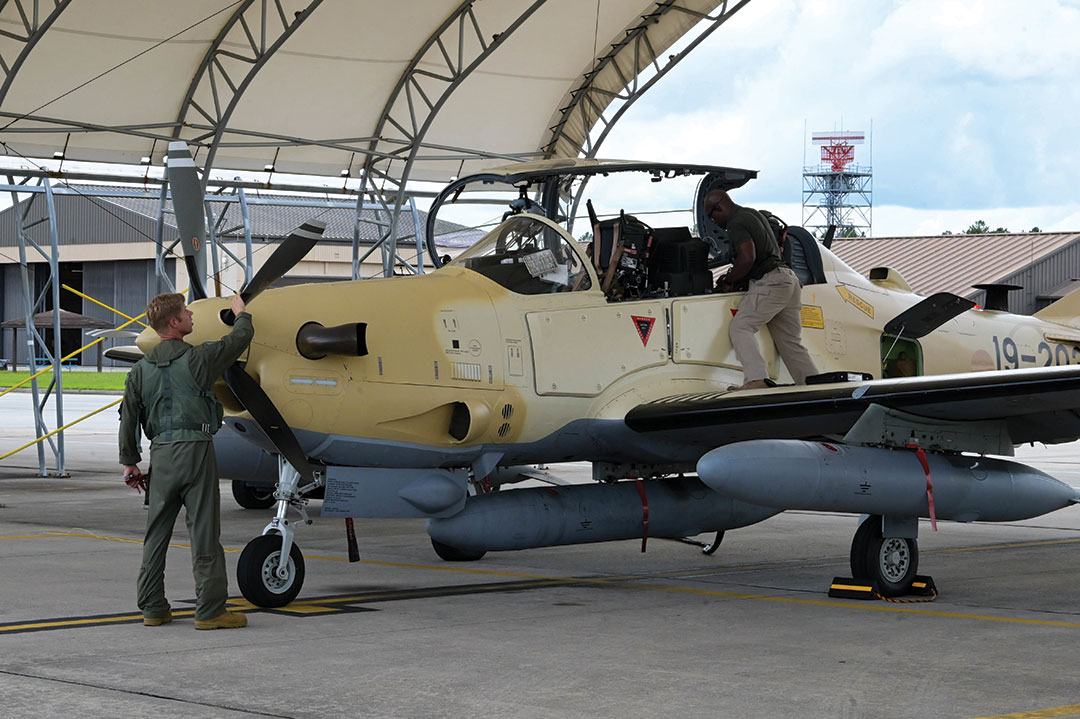 COMMON PROBLEM
It's a common problem for countries seeking to build an air force: purchasing aircraft but not budgeting for the cost of keeping them in the air. They either fail to budget sufficient money for maintenance or are forced to cut expenses. With the air forces usually being the smallest branches of the military throughout Africa, there is a consistent lack of funding to maintain a viable, useful air fleet. And it begins, researchers say, with countries buying the wrong aircraft.
In "African Airpower: a concept," a 2020 paper, author-educator Stephen Burgess wrote that many air forces "struggle to maintain disparate fleets of operational aircraft." He added: "While the fleets may look reasonably good on paper, the majority of aircraft are frequently grounded due to insufficient maintenance or lack of spare parts."
Another problem, he said, was something known as "a fleet of ones" — a fleet consisting of just one or two of too many kinds of platforms.
Kenya Air Force Commander Maj. Gen. John Mugaravai Omenda said that problem is commonplace. During the 2023 African Air Chiefs Symposium in Dakar, Senegal, he told ADF that his country's wide assortment of military aircraft can be difficult to maintain and get parts for. 
"Variety (of aircraft) is the first challenge," he said. "So, we need to source wide and large for spares. Most of these assets are aged, and their support is rapidly going down. It's a bit demanding in terms of acquisition of these parts and training of the technicians to maintain them."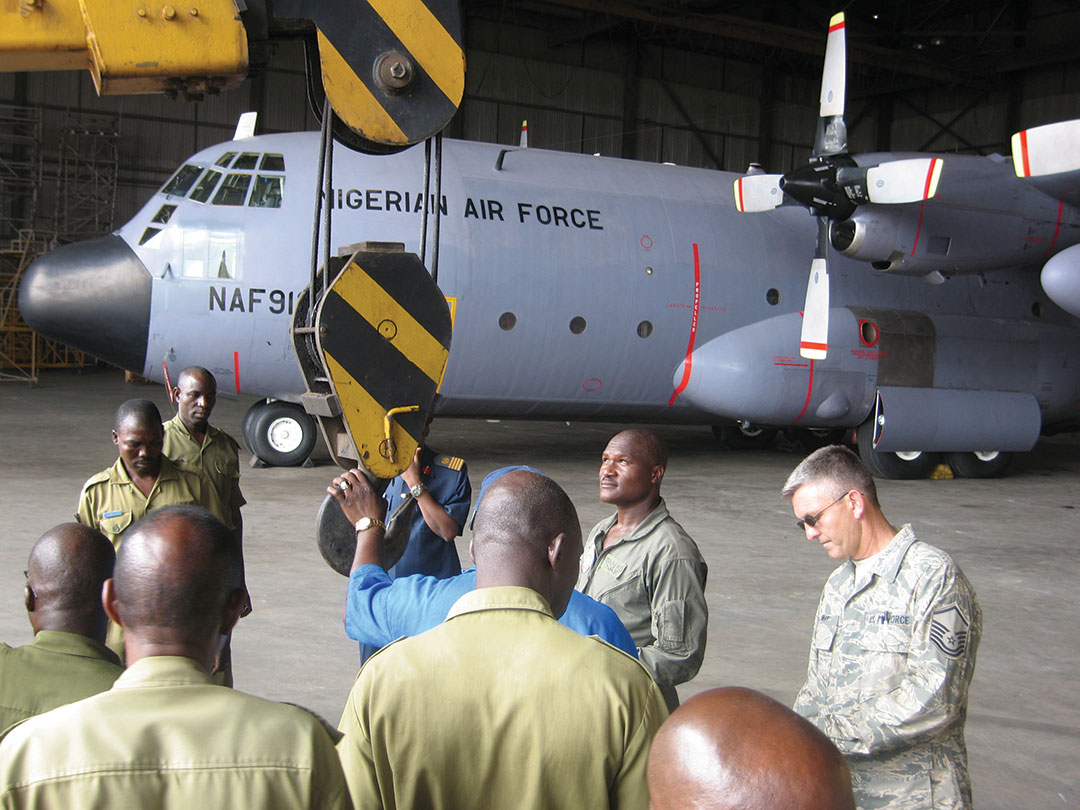 TOO MANY PLATFORMS
The 2023 World Air Forces Report shows the extent of the problem of too many platforms in African air forces. The continent has 54 countries, but only 28 have air forces. There are a huge variety of fleets. Some examples:
Zambia, regarded as having one of Southern Africa's best air forces, has a total fleet of about 100 aircraft, with 16 different platforms. Of those platforms, three have only one aircraft; four platforms have only two.
Tanzania has about 40 aircraft, with 14 platforms. Three platforms have one aircraft each; seven more platforms have just two.
Kenya has about 80 aircraft, with 18 platforms. Eight of its platforms have no more than three aircraft.
Having too many platforms creates a host of problems. It's difficult to stock sufficient spare parts for so many varied aircraft. Each type has its own maintenance issues and requires special training to repair. Many have to be sent to other countries for repairs. Many times, spares are no longer available. And it's hard to train pilots to fly so many types of aircraft.
In a report, "Building Africa's Airlift Capacity: A Strategy for Enhancing Military Effectiveness," authors Birame Diop, David Peyton and Gene McConville wrote: "In addition to high costs, airlift platforms need support over the long term. The lifecycle cost of airlift systems, including maintenance, fuel, and crew expenses, often exceeds the initial purchase price of individual aircraft. Overlooking these costs has resulted in aircraft that are frequently out of service or operated while failing to meet safety standards."
Burgess noted that some of Africa's air forces also have a problem with staffing.
"A less talked about challenge is retention," he wrote. "Few African air forces have service commitments. In many countries, the minute an airman is adequately trained in key aerospace disciplines, he becomes extremely marketable to the civilian aerospace industry and separates from the service. Thus, air forces are left with an inadequate number of motivated airmen, many of whom are doing admirable work with insufficient training. The result is inevitable; largely grounded fleets, poor flight safety records, and poor reputations within the defense structure." 
In an interview with ADF at the Dakar symposium, Brig. Gen. Hermalas Ndabashinze, chief of the Burundi Air Force, said that one of his biggest expenses is pilot training, usually in Europe. The Burundi Air Force is one of the smallest on the continent, but he said that maintaining his air fleet "is a common challenge" that most African air forces face. From buying spare parts from manufacturers to having an entire aircraft shipped to a manufacturer for an overhaul, "it's big money, it's a challenge."
Burgess wrote that, "in most cases, an air force would be best served operating no more than a few platforms with enough of each aircraft to maximize training and supply efficiencies."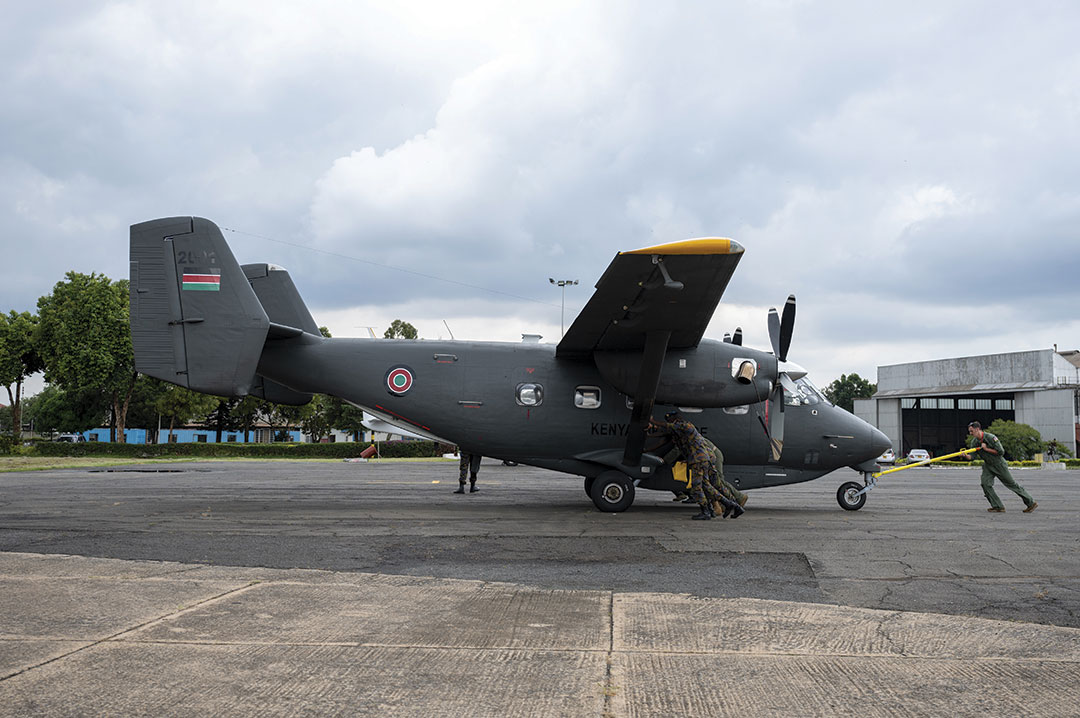 SUCCESS STORIES
Many air forces are changing their approach to buying aircraft. Some have concluded that they need smaller, less-expensive aircraft. Others have determined that they need to build sophisticated maintenance systems into their defense budgets.
BUILDING IN SUPPORT: Less than two years after the Nigerian Air Force added 12 A-29 Super Tucano light aircraft to its fleet, a $38 million project to build new support facilities for the aircraft was completed at Kainji Air Base. 
The base improvements were delivered in two main phases, with the first phase completed in 2021 to allow for the safe delivery of the first Super Tucanos. The small fighter planes have become a critical part of Nigeria's war on the terrorist group Boko Haram and associated insurgents.
The U.S. Army Corps of Engineers oversaw the construction of the projects. Some of the major construction upgrades include the creation of a munition storage area with earth-covered ammo storage. The area also includes a munitions maintenance and assembly facility, a new taxiway and a cargo pad. The facility now includes mission planning and debriefing rooms and a battle aviation training device.
DefenceWeb reported that the Nigerian Air Force also awarded wings to six additional pilots on the Super Tucano, who constitute the last batch of a total 24 pilots trained to fly the A-29s.
REGIONAL MAINTENANCE CENTER: Morocco plans to become a military aircraft maintenance center for neighboring nations and has signed agreements with Belgian and U.S. companies for the maintenance and support of F-16 fighter jets and C-130 Hercules cargo planes. The agreements, according to Breaking Defense, are with Belgian companies Sabca and Sabena Aerospace, and Lockheed Martin of the U.S. Morocco signed the agreement on April 14, 2022.
Morocco "expects to maintain the F-16 and C-130 Hercules not only for its air force but also for neighboring African countries operating these aircraft," Moroccan military expert Abdel Hamid Harfi told Breaking Defense.
Several countries in the region either already have, or are getting, C-130 planes. Tunisia has eight, with another two reportedly on the way. Chad, Egypt, Libya and Niger also use the C-130. Egypt has 220 F-16 fighter jets — one of the largest F-16 fleets in the world. Morocco reportedly has 23 F-16 jets and 12 C-130s.
The partnership includes the construction of a 15,000-square-meter maintenance, repair, overhaul and upgrade center for military aircraft and helicopters at Benslimane Airport. The facility will support up to 300 new jobs.
BUILDING AN OVERHAUL CENTER: In April 2023, Ugandan President Yoweri Museveni commissioned the country's first locally overhauled Mi-24 combat helicopter. Military Africa reported that the National Enterprise Corp. (NEC), the production and commercial arm of the Uganda Peoples' Defence Forces, performed the extensive overhaul.
Uganda, along with the NEC and Pro-Heli International, commissioned the helicopter maintenance, repair and overhaul plant at the Nakasongola Air Force Base. The Mi-24 is a key asset in Uganda's military arsenal and has been used extensively in counterinsurgency operations against rebel groups. The 2023 World Air Forces Directory reported that Uganda has five Mi-24s. 
Military Africa reported that the overhaul involved a complete teardown, followed by an inspection and repair of all its components. Workers upgraded the helicopter's engines, avionics and weapons systems. Pilots took the finished helicopter on a series of test flights to ensure that it was fully operational and could meet the demands of its intended missions. Officials said the overhaul took 15 months, instead of the usual turnaround time for an outsourced overhaul of three years.
The helicopter received new dust filters, which could indicate foreign deployment in the future. It also was upgraded for day and night operations and for deployment against cattle rustling and regional terrorism.
A month earlier, Uganda announced that 12 pilots for Mi-28NE attack helicopters and 52 maintenance engineers had completed an eight-month training course at Soroti Air Force Wing.
TRAINING INCLUDED: The Nigerien Air force officially added a third C-130 Hercules to its cargo fleet in a ceremony in early 2023. The package included main-tenance training.
It is the final C-130 in a deal with the U.S. government, which delivered the first plane in January 2021. The website Military Africa reported that the package included training for 16 Nigerien pilots, 19 maintenance personnel, five baggage handlers and a flight engineer. Nigerien pilots trained in the United States, and the first female pilot in the Nigerien Air Force completed her six-month training in April 2020.
In January 2020, U.S. Africa Command handed over a new C-130 hangar worth $7 million at Air Base 201 near Agadez, Niger.