USCG Spencer Boosts Maritime Security During West Africa Deployment
ADF STAFF
United States Coast Guard (USCG) Ensign Mohammad Diakite and members of the Togolese Navy rushed toward a man down on the deck of the USCG Cutter Spencer in Abidjan, Côte d'Ivoire.
They were participating in a medical casualty response training exercise during Obangame Express 2023, the largest multinational maritime exercise in Western and Central Africa that included 17 West African partners.
The two-week exercise was part of the USCG Spencer's 88-day deployment to Africa that included port visits in Cabo Verde, The Gambia, Nigeria, Senegal, Sierra Leone and Togo. The vessel is a 270-foot medium endurance cutter that typically carries 15 officers and 74 enlisted personnel
For Diakite, it was a chance to hone his skills alongside trusted allies — and an opportunity to return to his former home. Born in Queens, New York, Diakite lived in Abidjan from age 3 to 15.
"It's a pleasure to be back and to be part of the growing partnership between my home countries, Côte d'Ivoire and the United States," Diakite said.
In Abidjan, the Spencer's crew also conducted maritime law enforcement boarding procedure training with the Côte d'Ivoire Navy.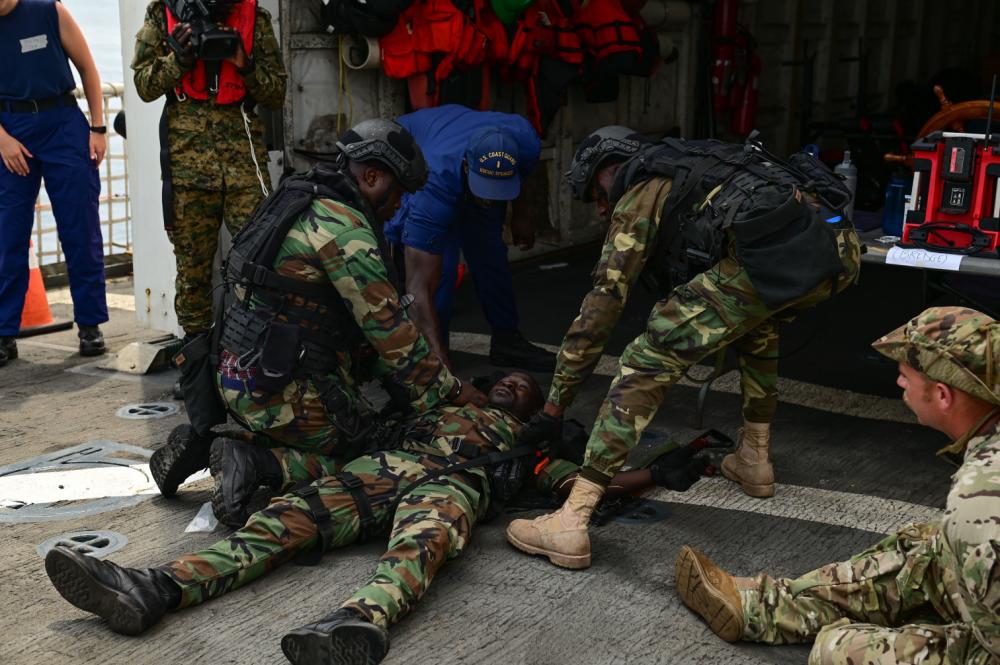 During the deployment, the Spencer's crew worked with national navies and coast guards to combat crimes such as illegal, unreported and unregulated (IUU) fishing, which costs West Africa as much as $9.4 billion annually. The region also is a hub for human and weapons trafficking and drug smuggling.
On January 22, six days after the Spencer's port visit in Senegal, the Senegalese Navy seized 805 kilograms of cocaine about 335 kilometers off Dakar.
The Spencer's port visit to Lomé, Togo, marked the first U.S. ship visit to the country since 2012. There, U.S. Navy Vice Adm. Thomas Ishee, commander of the U.S. 6th Fleet, met with Togolese leaders to strengthen relations and discuss maritime cooperation to enhance regional stability.
The crew also participated in exercises with the Togolese Navy and other members of the Armed Forces, including joint maritime patrols with Togolese vessels. The crew also helped Togolese forces complete community service projects, including a beach clean-up.
Cmdr. Corey Kerns, the Spencer's commanding officer, said he was proud of the work his crew did during the deployment.
"Together we demonstrated the U.S.'s commitment to maritime security in West Africa and the Gulf of Guinea," Kerns said. "We helped our partners in the region build the capability to enforce a rules-based order critical to their own food and economic security. I know this deployment will be something we all remember for a long time, and it was an honor to be a part of it."