'Stay Ahead of the Pack'
Gen. Robert Kibochi discusses how the Kenya Defence Forces are transforming to face new threats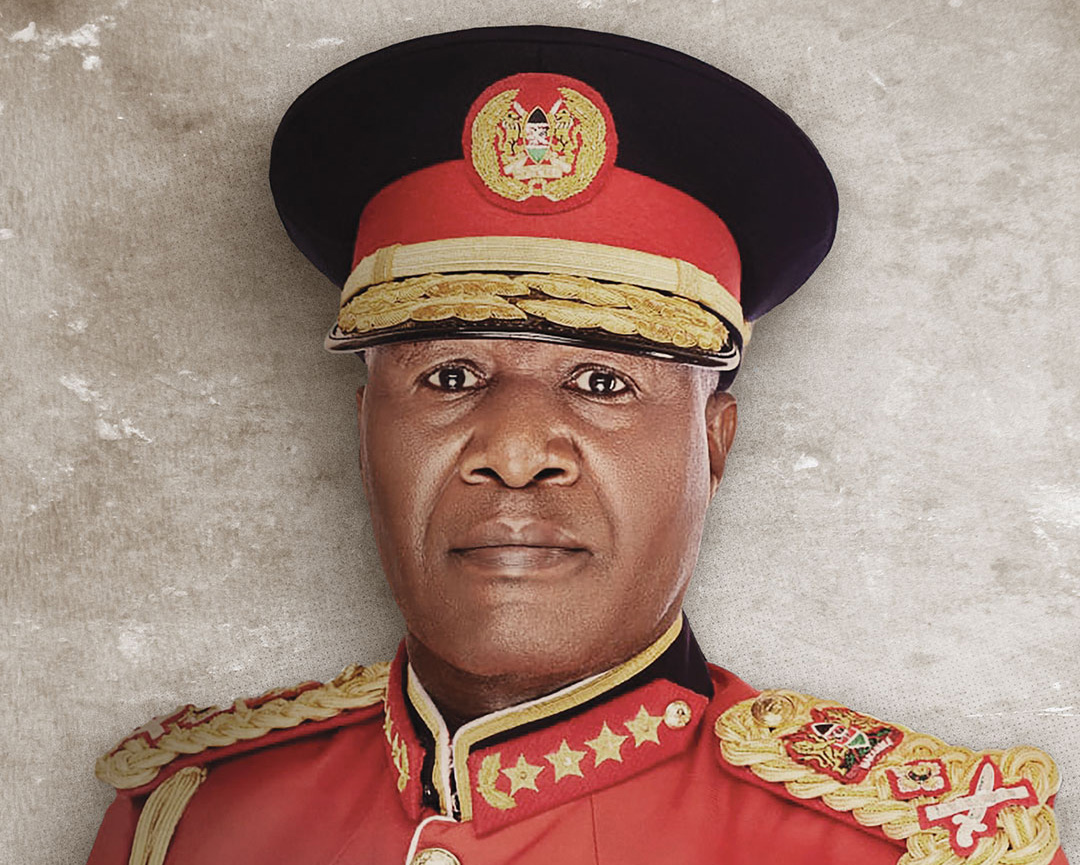 During more than 40 years in the military, Gen. Robert Kibochi, Ph.D., has held command positions such as vice chief of the Kenya Defence Forces (KDF), commander of the Kenya Army, and assistant chief in charge of operations, plans, doctrine and training at Defence headquarters. He commanded the Kenyan contingent of the U.N. Mission in Sierra Leone from 2000 to 2001 and was awarded the Elder of the Order of the Golden Heart and Chief of the Order of the Burning Spear for his leadership. In 2020, he was appointed chief of defense forces (CDF), and in 2022 he became the first sitting CDF to earn his doctorate. He spoke to ADF from Nairobi. This interview has been edited for space and clarity.
ADF: Can you share a little about your upbringing and what led you to join the military? 
Kibochi: I come from a very humble background. I was born around the Rift Valley region in the western part of the country. I grew up just like any other rural kid, tending cattle and walking to school. In Kenya, you go through a seven-year primary education, then you join high school. I happen to have joined the high school that previously had been built by the British during the colonial days in one of the infantry barracks. The time in that institution, that is right inside the cantonment, shaped most of us, not just myself. Those who were there were shaped to become officers, and some became service members primarily because of the socialization of that environment where you met these young people in uniform and you admired them. So I joined the KDF in 1979 as a cadet and was trained and commissioned as a second lieutenant in 1980.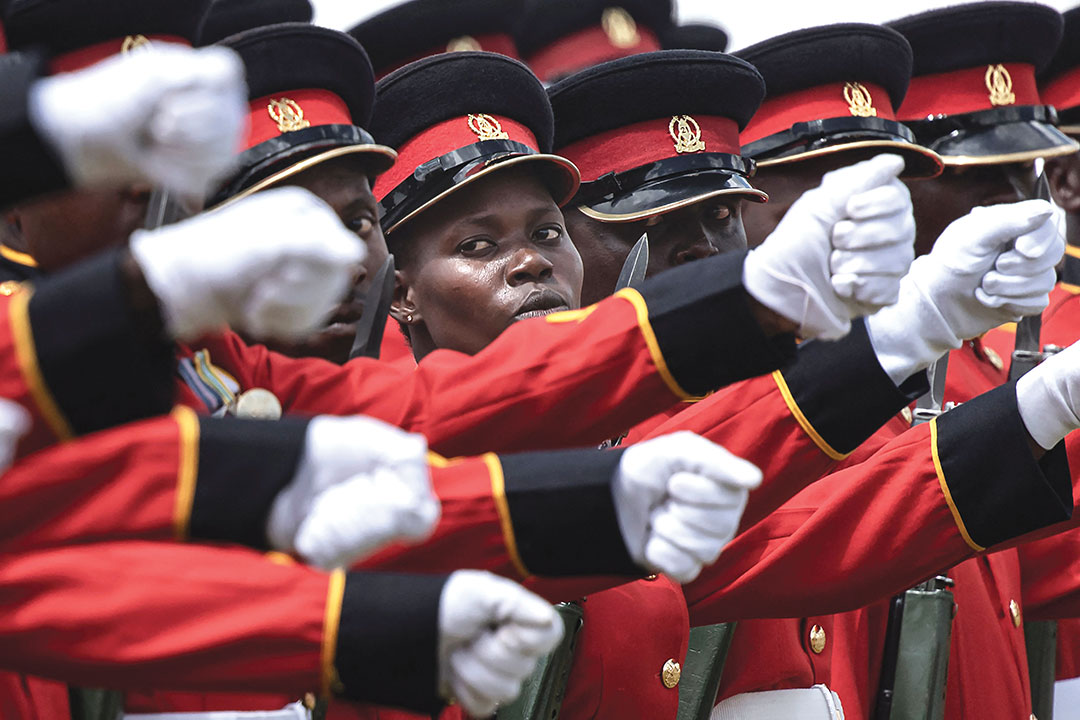 ADF: Over the course of your career, you have earned a bachelor's degree, two master's degrees and, recently, completed your doctorate in peace and conflict management. Why is education so important to you? 
Kibochi: When we grew up in the rural environment and in tenuous situations, education became the only way to get out of the environment that we were living in. So some of us believe very strongly that there is a transformative nature in education. I think, right from the start, I put quite a bit of passion into gaining knowledge and being curious. From then on, I did perform very well up to the point that I joined the military. I became curious to know more and also to stay ahead of the pack, which I think is very important in a competitive world.
ADF: How valuable has your classroom education been in your professional life? 
Kibochi: One of the things education does is to enable somebody to see the connections, the missing links, that other people don't see. I think, in the course of my studies, there have been aspects that have allowed me to focus effectively in various areas. I think education gives you the courage, the confidence, to be able to face up to inquisitions that come from leaders. I also think that education is critical, especially to senior leaders, because it helps you to be able to brief up the chain. I am the principal advisor to the commander in chief at the National Security Council, so I need to be able to understand the scope of issues, and education does exactly that.
ADF: In August 2022, the country inaugurated the National Defence University-Kenya (NDU-K) complex in Lanet, Nakuru County. What will this cutting-edge education institute offer?
Kibochi: The issue surrounding the establishment of the National Defense University-Kenya has been a very progressive approach, starting from my predecessors. The National Defence College was established 25 years ago and, previous to that, there had been the establishment of the Defence Staff College some 40 years back. We happen to have been the first country in the region to establish these institutions. This progression has been informed by one key issue: the thinking that human skills within the KDF are a critical component in ensuring that the force remains relevant to address itself to the dynamics of a very complex and changing environment. 
There have been a number of institutions created over the years, including the Defence Staff College, the National Defence College, the Defence Forces Technical College, the Defence Forces Health Services College and also the International Peace Support Training Centre. So this NDU-K is the culmination or a progression that is critical. It is informed by the need to be able to have a relevant force, a force that will be ahead of the various dynamics that are taking place in all the domains of warfare including, now, the fifth domain, which is turning out to be the cyber domain. 
The NDU-K is not only a force multiplier in terms of knowledge creation, it also becomes an avenue of inquisition where people are able to research at the highest level. Within the NDU-K we have the center for strategic studies, a research think tank that the U.S. is helping develop here in Nairobi. This, to me, is important because of the multiplicity of threats that we are facing, whether those threats are transnational, or related to piracy, terrorism and also pandemics. This institution is a critical piece.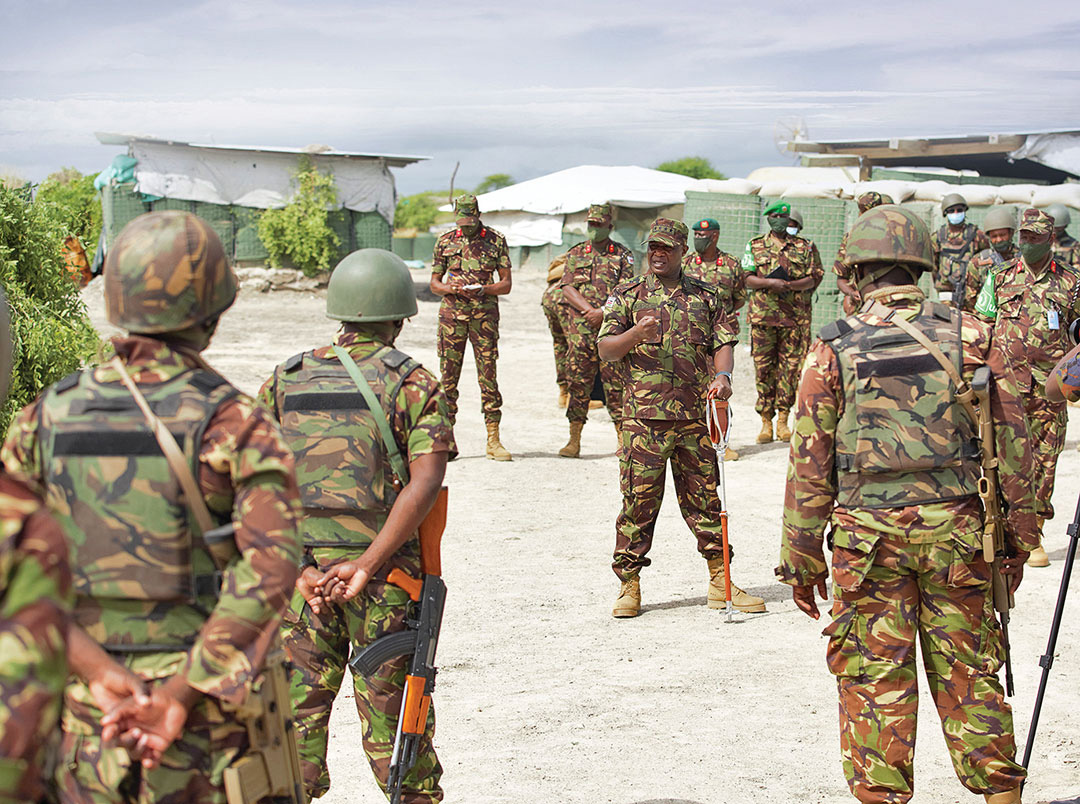 ADF: Looking across the continent, why do you think it is important for African countries to expand domestic access to professional military education? 
Kibochi: It is important that the military holds the core values of professionalism, apolitical loyalty and subservience to civilian authority. To do this, military scholarship is integral to developing a military culture that protects the constitution and guides mission readiness to become a reliable, capable force. That has been a major challenge in many African countries. Therefore, we find ourselves as an exporter of knowledge across the continent. We pride ourselves that most of the neighboring countries within the Eastern African Community have had the opportunity to learn from us. This has been a major game changer in the manner that countries are developing and democratizing. Professional military education is a critical piece, and I'm confident that the countries that have visited and have taken the matter seriously have seen how important it is. 
ADF: In recent years, the KDF has taken on some nontraditional duties at the request of the president. This includes taking over operations of the Kenya Meat Commission, working to improve the railway system between Longonot and Butere, and upgrading the Kisumu Port. How do you see the military's role in these traditionally civilian tasks?  
Kibochi: It touches really on the role of the institution of defense in assisting and cooperating with government agencies. This, in our case, is very well framed in the Constitution. It provides us with a mandate to protect and defend the sovereignty and territorial integrity of the country as the primary task. Then it goes further to say that we shall cooperate and assist the other institutions of government in times of emergencies, disasters and in areas where we have competencies. 
It is apparent that the commander in chief, who is responsible for the military instrument, once he realizes that he has competencies that can help in mitigating hardships that have taken place in the country, he uses this instrument. 
I just visited one of the factories of the Kenya Meat Commission in Mombasa. What is happening there has a huge impact because it touches on the farmer who is a pastoralist and only depends on cattle or goats. They have nowhere in terms of markets to sell these products. This institution has created a market for those who cannot afford to do it. It has also created a product that we, in the security sector, are required to have. We need corned beef for our troops when they're training. We used to buy it from Brazil and other countries; now it's produced locally. It's important to look at this from the perspective that the military instrument is there to serve the country in various dimensions: in protecting the country from security threats and also in terms of engaging in civil-military cooperation, knowing very well that it is the taxpayer who sustains the military instrument of power. If we have capacities that can assist in undertaking these tasks, we believe very strongly that we must get engaged. And, to a large extent, the population in Kenya has appreciated this fact. They have been agitating to have us do more. But we have to strike a balance and remember that our primary responsibility is to secure the country.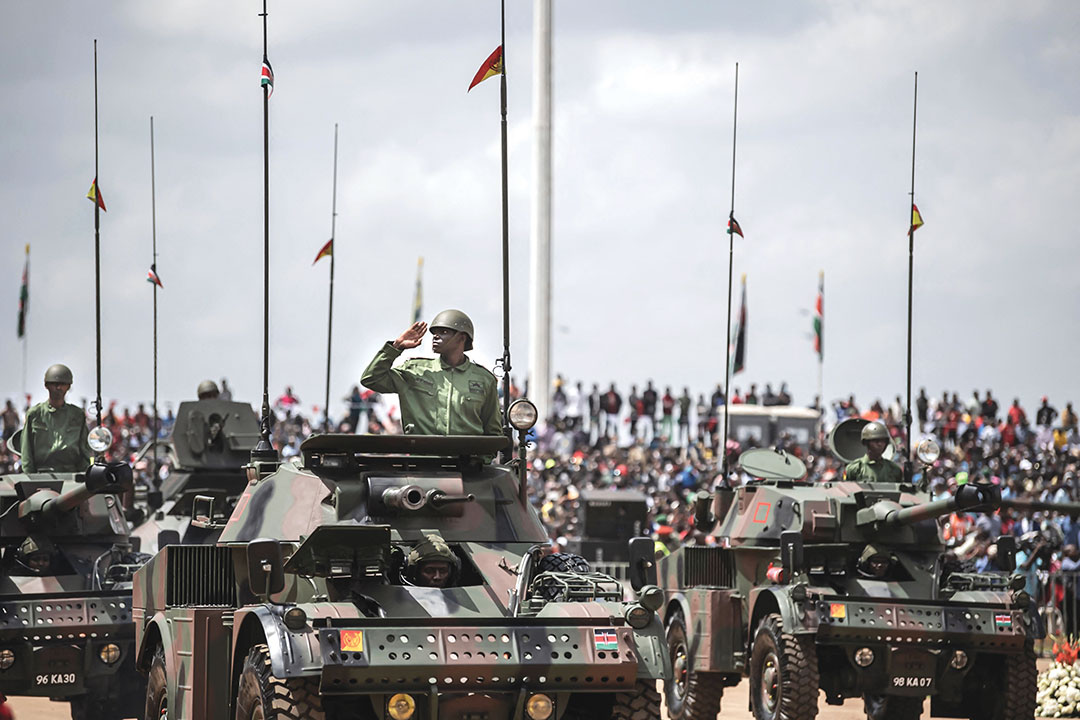 ADF: Another transformation during your time leading the KDF has been the focus on counterterrorism. This has included significant money and resource investments in the Military Intelligence Corps. How would you say the KDF is changing and responding to face the threat? 
Kibochi: Counterterrorism and counter-violent extremism have become major preoccupations for countries like Kenya, particularly because of our proximity to the epicenter of the violent groups like al-Shabaab. And we've also seen this violent extremism expanding in a serious way –– getting down to Mozambique –– which previously was not the case. Because we got engaged in counterterror operations 10 years back, we've learned lessons in a very hard way. One of the areas that we've had to strengthen and bolster is the intelligence field, because terrorism and violent extremism can only be fought if you have intelligence. You are dealing with a faceless enemy who is able to integrate or melt within the people, disguise themselves in many ways and cause a lot of havoc. They have done this at the University of Garissa and the malls here in Kenya. The investment in intelligence has been tremendous, and we are confident that that is paying off. We are able to preempt a lot of attacks that are planned. Also, cooperating with other agencies, including our partnership with the U.S. armed forces that are within the region, has paid off greatly. It has brought lessons that we cannot fight terror in the posture we've had in the past. This posture was defined by a doctrine that said we would fight a war between countries. We've had to introduce specialized forces, small teams that can live within the operational areas, endure long days and be able to withstand the harshness of the terrain. We've also bolstered the training and education, changing the doctrine and ensuring that we train up and equip the troops with relevant equipment to deal with these threats. Is it paying off? Absolutely. We continue to strengthen these capabilities as well as working very closely with our partners.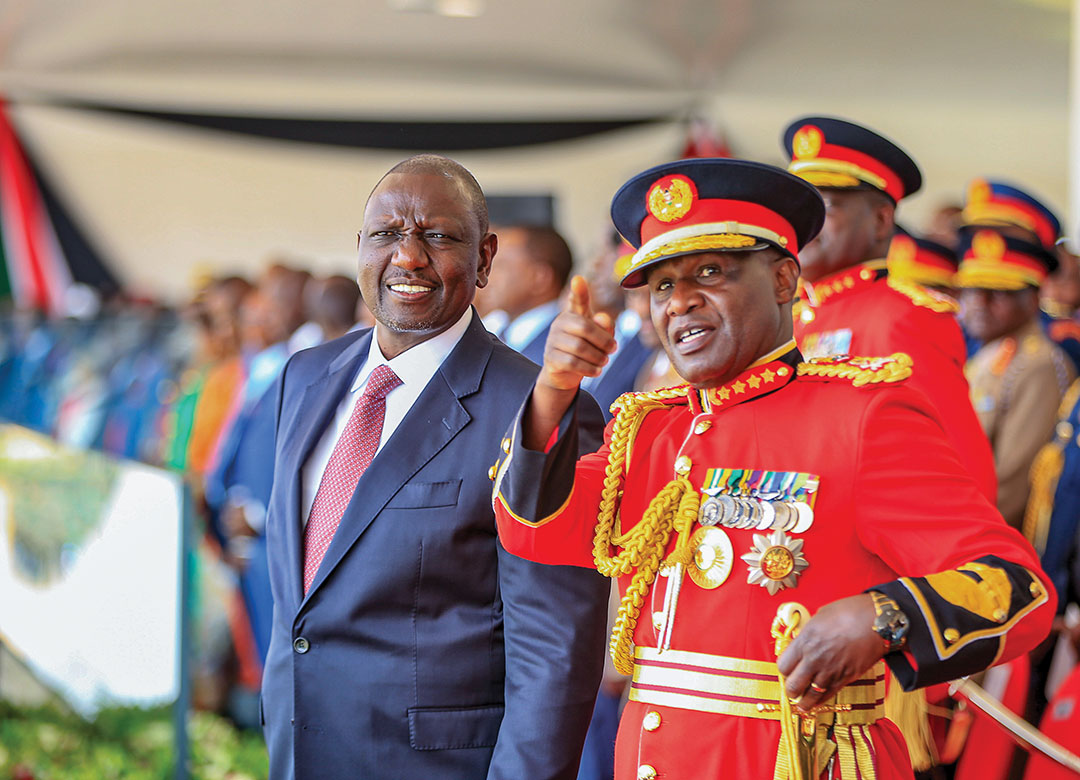 ADF: How do you envision the KDF transforming in the future to meet the emerging threats of the 21st century? 
Kibochi: One of the key challenges is that the security situation is going to be more complex as we move forward. My view has always been that we must upscale our training and we must leverage technology, because the resources that we get from the government are finite. They're not increasing. There are competing priorities within government. Therefore, we must ask how do we as an institution develop capabilities within ourselves? One of the areas that we've been addressing is asking, "How do we enhance our military industrialization capacity?" which is very important and has been latent for a long time. We have to be able to develop some systems locally without having to depend entirely on imports. We have a very young population in this country. Those who are joining the KDF are young and brilliant. We need to make sure that we provide the opportunities and the environment for them to exploit their potential in developing solutions and applying those solutions. I have tried to create an environment in which a young IT specialist can create a hub to exploit their intelligence and modernize some of the old legacy equipment that we have. I've seen a huge improvement in the manner that they have been able to turn old analog systems into digitized systems. That means that, cumulatively, we are reducing dependence on external sources. And if this can happen across the various dimensions, then it means that we will be able to see a KDF that is more ready, well equipped and prepared to face the challenges of the future.