Mozambican Navy Receives New Patrol Boat
ADF STAFF
As Mozambique tries to quell illegal fishing, drug trafficking and other maritime security threats in its waters, the U.S. has provided a 10-meter coastal patrol boat to its Navy.
Mozambican Navy officials also participated in training offered by the boat's U.S. manufacturer, SAFE Boat International. The $700,000 high-speed boat is used for interdictions and maritime boarding operations. It was delivered in early December.
As of 2021, Mozambique's Navy had 14 patrol and fast patrol boats. The country is responsible for a 2,470-kilometer coastline along the Mozambique Channel, the waterway between Madagascar and southeastern Africa that carries about 30% of global tanker traffic and is a major route for the illegal heroin trade.
Drug trafficking, piracy and other sea crimes help finance an extremist insurgency that threatens Mozambican civilians and major offshore gas and energy projects in the Cabo Delgado province.
Insurgents overtook the province's port town of Mocímboa da Praia, but Rwandan forces helped drive them out in 2021. The town's port reopened for the first time in two years in late 2022. Mocímboa da Praia is just south of the Afungi peninsula, home to a multibillion-dollar liquefied natural gas project known as Mozambique LNG.
"We received this vessel at a very special moment, when operations in the North Operational Theater are proceeding satisfactorily as a result of the joint effort of the Defense and Security Forces, friendly forces of Rwanda and SAMIM [the SADC Mission in Mozambique]," said Casimiro Augusto Mueio, permanent secretary of Mozambique's Ministry of National Defence.
During the handover, U.S. Ambassador to Mozambique Peter H. Vrooman said the two countries will continue to collaborate against extremism. "We provide training and educational opportunities for Mozambican and American Soldiers, Sailors and Marines who choose to serve their country. Together we work toward a stronger, more resilient Mozambique," he said.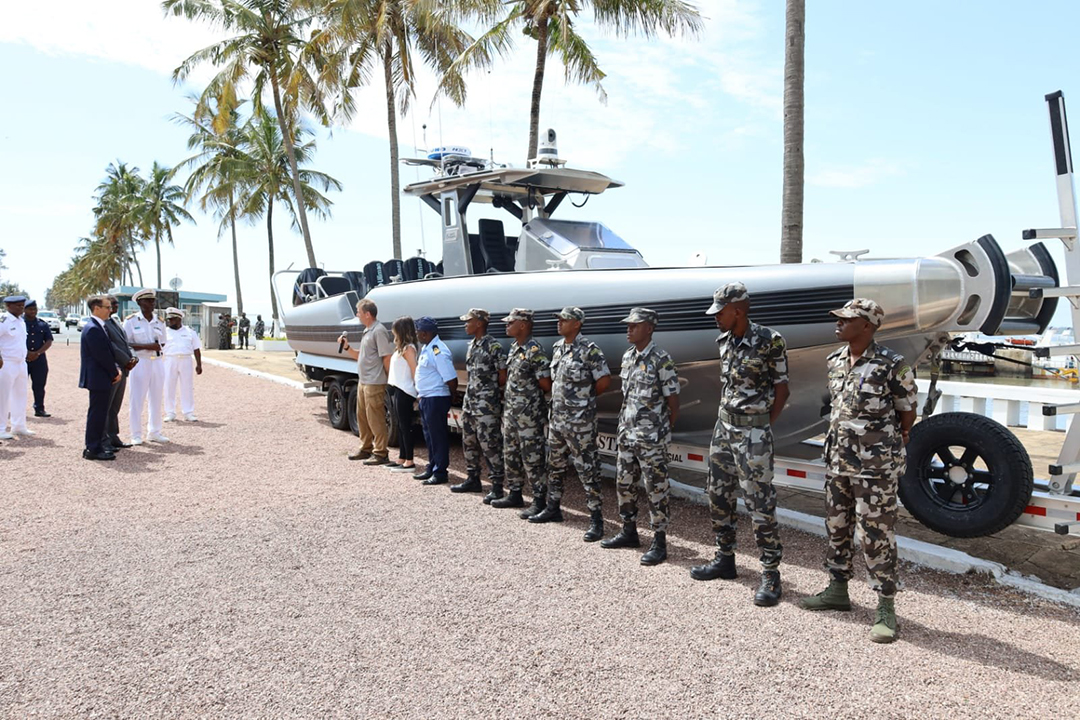 Strengthening maritime security will bolster Mozambique's fight against insurgents, Francois Vreÿ, emeritus professor of military science at South Africa's Stellenbosch University, wrote in The Maritime Executive. Vreÿ noted that the operation to recapture Mocímboa da Praia included a surprise attack by Mozambican Soldiers from the sea.
"Cooperation with a wide array of partners to promote maritime security governance over the longer term must remain a priority," Vreÿ wrote. "This is a long-term objective to be addressed in the context of the current armed insurgency and sustained beyond the present volatility. Stability on land and at sea must be addressed simultaneously."
Series of Boat Donations
The U.S. boat donation to Mozambique was one of a series of similar donations on the continent. In mid-December, the U.S. delivered two high-speed patrol boats to the Tanzanian Navy to boost its capacity to fight sea crimes.
Valued at more than $1.35 million, the boats include a 10.5-meter Interceptor model and an 11.5-meter enclosed cabin command boat. The donation included repair and maintenance equipment, towing vehicles, and a two-week training course.
Also in December, the U.S. delivered a new patrol vessel to help Benin combat piracy and other maritime crimes in the Gulf of Guinea. The U.S. also helped build a new boathouse, maintenance shop and launch ramp to accommodate the vessel.
Training was provided to the Beninese Special River and Maritime Police Unit (USPFM)
through U.S. Africa Command.
Officials delivered the boathouse and maintenance center before the COVID-19 pandemic, and the USPFM has used the facilities to support regular operations and maintenance needs.