Sinister Forces Cast Eyes Toward Coast
West African Nations Prepare as Sahel-Based Extremists Seek to Exploit New Territory
ADF STAFF
As extremists launched murderous assaults on Burkinabe churches in 2019, neighboring Ghana took note. In preceding years, Islamist-backed terrorism and violence, born in Mali and spreading south, had infiltrated Burkina Faso and crept ever closer to Ghana's northern border.
Although hundreds of kilometers north of the border, the church attacks still were a source of unease. Their brutality toward people of faith and houses of worship was striking.
In Silgadji, Burkina Faso, gunmen rushed in on motorcycles and killed a pastor, two of his sons and three other congregants in April 2019, the BBC reported. Less than a month later, more than two dozen extremists killed six people, including a priest, during Mass at a church in Dablo. They then burned the church to the ground.
Ghanaians' fears were further stoked soon after on Sunday, June 2, 2019, when a 51-year-old Burkinabe national wandered into a Catholic church in the northern border town of Hamile, Ghana. The builder, dressed in a T-shirt and trousers, carried a loaded semi-automatic pistol and raised congregants' suspicions.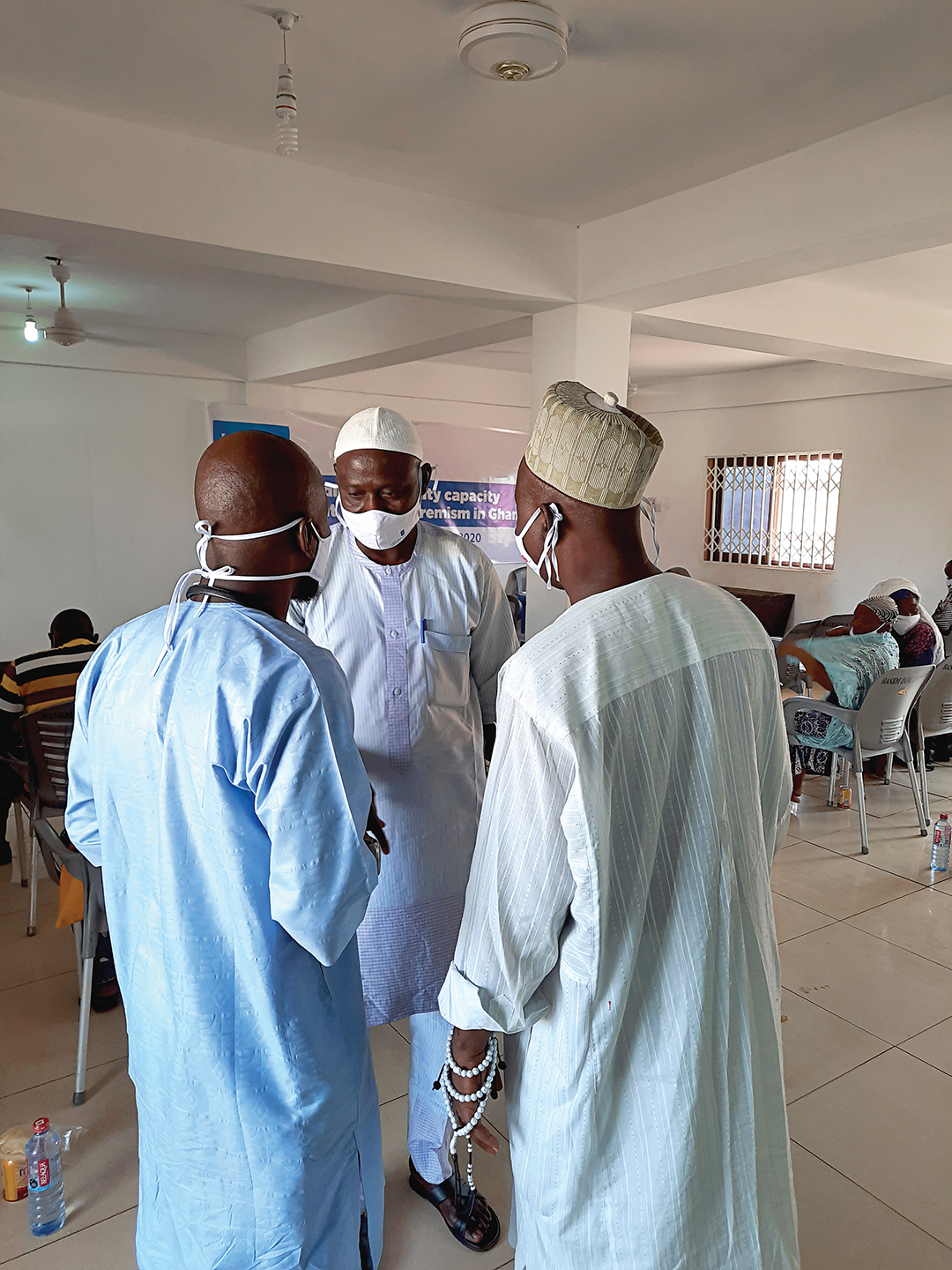 Police arrived and arrested the man before any­­thing else could happen. The gunman told authorities he had arrived in the area a week earlier to work on a building project, according to Graphic Online, a Ghanaian news outlet. He also told police he carried the gun for protection because he had been robbed previously in Burkina Faso.
The Upper West Regional Security Council met with Christian and Muslim leaders to encourage vigilance and for locals to keep watch for suspicious people, according to Graphic Online. "This is a wake-up call on public safety issues," said the Most Rev. Richard Kuuia Baawobr, bishop of the Wa Diocese.
As militant Islamist violence continues to grow in Burkina Faso, Mali and elsewhere, two things are clear: Extremists groups have made public their desire to expand their reach into West African coastal nations. And those nations are working together to stop them.
"For some time now the understanding for all of us who work in this space is that violent extremism is descending toward coastal states from the Sahel — from Mali, from Niger, and into Burkina Faso — and subsequently looking to take over coastal states, including Ghana," Mutaru Mumuni Muqthar, executive director of the West Africa Centre for Counter-Extremism (WACCE), told ADF. "And so we've been following this closely in terms of dealing with local communities along the borders, our northern borders."
THE ALLURE OF COASTAL STATES
The spread of violence out of Mali into Burkina Faso and beyond can be explained through several dynamics. First, regional and international security responses have pushed militants outward as they seek safe havens in new territory, such as along the porous borders of Burkina Faso, Mali and Niger's Liptako-Gourma region.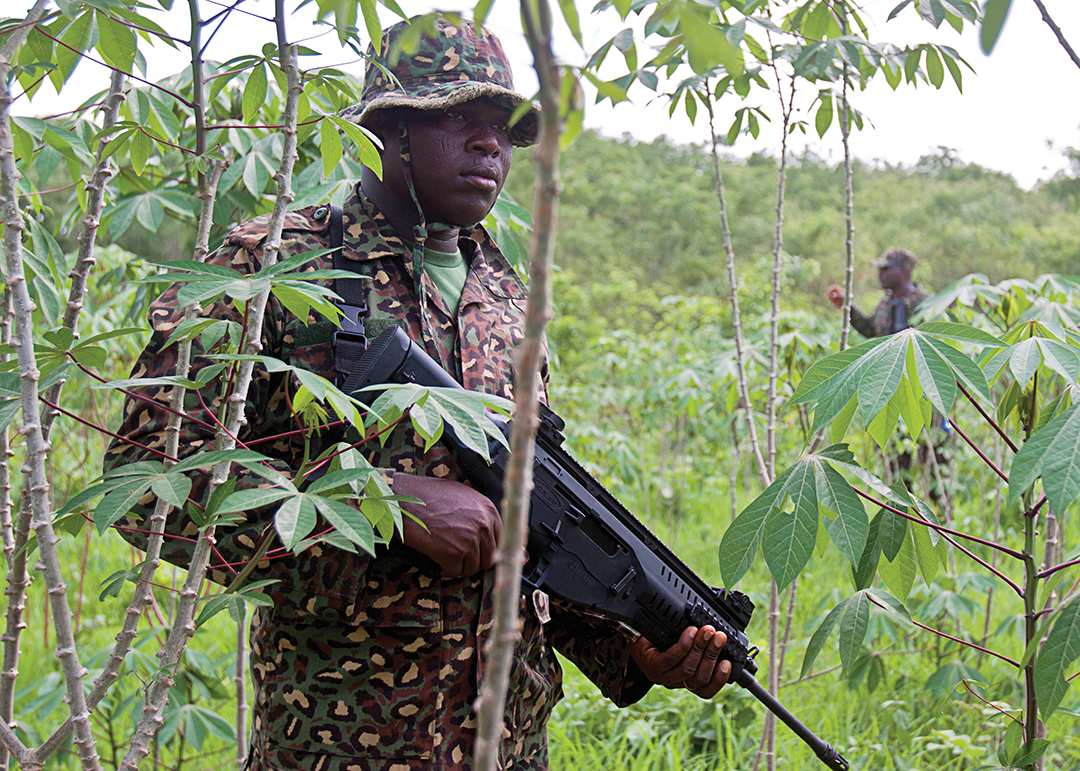 Second, militants seek to "expand the battlefield" to dilute the effectiveness of security forces by making authorities cover ever-widening territories, according to Dr. Daniel Eizenga, a research fellow with the Africa Center for Strategic Studies. Finally, area populations, including those in coastal states, tend to be interconnected ethnically and culturally in ways that defy borders, especially with regard to the movement of pastoralists back and forth across the region. This can further complicate security and is not directly tied to the 10-year-old violence that originated in Mali.
High-ranking militant leaders made clear their designs during a February 2020 meeting in central Mali during which they discussed expanding toward the Gulf of Guinea, primarily through Benin and Côte d'Ivoire, and attacking military bases there.
Among those attending, according to French security officials, were Abdelmalek Droukdel, then-head of al-Qaida in the Islamic Maghreb; Iyad Ag Ghali, founder of Ansar al-Dine and leader of  Jama'at Nusrat al-Islam wal-Muslimin, known as JNIM; and Amadou Kouffa, head of the Macina Liberation Front. French forces killed Droukdel in Mali in June 2020.
Financial motives also are among the likely drivers of expansion into coastal states. The Sahel and neighboring regions are predominantly pastoral, which means a robust cattle industry. Cattle markets will have people moving toward the coast. If extremists can control and exploit trade routes and movement along them, they can help fund their efforts, Eizenga has said.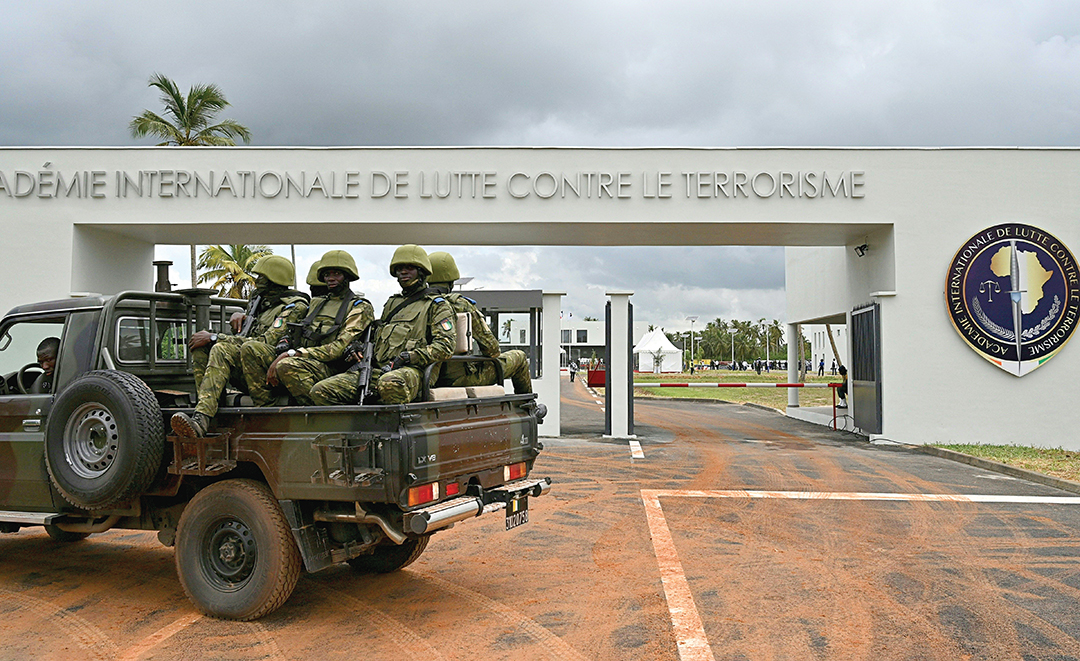 Those cross-border movements are common and hard to police in countries such as Benin, Côte d'Ivoire, Ghana and Togo.
Muqthar said infiltration by extremists in Ghana's north is "incontrovertible." His group, WACCE, holds up to a dozen civilian engagements a year, mostly in Ghana, but the group also has worked in Cameroon and has "operational networks" in Burkina Faso, Côte d'Ivoire, Mali and Senegal. Most engagements are workshops to help civilians build resilience against violent extremism. The group also conducts research and advocacy work and cooperates closely with Ghana's ministries of interior and national security.
WACCE has noted cross-border movement near Ghana's northeastern town of Bawku, close to where Burkina Faso, Ghana and Togo meet. The same happens in the northwest in towns such as Hamile and Tumu.
"There are testimonies of how groups of people claiming to be families or who share family members with people in Ghana, they come in, cross into Ghana, and back," he said. "And there's suspicion of extremists using that, the idea of family, and crossing into the country back and forth."
Reports from locals and national immigration officials indicate that extremists under pressure from security forces slip into Ghana to hide and also attempt to recruit young Ghanaians. "What we don't know — we're not sure — is the extent of it, the numbers involved, and their resolve in doing so," Muqthar said.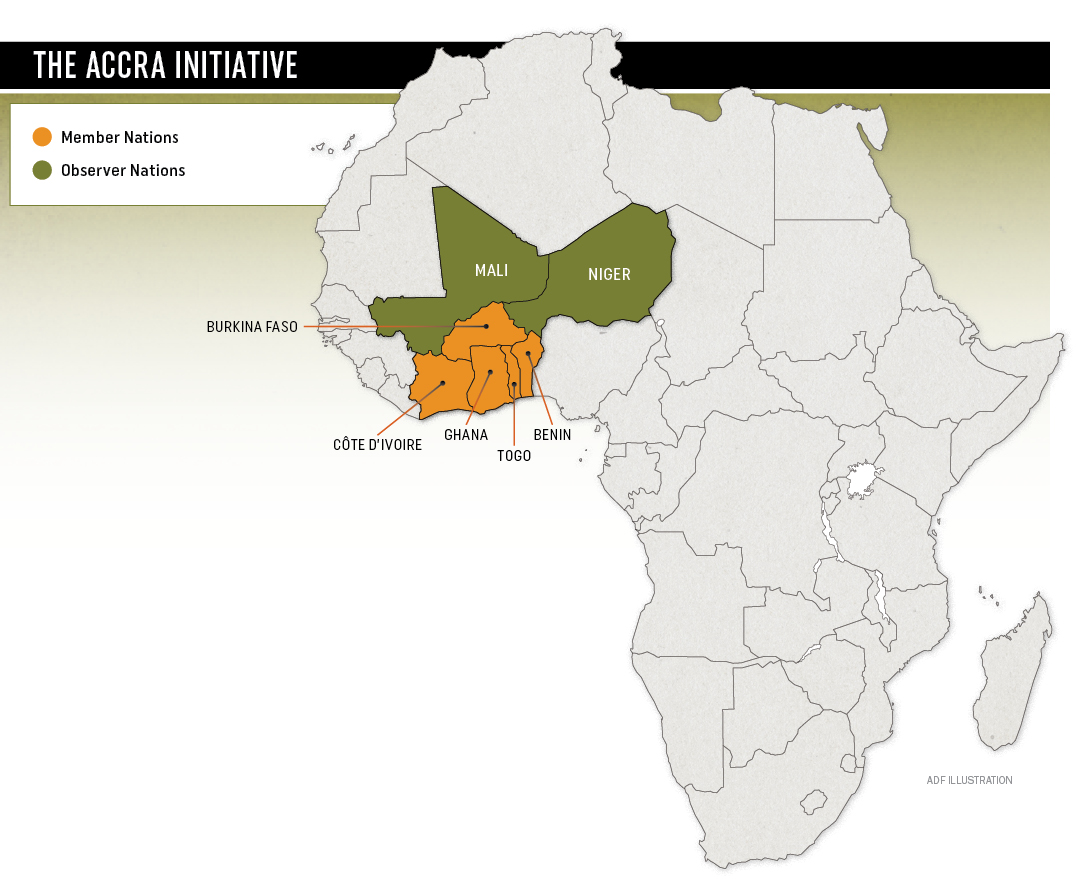 Sampson Kwarkye, senior researcher with the Institute for Security Studies (ISS) Regional Office for West Africa, the Sahel and Lake Chad Basin, wrote that Sahel extremists "are increasingly tapping into a terrorist economy, using Benin, Côte d'Ivoire, Ghana and Togo as sources or transit zones of funding and logistics."
ISS research, he wrote in June 2020, shows that extremists steal livestock from Burkina Faso, Mali and Niger and sell it at cut rates in Benin, Côte d'Ivoire and Ghana. Money then is funneled back to accomplices, including terrorists, who use it to buy weapons, motorcycles, fuel and food.
Kwarkye wrote that smugglers sneak millions of dollars' worth of fertilizer from Ghanaian border towns such as Hamile into Burkina Faso, where it becomes plentiful and cheap for extremists who use it to make improvised explosive devices and car bombs.
WEST AFRICAN STATES RESPOND
Kwarkye wrote that coastal nations will have to improve border control, enhance their ability to track trade between countries, and gather better intelligence, including through the support of civilians living in border towns.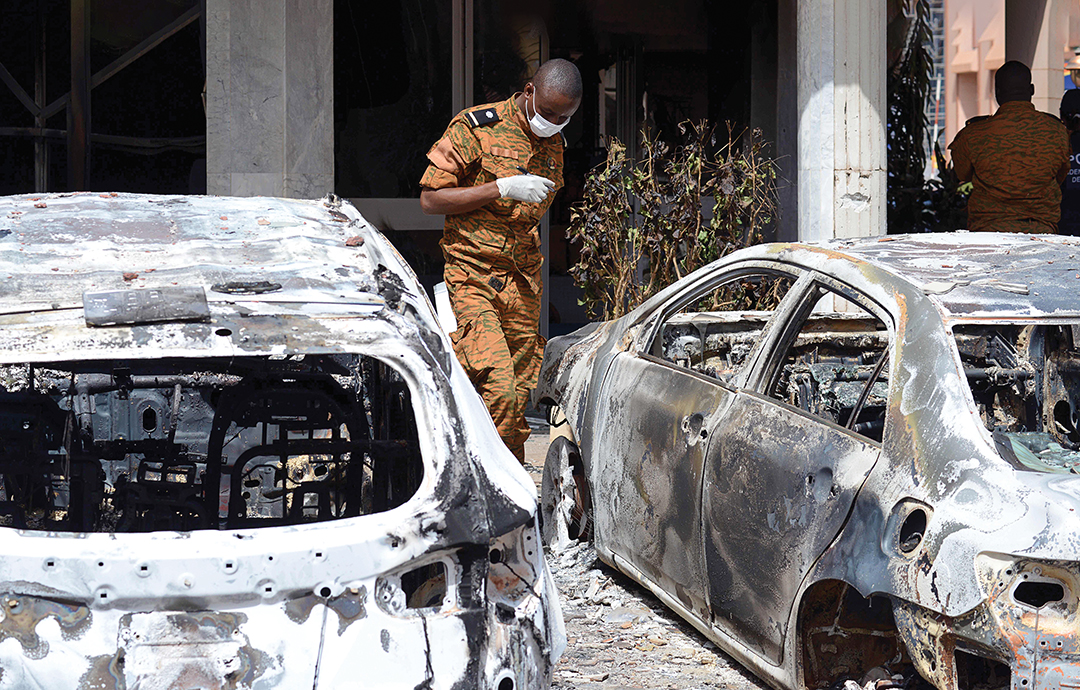 Ghana already is taking steps in that direction. President Nana Akufo-Addo in June 2021 announced the launch of the nation's first National Security Strategy. The effort is intended to provide "rapid, coordinated and comprehensive responses" to threats, he said.
The minister of national security is to hold workshops for government officials, religious and traditional leaders, youth and women's groups, educators, and civil society organizations to make clear their roles in security collaboration.
Ghana's neighbors also have spent the past couple of years girding for the growing extremist threat emanating from the Sahel.
Côte d'Ivoire in June 2021 inaugurated its International Academy to Combat Terrorism outside Abidjan. It includes a research institute, a school for government officials and a training center for special forces. The academy will train Soldiers, police officers, customs officials and prison administrators from multiple countries.
"The north of Côte d'Ivoire is beginning to be under the influence of jihadist groups," Ivoirian counterterror expert Lassina Diarra told Agence France-Presse. "This region is key to the security of the Ivoirian state."
Extremists targeting Côte d'Ivoire exploit cultural ties to Burkina Faso to cross borders for recruitment and other unlawful acts. In June 2020, extremists attacked a security post in Kafolo, killing 10 Soldiers. In 2021, several other attacks along the border had been logged by midyear.
In Togo, to Ghana's east, the government formed the Inter-ministerial Committee for the Prevention and Fight against Violent Extremism in May 2019. The 18-member committee includes members from government ministries, the Army, and civil and religious groups. The group works with local panels to raise awareness, provide early warning of extremist activity, and improve relations between civilians and security forces, according to an October 2019 ISS report titled, "Togo ups its ante against terror threats."
West African coastal nations also are working together. Benin, Burkina Faso, Côte d'Ivoire, Ghana and Togo established the Accra Initiative in 2017 in response to the growing regional extremist threat. Two years later, Mali and Niger joined as observers. The initiative focuses on three areas: training; cross-border military operations, such as Operation Koudalgou I, II and III between May 2018 and November 2019; and information and intelligence sharing through periodic meetings among government ministers and security officials.
Regional nations appear to agree that military interventions, which tend to be short-term and sporadic, will not be sufficient to address the growing threat. Interacting with civilians, building trust and conducting operations in ways that disrupt extremists' financial flows without harming local economies will be crucial.
Ghana stands out as a model in West Africa. So far, it has avoided major terrorist attacks, despite being nestled among countries that have. It has a well-trained Army, a stable government and a history of engaging with civil society. Still, it must stay alert.
Foreign policy and security analyst Adib Saani told German news service Deutsche Welle in July 2021 that Ghana benefits from an absence of active insurgencies and other internal security problems.
"Largely, in Ghana we have been able to maintain a level of human security and national cohesion in all parts of the country, so the terrorists don't have a place to fit in."