Obangame Express 2022 Promotes Cooperation to Fight Sea Crime
ADF STAFF
Obangame Express 2022, the joint international exercise aimed at improving maritime security in the Gulf of Guinea and Atlantic Ocean, produced real-world results in mid-March.
As 32 nations participated in this year's exercise, the Nigerian Navy stopped a vessel for committing "illegalities" in Nigerian waters.
"The dark activities of the vessel were monitored by the Nigerian Navy Falcon Eye Surveillance System and Nigerian Navy Ship Ekulu was detached from the Exercise Obangame to intercept and arrest the vessel," Nigeria's Director of Naval Information, Cmdr. Adedotun Ayo-Vaughan, told Nigerian newspaper Vanguard. "Subsequent interrogation revealed that the vessel with 14 crew members onboard was laden with unspecified quantity of crude oil."
Ayo-Vaughan said the vessel could not provide appropriate documentation of its operations and had turned off its automatic identification system for three weeks.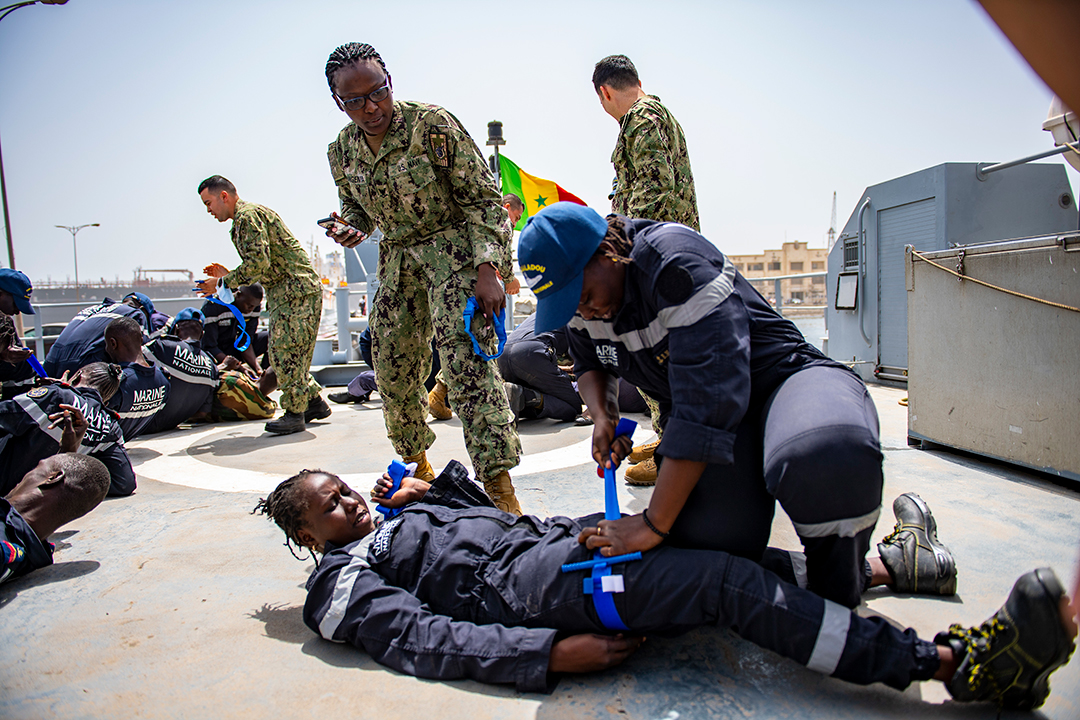 "Exercise Obangame Express 2022 has also seen the arrest of seven Beninois in a long wooden boat fully loaded with unspecified petroleum products from questionable sources," Ayo-Vaughan told Vanguard, although he did not specify when those arrests were made.
On March 14, the Nigerian Navy arrested five suspected oil thieves operating a barge and tugboat, also during Obangame Express 2022.
"These arrests depict and reinforce the Nigerian Navy's resolve to consistently sustain its aggressive posture against oil theft and other maritime illegalities," Ayo-Vaughan said.
Sponsored by U.S. Africa Command, the weeklong exercise that ended March 18 was held across five exercise zones stretching from Senegal to Angola. Senegal hosted the event.
Throughout the exercise, the navies were trained on boarding techniques, search and rescue operations, medical casualty response, radio communication, and information management.
"The exercise will aim to create a safe and secure maritime environment for shipping and other economic activities through the prevention of piracy, sea robbery, crude oil theft, illegal banking and other forms of criminalities within our maritime domain," Nigerian Navy Rear Adm. Idi Abbas said in a report by Nigerian news channel Plus TV Africa.
Vice Adm. Awwal Gambo, Nigeria's chief of naval staff, noted that the United Nations Conference on Trade and Development estimated that the African Continental Free Trade Area has the potential to boost intra-African trade by 33% and cut the continent's trade deficit by 21%.
Obangame Express, he said, is meant to improve regional collaboration, intelligence sharing and harmonize legal frameworks of countries in the region.  "It is thus envisaged that Nigeria and, indeed, the Nigerian Navy would provide a lead role in this regard," Gambo said in the Plus TV Africa report.
This year, eight medical personnel from the U.S. Navy Medicine Readiness and Training Command participated across the five exercise zones in Western Africa. In Senegal, the team shared critical care techniques with members of the Senegalese Navy aboard the Senegalese patrol ship Fouladou. The team also managed a medical clinic at the Senegalese Naval Headquarters in Dakar.
One important element of the exercise is practicing the use of SeaVision, a maritime domain awareness tool that helps professionals in the operations center track vessels at sea. Created in 2012 by the U.S., this tool is used by about 25 African countries to monitor their waters.
Participants appreciated the way Obangame replicates real-world scenarios and challenges.
"We are benefiting extremely well out of the partnership," said Petty Officer Baboucarr Ndow of The Gambia. "Since we started these exercises, we have been improving in boarding. We are slowly controlling our sea through the MDA tools given to us by the U.S. Navy."
Obangame Express 2022 included 20 navies from Africa: Angola, Benin, Cabo Verde, Cameroon, Côte d'Ivoire, the Democratic Republic of Congo, Gabon, The Gambia, Ghana, Guinea, Guinea-Bissau, Liberia, Morocco, Namibia, Nigeria, the Republic of the Congo, São Tome and Príncipe, Senegal, Sierra Leone, and Togo.