ATMIS Paves the Way for Somali Security Responsibility
ADF STAFF
After operating for nearly 15 years, the African Union Mission in Somalia (AMISOM) has begun transferring duties to a new AU mission that will replace it — the African Transition Mission in Somalia (ATMIS).
AMISOM's mandate expires March 31, but the United Nations Security Council is expected to vote March 30 to replace it with ATMIS.
Bankole Adeoye, the AU commissioner for political affairs, peace and security, announced an agreement with Somali government officials on a new mission that focuses on stabilization and state building.
"ATMIS is 100% aligned with the Somalia Transition Plan," he said at a news conference in Mogadishu on February 28. "This implies that the strategy of the government of Somalia and [the objective of] ATMIS will be aligned. This is the No. 1 factor that will make a difference.
"ATMIS will have a mobile and agile force that can rapidly degrade, eliminate and decimate terrorists or armed groups that are making life difficult for the good people of Somalia."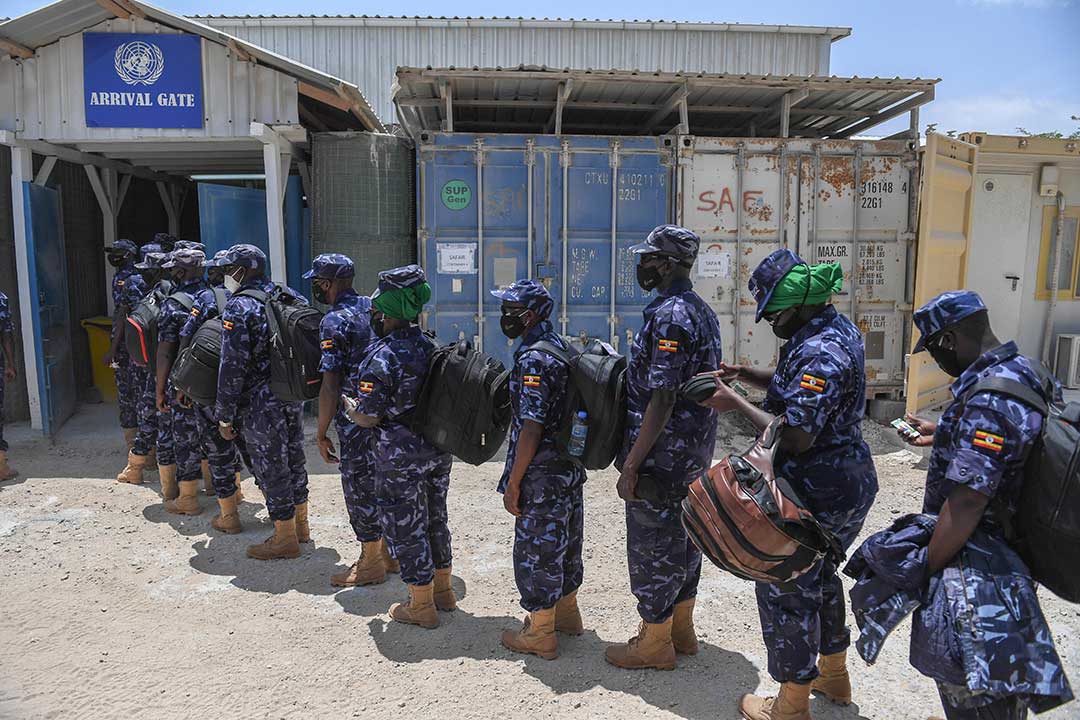 The African Union's Peace and Security Council created AMISOM on January 19, 2007, with an initial six-month mandate. Originally the mission was to support transitional governmental structures, implement a national security plan, train Somali security forces and assist the delivery of humanitarian aid.
In 2010, the AU shifted the mission from a bridging effort to peace enforcement, allowing AMISOM to more directly engage the violent extremist group known as al-Shabaab, which is linked to al-Qaida.
AMISOM has a combined force of 22,000 Soldiers, police and civilians from Burundi, Djibouti, Ethiopia, Kenya and Uganda.
ATMIS' troop and personnel details have not been announced. It is assumed the current contributing countries will keep their Soldiers in place, but in reduced numbers. Uganda, the biggest AMISOM contributor with 6,000 troops, will remain in Somalia, a spokesperson for the country's Armed Forces confirmed March 12.
U.N. Secretary-General Antonio Guterres has recommended to the U.N. Security Council that the African Union maintain its staffing strength in Somalia through the end of 2022.
Guterres prefers a plan for ATMIS that would decrease personnel in four phases "to enable and support Somali security forces to take primary responsibility for security in Somalia by the end of 2023" with full departure set for 2024.
Under that plan, ATMIS would reduce its ranks by 2,000 troops after December 2022, with more decreases in every phase.
"It is important that existing uniformed troop levels are maintained until the end of phase one to ensure hard-won gains are preserved and allow for a reconfiguration of the mission without compromising the current security provision," Guterres wrote in a letter to the council on March 7.
ATMIS will be reviewed every six months, requiring approval by the Somali government, the U.N. and the European Union.
In describing how ATMIS differs from AMISOM, Adeoye said the new operation will continue to deploy active combat Soldiers, but there will also be a significant team of skilled technicians support the country's recovery after years of war.
All parties agreed that the next two years will focus on rebuilding Somali ground and air forces, intelligence and security-related institutions in preparation for their takeover of the country's overall security.
"This time around, Somalia's plan is actually front and center of ATMIS, with the full support of the European Union and the whole gamut of the United Nations," Adeoye said. "ATMIS will have a character of a mission with an end goal, and that end goal is to transfer the full responsibilities of security to the federal government of Somalia."