Zimbabwean Sculptor Has A COVID-19 Call to Action
ADF STAFF
When the COVID-19 pandemic struck, lawyer David Ngwerume didn't just sit around waiting for the courthouse to reopen.
He was inspired to create art with a message of hope and unity, as he and fellow Zimbabweans adhered to restrictions and guidelines meant to prevent the disease from spreading.
Since the government first imposed a three-week lockdown on March 30, 2020, Ngwerume has been busy. His socially conscious sculptures are drawing international attention.
"There was a shift more to my art side," he told ADF. "The lockdown gave me more time in my art studio and evoked my creative spark."
The 40-year-old says he has made more than 100 sculptures since then. They sit and stand scattered around his home and yard.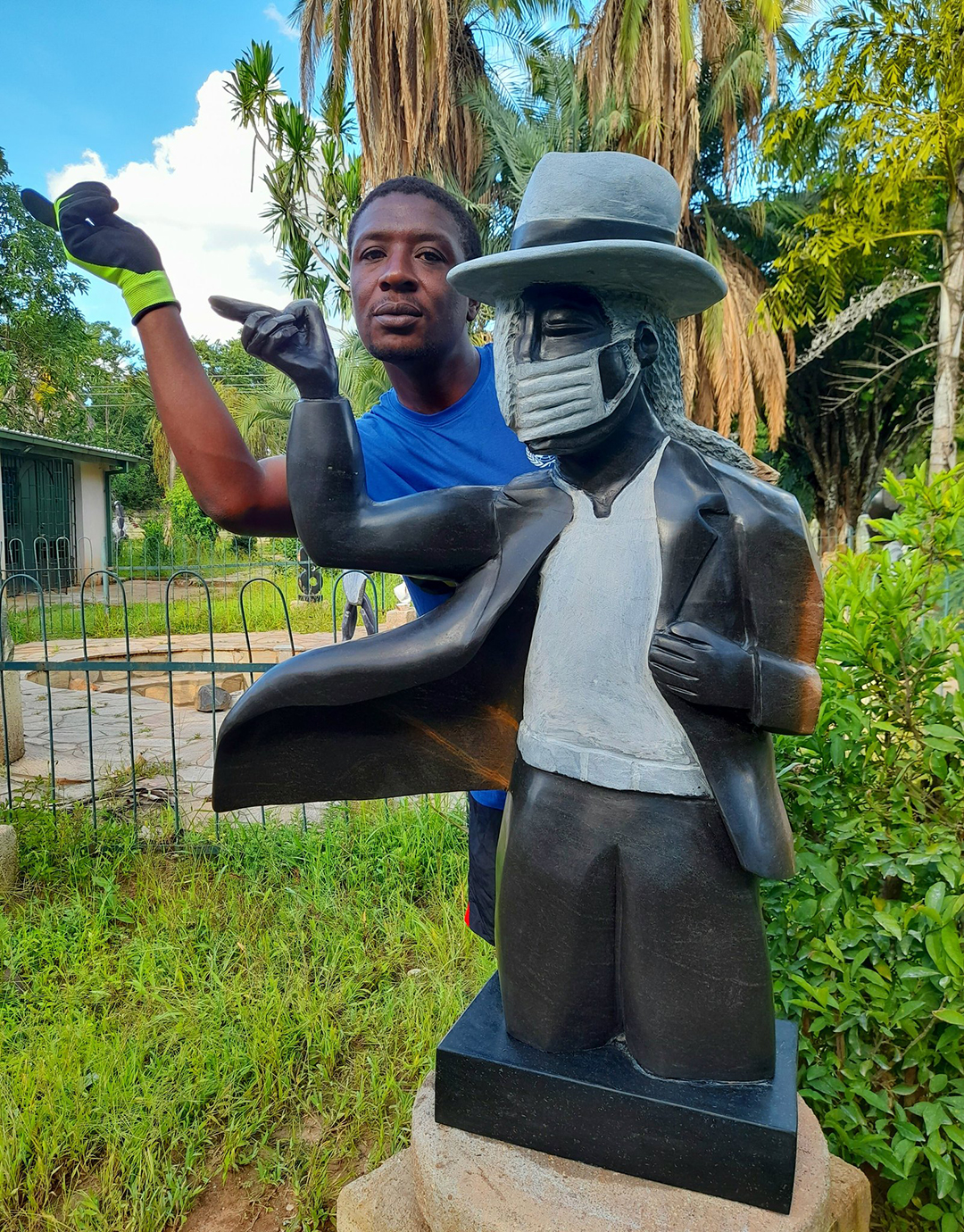 "That creativity is not a surprise at all," Josiah Kusena, acting director of the National Arts Council of Zimbabwe, told Voice of America. "It is an appreciation by the artist that COVID-19 has destroyed livelihoods, but it is also an appreciation that there has been progress in research in terms of how do you contain COVID-19."
Finding balance for his passions is challenging for Ngwerume, who runs his own legal practice. His two worlds — law and art — are not so dissimilar.
"Art is a discipline, while law is a practice," he said. "But they both require focus, and I feel empowered by the creative ethos in everything I do.
"I also think it has made me one of the best lawyers in Zimbabwe!"
As a teenager, Ngwerume learned to sculpt from his mentor, renowned Zimbabwean sculptor Cosmas Muchenje.
As a law student, Ngwerume discovered a passion for helping others but never felt he had to choose between law and art.
"It was once a dilemma," he said, "but I overcame it by coming to terms that I was created to do both."
Ngwerume achieved national fame when his "Scales of Justice" piece was installed in front of the high courts in Harare and Bulawayo in 2019.
He said he recently was commissioned by the African Union to create a COVID-themed piece for display at its headquarters in Addis Ababa, Ethiopia. His work has also been displayed at Zimbabwe's State House, the Labour Court in Harare and the Women's Law Faculty at the University of Zimbabwe.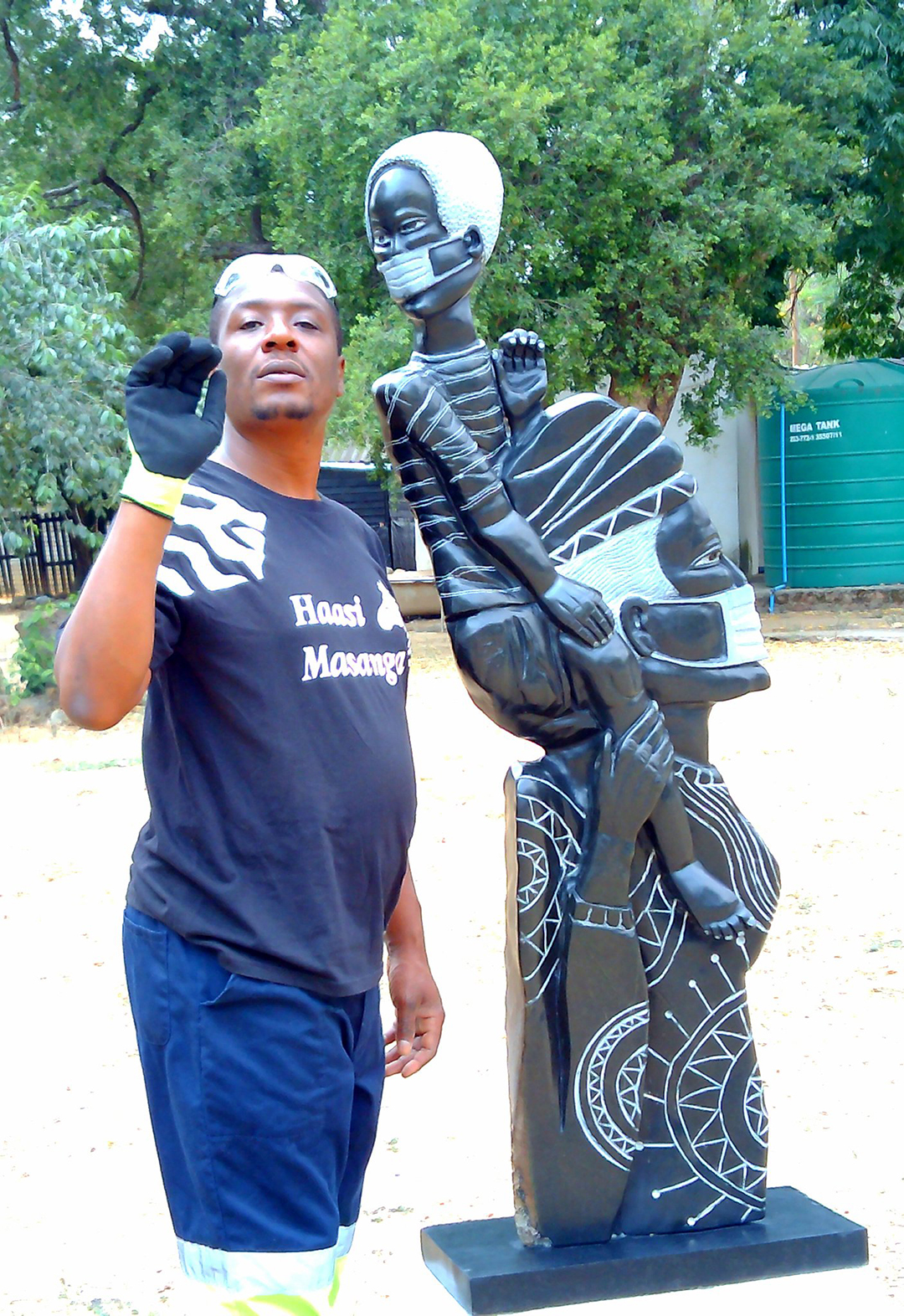 For an artist who has always reflected the issues of the day, inspiration came quickly and easily in the age of COVID-19.
"Everybody was being encouraged to mask up," he said. "I found COVID to be bringing the world and humanity together and drawing attention to a common purpose. Putting on a mask isn't just protecting yourself, it is protecting the world at large. It's unifying."
Zimbabwe has recorded 132,724 cases of COVID-19 with 4,674 deaths, according to the Africa Centres for Disease Control and Prevention data through October 26.
Ngwerume has been personally impacted by the pandemic. He's lost relatives, close friends and law colleagues.
He's brought together all of his emotions — anger, loss, fear, sadness, relief and hope — to build what he calls his "COVID-19 Collection."
He made headlines with a piece he calls "The New Normal," which he carved from a block of Zimbabwean black granite and polished until it sparkled with flecks of mineral ore. It shows a woman wearing a face mask and a doek (headscarf) shaped like the continent.
Ngwerume regularly posts his pieces to thousands of followers on his social media channels. His wish is to share his art from a distance so that no one needs to come to his studio and possibly spread COVID-19.
He dreams of building a 200-hectare art center devoted to Zimbabwean sculpture and culture.
He also hopes to use part of the proceeds from auctioning some of his art to purchase personal protective equipment for Zimbabwean health workers.
Ngwerume has been delighted by the response to his works.
"These pieces have been a breakthrough, and this attention has motivated me further," he said. "When the whole world turns on, you best believe that you can do more that can change this world to a better place.
"This work is capturing an unprecedented moment in time."