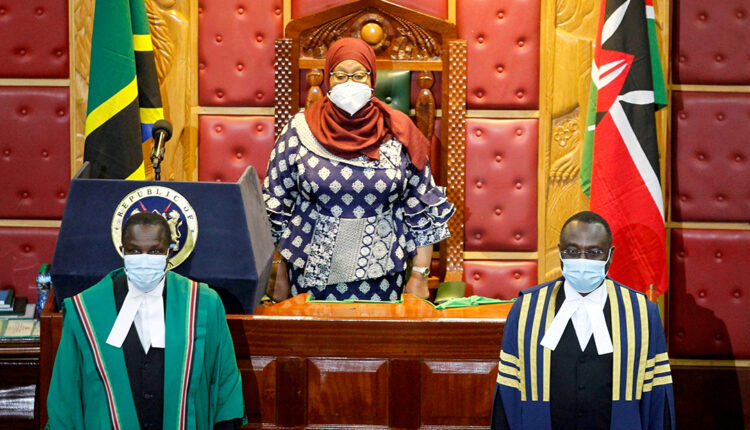 Reading Time:
2
minutes
ADF STAFF
Tanzania is learning how hard it is to get its citizens to take the pandemic seriously after the country's late president was its most prominent COVID-19 denier.
When President John Magufuli's death was announced March 17, 2021, by Vice-President Samia Suluhu Hassan, it marked the beginning of a dramatic reversal in the country's COVID-19 policies.
But the months that followed have revealed how widespread and deeply rooted skepticism has become in Tanzania.
"People are still hesitant because there was a lot of misleading information when COVID-19 first came to Tanzania," Deus Kitapondya, an emergency medicine specialist based in Dar es Salaam, told web magazine Quartz Africa. "Many politicians denied the virus was there. They promoted local herbs and (told us) to pray the virus away."
In the early days of the pandemic, Tanzania's Health Ministry reported the country's first case — a 46-year-old Tanzanian woman who flew from Belgium on March 14, 2020. Laboratory tests confirmed the diagnosis.
But on April 29, 2020, Tanzania stopped publishing COVID-19 infection rates and deaths. At the time there were 509 confirmed cases and 39 deaths in a country of nearly 60 million.
President Magufuli on June 8, 2020, declared the country was "coronavirus free" and said God eliminated the virus after three days of national prayer. He and his administration promoted steam inhalation and herbal remedies to treat symptoms.
Officials arrested and detained critics of the government's response to the pandemic, and censored news outlets.
As late as February 1, 2021, Health Minister Dr. Dorothy Gwajima and her deputy appeared before the media and drank a mixture of lemon, ginger and garlic as a possible natural remedy.
Magufuli, who ruled Tanzania for just over five years, died amid rumors that he had COVID-19. When Hassan succeeded him, she quickly began to reverse the country's approach to the pandemic.
She wore a mask in public, opened testing facilities and appointed a task force to determine the pandemic's severity and an appropriate response.
Two months later, in following the task force's recommendations, Hassan restarted surveillance and implemented a border control measure for all travelers to present a negative COVID-19 test.
It's an uphill battle, and misinformation persists from politicians loyal to Magufuli.
"It is hard to change the citizens' mindset who used to be told that COVID-19 could be treated by traditional methods and prayers," analyst Bubelwa Kaiza told Tanzanian newspaper The Citizen. On June 28, 2021, Hassan announced COVID-19 statistics to the public for the first time in more than a year.
She reported 100 cases, including 70 on ventilators, and no deaths. She gave no time frame for the statistics.
As part of a $567 million emergency loan from the International Monetary Fund to combat COVID-19, Tanzania is required to publish its data. But updates are sporadic.
In early August, the country's reported cases shot up to 16,970 with 50 deaths. More than a month later, however, those statistics have not been updated.
"There is still not really a comprehensive approach," Dr. Kitapondya said. "We are seeing large gatherings of people with very few wearing masks. There is little social distancing. Many are still not even taking the preventative measures."