Reading Time:
3
minutes
ADF STAFF
A gory two-week siege in Palma, a port city on the northern end of the Mozambique Channel, rattled the region and drew calls for international intervention. The terror group Ansar al-Sunna (supporters of the tradition) claimed responsibility for the attack that left about 60 people dead, including children.
By April 4, Palma was back under government control, but the damage was severe.
"The population is returning, but they have nothing to eat because the terrorists have looted almost everything," Agostinho Muthisse, a Mozambican military commander, told reporters in Palma.
The attack illustrates why security experts worry that the Mozambique Channel — a 1,600-kilometer-long waterway between Madagascar and East Africa that carries about 30% of global tanker traffic — is becoming a maritime security hot spot in the Western Indian Ocean.
Weak maritime security along the channel leaves important coastal cities in Mozambique and other countries, including Djibouti, Kenya, Tanzania, and island states such as Mauritius and the Seychelles, vulnerable to maritime threats. Ansar al-Sunna, which locals call al-Shabaab although it has no affiliation with the Somali-based group, also twice seized the strategic port town of Mocimboa da Praia, about 80 kilometers south of Palma, in 2017 and 2020.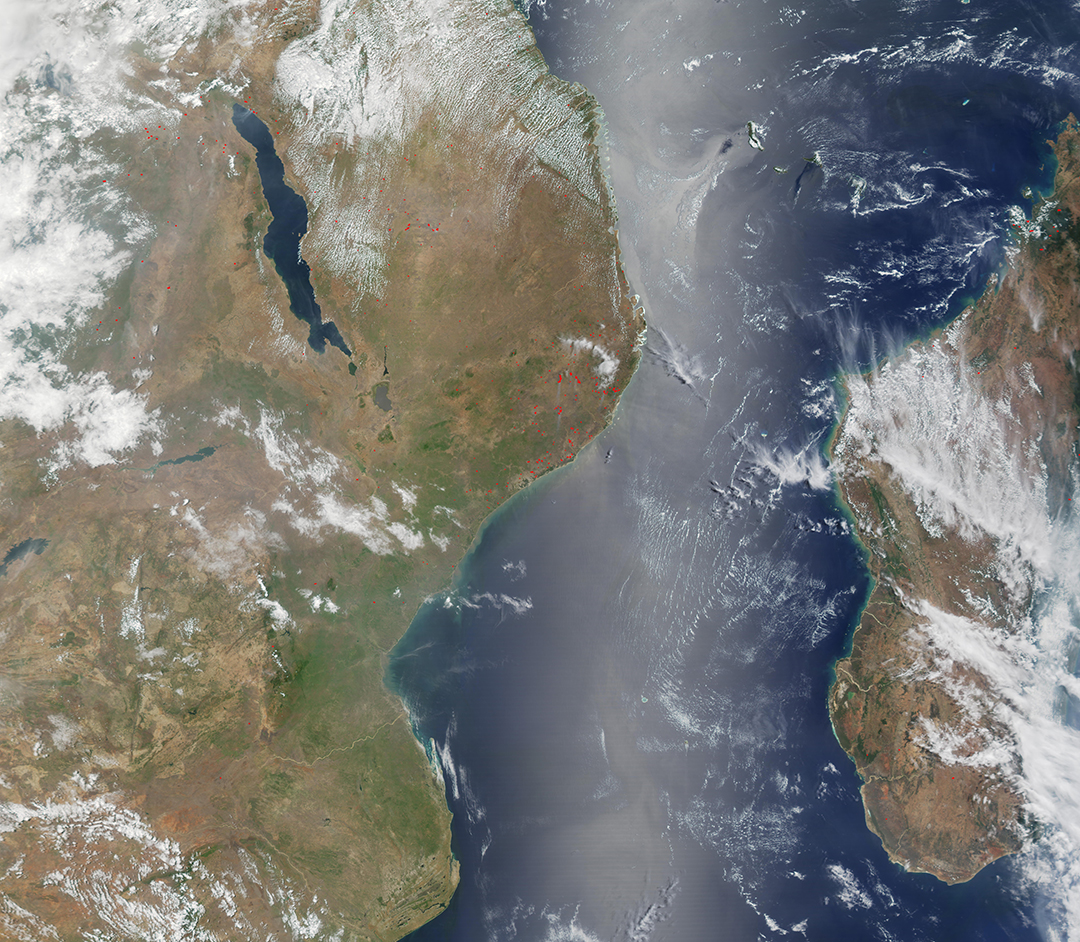 The weak security also opens opportunities for terror groups to expand and fund their operations and disrupt huge gas projects. In the wake of the Palma attack, the energy company Total halted construction of a liquid natural gas site.
"The insurgency in Mozambique has the potential to destabilise Southern Africa and embolden Islamists throughout the region," wrote Dr. David Brewster for the Indo-Pacific Strategy Series. "… Failure to contain the conflict will leave a vacuum for other actors to fill."
Piracy, illegal fishing and smuggling operations have thrived on the channel for decades.
In recent years, the trade route has been used to smuggle heroin from Afghanistan down Africa's coast to Mozambique, a major funding mechanism for insurgents. The heroin usually is then shipped to Europe and other areas, according to a report in The Interpreter, a site run by the Lowy Institute. Crystal methamphetamine produced in Afghanistan also is increasingly smuggled along the channel.
Groups drawn from Muslim communities on Africa's east coast started the insurgency in 2017. Since then, observers say insurgents in Cabo Delgado have shown greater proficiency in carrying out maritime attacks.
Piracy concerns led Mozambique to accept security assistance from other countries, including the South African Navy, which has combated maritime security threats in the channel since 2011.
Days before the attack in Palma, the South African Navy announced plans to increase anti-piracy patrols in the channel until March 2023, according to South Africa's Sunday Times newspaper. The U.S. government also has deployed special operations forces to Mozambique to train its Marines in anti-terrorism techniques.
Mozambique is negotiating with France, other European nations and India about possible military support, including marine patrols.
"We can come up with as many solutions and recommendations as we want," security analyst Jasmine Opperman said last year during a webinar on maritime security hosted by the Institute for Security Studies Africa. "It is a regional risk, there is no denial, but this is a Mozambican problem that needs a Mozambican solution."
Since 2017, terror groups in northern Mozambique have launched more than 800 attacks, resulting in at least 2,600 deaths and the displacement of more than 600,000 people.
Opperman has argued that it is well past the time to face the problem, telling South Africa's Eyewitness News that the entire region "should have been concerned" about the insurgency in Mozambique "long ago, to be quite frank."
"What has happened in Mozambique is merely another indication on how sophisticated the insurgents have become, how brazen they have become to move so close to the [natural gas] site" near Palma, Opperman said. "It is an insurgency that cannot be viewed, and must not be regarded and underplayed, as not only a risk to Mozambique but also the region."